Off-the-shoulder tops evolve, return to fashion spotlight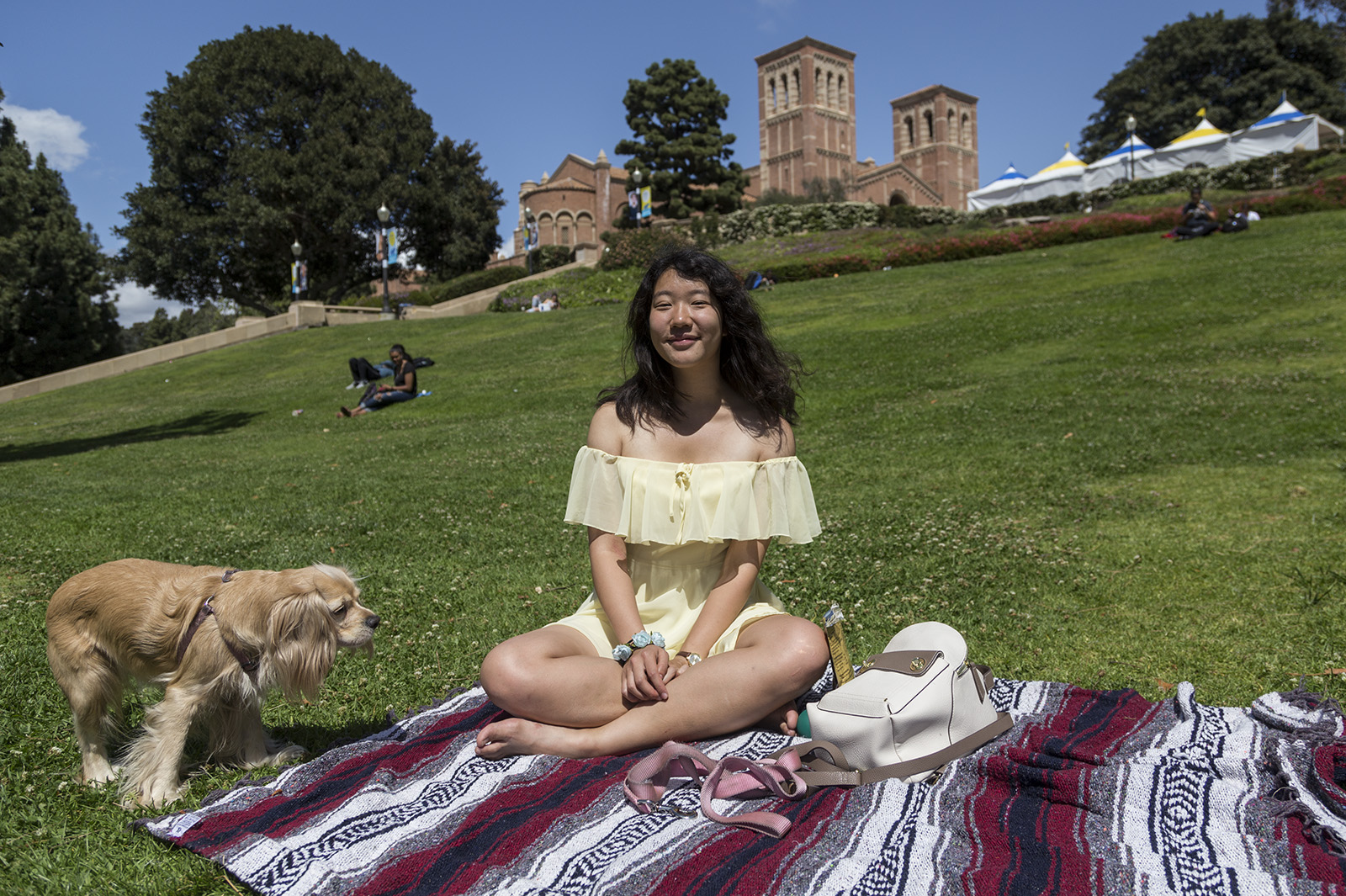 Third-year microbiology, immunology and molecular genetics student Annie Gao was drawn to the bright yellow color of an off-the-shoulder dress at Forever 21. She decided to buy the dress, despite her typical preference of shorts and T-shirts. (Alyssa Dorn/Daily Bruin staff)
April 18, 2017 11:24 p.m.
Cassidy Herro tried on three different outfits while getting ready for class, but rejected them all in favor of a deep-blue floral dress with a ruffled, off-the-shoulder sleeve.
The second-year nursing studentbought the dress over spring break and now considers it a staple pieceof her wardrobebecause no matter her mood, she finds it flattering.
"I always feel like I look great in it, so it's what I call my safety piece because it's easy and it just works," Herro said.
While the off-the-shoulder dress is a new piece for Herro, it's not a new style. In Westwood, about 10 to 25 percent of the dresses and tops at Brandy Melville, Urban Outfitters and Heavenly Couture are off-the-shoulder in style.
Herrobegan recognizing the popularity of off-the-shoulder shirts in 2016, but she did not considerearlier iterations of the style flattering because they made her shoulders look too broad.
Now she feels the fashion industry has worked out its kinksand has created more off-the-shoulderoptions, which have added to the look's recent popularity, she said.
Trends generally resurface every 20 years, and the off-the-shoulder style has followed that pattern, said Josh Fargher, a 2012 Fashion Institute of Design and Merchandising graduate and freelance wardrobe stylist. The trend started in the 1960s with Brigitte Bardot and Bianca Jagger before resurfacing in the 1990s and taking off again in spring 2016, he said.
The current styles draw inspirations from both the '60s and the '90s, with sleeker pieces drawn from the '90s and more voluminous pieces from the '60s, he said. Both forms have changed since their reappearance in 2016, with more oversized tops paired with skinnier bottoms and designs that use a tank top or spaghetti strap-style sleeve on the shoulder, in addition to the off-the-shoulder sleeve.
"It's evolved. When they first started showing (off-the-shoulder pieces) on the runways for spring 2016 it was a little bit more streamlined, and then the industry started putting different takes on it," Fargher said.
Annie Gao bought her first off-the-shoulder piece – a bright yellow dress with a ruffled sleeve around her upper arms – at Forever 21 a month ago. Though she usually wears shorts and a T-shirt, the yellow color drew her to the dress.
"This is super different from what I normally wear," said Gao, a third-year microbiology, immunology and molecular genetics student. "It's a super bright color so it caught my eye."
Third-year communication studies student Nathalie Gomez bought her first two off-the-shoulder shirts from Brandy Melville two weeks ago.
Gomez chose to buy the shirts because of their connection with her Mexican culture – she saw a similarity between the pieces she chose and the traditional style of off-the-shoulder tops that her grandmother, mother and sister wore when they did folklorico dance.
While the style of the traditional garment has not changed between the generations, Gomez said the more mainstream versions of the off-the-shoulder top have updated the look.
"I feel like this is a new take on that part of the culture," Gomez said.
Gomez also thinks social media has contributed to the resurgence of the style and its adaptation by mainstream fashion.
Third-year economics and statistics student Zishu Wang noticed the style on Instagram and found it versatile enough for her constantly changing style.
"I saw a lot of people wearing it on Instagram and when I go out, I see a lot of girls wearing it," Wang said. "I follow like 1,000 people on Instagram, and they're my style inspo."
She bought her fifth off-the-shoulder top last week. While Wang enjoys the look and its ability to showcase her collarbone tattoo, she said she does not think the trend will last.
"It's just one of those trendy things that comes out of nowhere and I think it will go away, maybe, after a couple years," she said.
When trends resurge and transition into easily accessible consumer stores, like Forever 21 or H&M, the style is not likely to continue into future fashion seasons, Fargher said.T-shirts
"When you can find an off-the-shoulder top anywhere, that's when I think a trend is starting to die," Fargher said.