International film festival explores themes of cultural identity, individuality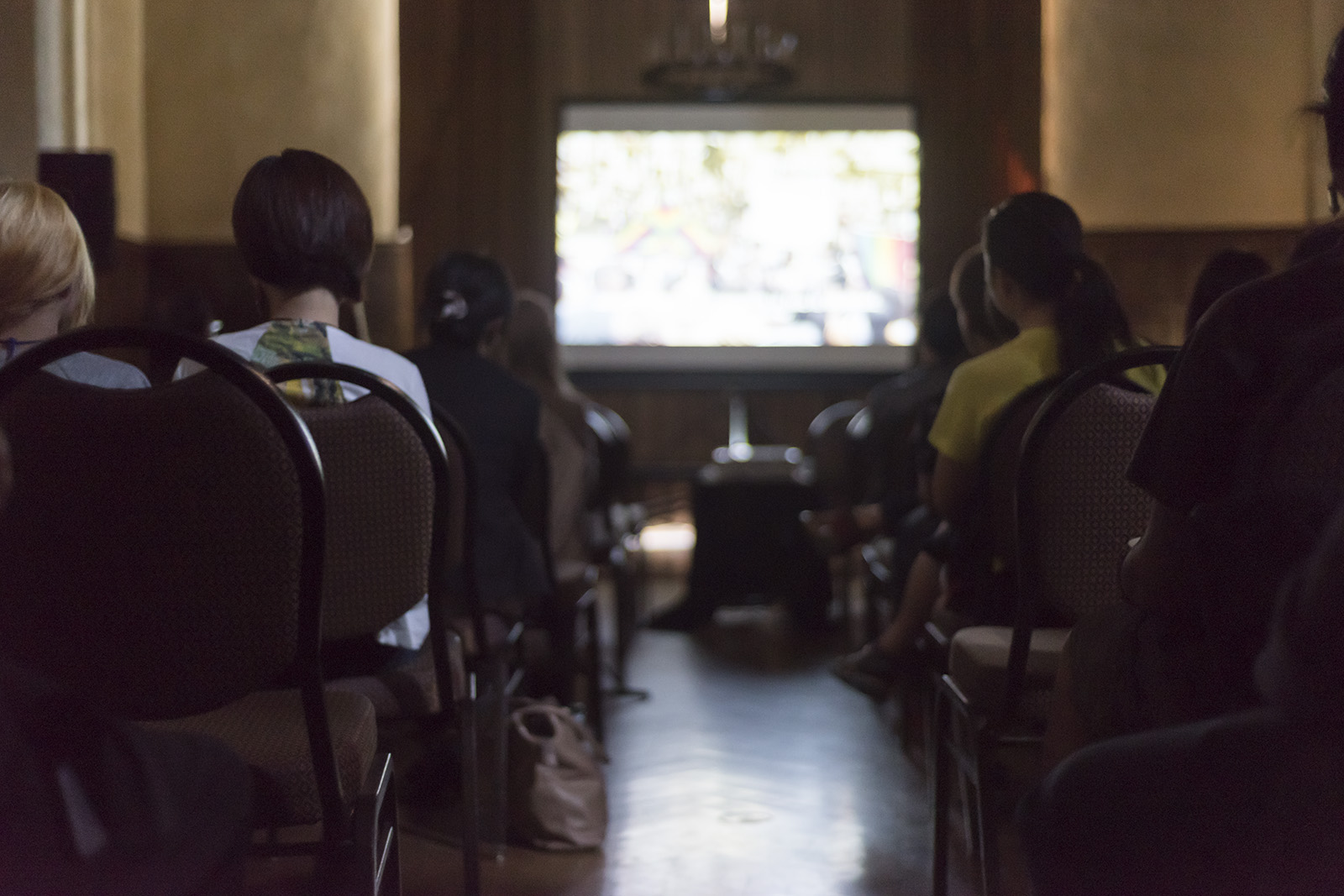 UCLA students and professors viewed international films at the Los Angeles International Culture Film Festival on Sunday at UCLA. The films are about topics such as Marilyn Monroe, a telescope in Hawaii, a Tibetan buddhist monk and first-generation Australian-Lebanese boys. (Erin Rice/Daily Bruin)
An annual film festival founded by the International Student Film Association screened 19 films from 15 countries on campus Sunday.
UCLA students, staff and alumni helped organize the second annual Los Angeles International Culture Film Festival, which screened 15 original submissions and four acquisitions of films first screened at other festivals. The eight-hour festival, held in the Kerckhoff Grand Salon and Kerckhoff State Room from 11 a.m. to 7 p.m., also included an indie filmmakers panel and an awards ceremony.
"Maria," a film from the Philippines about a 50-year-old woman who gives birth to her 22nd child and the suspected pregnancy of her teen daughter, won the top Jury's Culture Award.
Around 300 filmmakers from approximately 30 countries submitted their films to the festival online via Withoutabox and Filmfreeway between September and December 2016, said Xinyi Zhu, a psychology alumna and festival director in the film department.
The ISFA originally began as a way for filmmakers to internally collaborate, learn and develop their films, but it eventually decided to expand its mission to sharing films externally and founded the LAICFF in May 2015, Zhu said.
Zhu, who helped select this year's final 15 films, said the entries were judged by their overall mastery of film, as well as their cultural relevance.
"We seek individuality and cultural identity in our films," said Weiting Liu, a festival director in the film department and a UCLA alumna.
Frank Cohen, who directed, produced and co-edited the U.S. film "Father Sky, Mother Earth," decided to enter the LAICFF because he believed the cultural themes of his film aligned with those of the festival. "Father Sky, Mother Earth" documents the construction of a telescope on the Hawaiian mountain of Mauna Kea and its disruptive effect on the indigenous community. The film, addressing American imperialism of Hawai'i, was awarded best documentary.
"When we think of Hawai'i, we think of this tropical paradise, but it's really just a rich culture that is kind of bastardized by American media and our perceptions," Cohen said. "That isn't really explored, and I thought this would be a great venue to show that."
Anouk Phéline, a festival attendee and lecturer in UCLA's French department, appreciated "Father Sky, Mother Earth" for its ability to translate issues relevant to Hawaiian people and make them legible and important to a wider, multicultural audience.
"The film managed to make us, at a point, connect and feel like those people on the mountain," Phéline said.
Festival attendee Chris Kim first heard about the LAICFF in his film history class. One of his favorites was an Iranian film titled "Like The Last Day," which followed a 40-year-old woman haunted by a musical prank phone call.
Kim, a second-year Design | Media Arts student, said the film's eerie tone maintained his curiosity throughout the screening.
Three judges – a film professor, an Asian American studies professor and a film professional – privately screened and evaluated the finalists prior to the festival. They chose winners in six different categories.
Zhu said ultimately the films were selected based on the cultural and cinematic relevance of their content, not on the filmmakers' prior resumes.
"We don't care about the background of the filmmakers as long as the film is great," Zhu said.
Carras is an A&E senior staff writer. She was previously the assistant editor for the Theater Film and Television beat of A&E.
Carras is an A&E senior staff writer. She was previously the assistant editor for the Theater Film and Television beat of A&E.