Watermark senior residents speak on adverse effects of eviction notice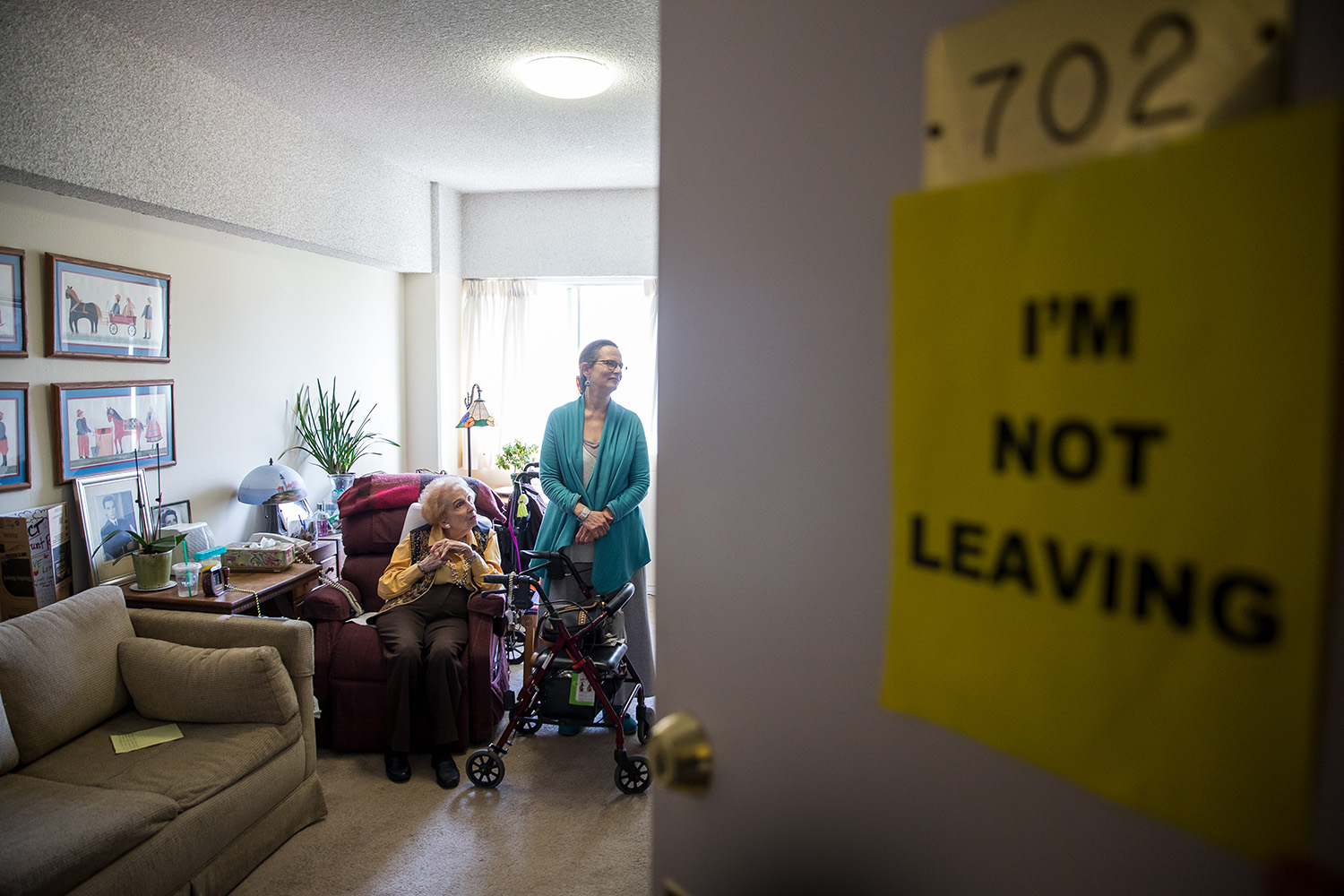 Ruth Frank (left) and her daughter Carol Frank (right) are pictured in Ruth's apartment in the Watermark at Westwood. Ruth Frank, who lives in The Watermark at Westwood, met her late husband at UCLA. Jeannine Frank, her other daughter, lived in the same building that her mother lives in now as a student at UCLA. (Aubrey Yeo/Daily Bruin senior staff)
Correction: The original version of this article incorrectly stated there were about 170 residents living at the Watermark on Dec. 1, 2016, and 58 residents remain now. In fact, there were 121 residents living at the Watermark on Dec. 1, 2016, and 56 residents remain now.
This post was updated on April 13 at 10 p.m.
When Emiel Meisel and his wife settled in Westwood in 2014, he thought their journeys had come to a close.
After he spent years living his post-retirement dreams in France and Mexico, Meisel, along with 55 other seniors, now lives in the Watermark at Westwood, a retirement community. The building, previously known as Westwood Horizons, was renamed after Watermark Retirement Communities bought it in October. Now, its residents may face a more significant change – eviction.
On Dec. 1, 2016, Watermark representatives gathered the elderly residents of the building in the dining hall and told them they had 120 days to move out to accommodate renovations, residents said. Many of the residents, including Meisel, were shocked by the announcement.
"I thought the (representative) was going to come to introduce himself," Meisel said. "The first thing out of his mouth, he says, 'We're going to remodel the entire building. You're going to have to leave in the next 120 days.'"
Meisel took to his blog to write about the shock he and other residents experienced during the meeting.
"Within 10 minutes, I left the meeting," he said. "I came up and wrote to my daughter and I said, "Susan, you have two wandering Jews"."
A sudden change
Meisel later saw a "Termination of Tenancy" notice taped to his door and found that residents older than 62 could request extensions up to a year to find alternate housing. Meisel said David Barnes, the president and CEO of Watermark, did not mention this extension during the meeting.
According to a "Westwood Horizon facts" website by Watermark, the company announced the possibility of an extension in the meeting and in writing.
By Dec. 22, 2016, Watermark had granted all residents the yearlong extension.
"They will be able to return to the building and stay … (during the construction) at their current rental rates," Watermark spokesperson Laura Mecoy said. "The building is old and needs to be renovated; it has systems that are failing and need to be fixed."
In the months following the initial notice, many residents found alternative housing and moved away. In response to complaints from the remaining residents, Watermark updated its plans Feb. 17 to clarify that residents could remain during construction. Watermark may temporarily place some seniors in hotels during construction that could affect their safety, but Mecoy said Watermark cannot estimate the length of these hotel stays.
"(Watermark) has offered to provide everything the residents have been seeking, including an agreement that they can remain in the building during much of the construction," Mecoy said. "We are in very serious and productive conversations with their lawyers, Bet Tzedek, and hope to reach an agreement soon."
Bet Tzedek President and CEO Jessie Kornberg said that the period for the eviction notices have been temporarily suspended but not rescinded.
While the battle over eviction moves forward, seniors are feeling increasing stress from the pressure to move, said Lillian Koslow, who has lived at the Watermark for five years.
"At the beginning they only gave us four months to be here and a lot of the residents got scared and left," Lillian said. "But, there's a small number of us that are brave and are staying here."
From "Hello" to "When are you moving?"
Koslow, who found a community in the home, said the news she would have to move was shocking.
"I've been sick about it because I really enjoy it here," Koslow said. "The people are lovely, the location is excellent and at my age of 98 years old, it's a little bit hard to think of moving."
Meisel noted a stark change in the building's atmosphere after the initial news of the eviction, when a resident greeted him with "When you movin'?" instead of with a "Hello."
Since the announcement, the previous group of about 121 residents has dwindled to 56.
Koslow said it would be difficult to leave behind the connections she made with other residents, as well as the building's activities and proximity to Westwood shops and amenities.
"You almost feel that you've joined a family outside of your own family," Koslow said. "I still can take, with my caregiver, a walk down to Target and all those stores down there, and feel good about doing it."
Ole Guy's Ramblin
Meisel had lived in Paris with his wife, Harriette Meisel, for a year before moving to San Miguel de Allende, Mexico, because the couple realized they loved exploring other cultures. After Emiel and Harriette Meisel developed health problems, the couple moved to Los Angeles to be closer to one of their daughters.
The couple still lives independently. They recently took a UCLA Extension course that took them to the Writers Guild of America, West, and allowed them to attend prescreenings of several Oscar-nominated movies. At the Watermark, in addition to dining with other residents at mealtimes, Harriette Meisel joins her "Sippin' Sisters" for happy hour while Emiel Meisel writes away.
Emiel Meisel blogs about politics and film, but many of his recent posts have focused on the eviction and its effects, the building's new administration and the budding romances at the Watermark. One recent post, an open letter to University of California President Janet Napolitano, called on the UC to purchase the building for use as a geriatric facility.
Many seniors have coupled off, sitting together at meals and holding hands at the movies. Emiel Meisel said it is hard seeing those couples being torn apart by relocations.
"That's why I love the blog," he said. "I love to write and I've lost my material."
Emiel Meisel has served as the voice of Watermark residents in more ways than one. After a particularly gloomy meeting with lawyers, he decided to get up in front of the dining hall and suggest protesting against the evictions. He said he suggested residents meet the next morning to walk from Weyburn Avenue to Le Conte Avenue in protest of their situation and draw media attention to their dilemma.
The protest ended up spanning little farther than the length of the building, but Koslow said it had an empowering effect.
"It was good for me at 98 years old to be able to hold a sign and fight for (this cause)," Koslow said.
Emiel Meisel said every time he comes across one resident, the resident asks him when they will march next.
"Instead of final resting place, we like to call it final nesting place," he said. "They're going to have to drag us out of here."
Alma mater
For Ruth Frank, Watermark is more than a retirement home – it's a return to her alma mater.
Frank, who is 95, met her late husband at UCLA in 1941 as a freshman.
"I'm sitting in the library – and the library was where the action was – and he came up to me and said, 'I'd like to take you to the football game (against USC),'" Frank said.
Frank had put on a new red dress for her date at the game, unaware of UCLA's blue-and-gold tradition.
"He said, 'I don't know how to tell you this but you've got to change,'" Frank said.
Her husband played varsity baseball alongside Jackie Robinson. One of her daughters, Jeannine Frank, also attended UCLA and lived in the Watermark building itself, when it was a residence hall known as Weyburn Hall.
"I think (strong community ties) have a lot to do with the UCLA connection," Jeannine Frank said. "A lot of the residents here … had kids who came here, who are doctors and professors here."
Ruth Frank said she values her time at Watermark because it allows her to be close to Jeannine, and she can attend lectures and performances at her alma mater UCLA. She's become friends with her fellow residents and their families, Jeannine Frank said.
"Why at 95 years old do you have to start all over, when you've planned so carefully?" Jeannine Frank said.
---
See more: Gallery: The Watermark evictions