UCLA TFT alumni present social justice-themed short film festival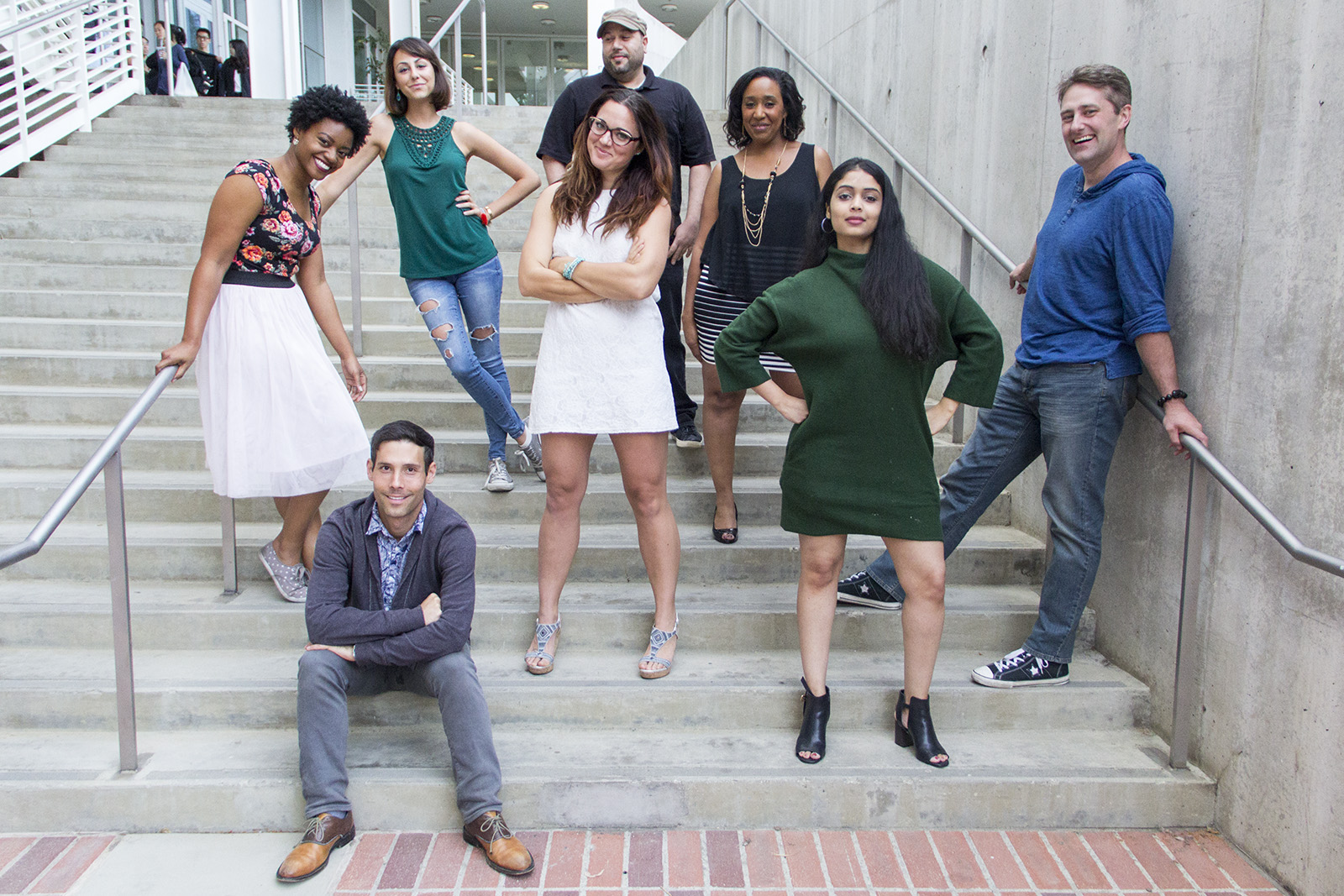 Brandi Feemster, Adam Fried, Rafaella Biscayn, Samantha Bowling, Giancarlo Fusi, Monica Quinn, Vidhatri Bandi and Jason Ryan Lovett (left to right) all participated in creating the Moving Parts Film Festival. All, the majority of which are UCLA alumni, themed their films and the festival around social justice issues. (Amy Dixon/Daily Bruin)
"Moving Parts Film Festival"
520 N. Western Ave.
Saturday at 9 p.m.
$10
April 12, 2017 12:36 a.m.
Correction: The original version of this article incorrectly referred to Giancarlo Fusi as a UCLA Extension alumnus. In fact, he is a School of Theater, Film and Television summer institute alumnus.
Five theater, film and television alumni are the moving parts responsible for setting a 25-person film festival into motion.
Monica Quinn, Adam Fried, Samantha Bowling, Brandi Feemster and Rafaella Biscayn first met during the School of Theater, Film and Television's 2015-2016 Professional Program in Acting for the Camera.
The group of five 2016 alumni are still working together – but instead of working in Melnitz Hall, they are working for a nonprofit production company they founded together called Chrysalis Pictures. Chrysalis Pictures will present the Moving Parts Short Film Festival on Saturday at Studio/Stage in East Hollywood.
For the festival, 25 filmmakers were placed in four random groups and given seven weeks to complete a short film incorporating a randomly chosen social justice theme, such as the prison system or immigration, and words that each group picked randomly from a jar.
"Moving Parts Short Film Festival was made … in order to get people to create collectively and to keep that spirit of content creation alive," Quinn said.
The group of five actors formed Chrysalis Pictures to develop filmmaking skills besides acting, such as writing, editing and producing. They wanted to extend their UCLA experience and share the opportunity with others.
"We decided that we'd love to be able to extend the learning curves and … also to give (ourselves) the opportunity to play different roles we didn't get to play before, to give us the permission and to collaborate with other artists," Freed said.
[Related: UCLA alumni to present horror-comedy series at Sundance 2017]
The group picked the topic of social justice around the time of President Donald Trump's inauguration because they saw an opportunity to tell distinctive stories about timely and pressing issues, Quinn said.
"In that process of telling stories, I think there's a great opportunity to make other people aware of people in situations or (others) that are not like you," Quinn said.
Having the broad theme of social justice for all of the movies in the film festival gave a sense of coherence to it, said Jason Ryan Lovett, one of the directors and producers from Moving Parts.
"They are four completely different movies, but they all have to do with the same thing and (the film festival is) completely different than a lot of other film festivals," Lovett said.
The theme of Lovett's film was women's rights. The short film "Patched" follows a woman who lands her dream job but has to face a conflict between her work and her personal beliefs.
Lovett was nervous when he first found out the theme for the short film, because he did not want to talk over the voices of the women in the group on a subject matter such as women's rights. He listened to others in the group and let the women involved in the film voice their concerns and ideas to him, he said.
Giancarlo Fusi, a School of Theater, Film and Television summer institute alumnus, writer and co-producer taking part in the festival, was surprised when he pulled "entropy" as one of the words that his group had to incorporate in their short film.
[Related: Students gather at film festival, view works of UCLA alumni]
He watched a video of comedian George Carlin talk about entropy as it relates on an individual and widespread societal level, inspiring the application of entropy in a societal way, Fusi said. Fusi and his group named their short film "Entropy," because the natural undoing of order into chaos would be reflected in their movie, which follows a rehabilitated ex-convict after he is released.
The workshop model of the festival not only allowed filmmakers to contribute to their films both in front of and behind the camera, but also tell stories that are personal.
Vidhatri Bandi, an alumna and writer, actor and producer taking part in the festival, emigrated from Mumbai, India. She was excited about the social justice theme when she pulled out the topic of immigration.
"When I was writing the script, it was to show what people went through after the Muslim ban," Bandi said. "The story I wanted to tell was so close to me and so personal."
The short film she worked on, titled "Radhika," follows an immigration attorney who faces ignorance from others. Bandi has witnessed her friends who are in relationships with Muslims get questioned by others about the nature of their relationship, especially in response to Trump's travel ban.
Bandi took elements of relationships she saw in them, like trust and loyalty, and put them into the film, Bandi said.
The founders and filmmakers hope that the audience will gain an understanding about the topics presented in the films, since film is an art form that starts conversations, Lovett said.
"We wanted to come at a more oblique angle and maybe start a conversation for the audience to … go home and keep talking about (the films)," Fusi said.