UC Davis professor offers taste of brewing business in online class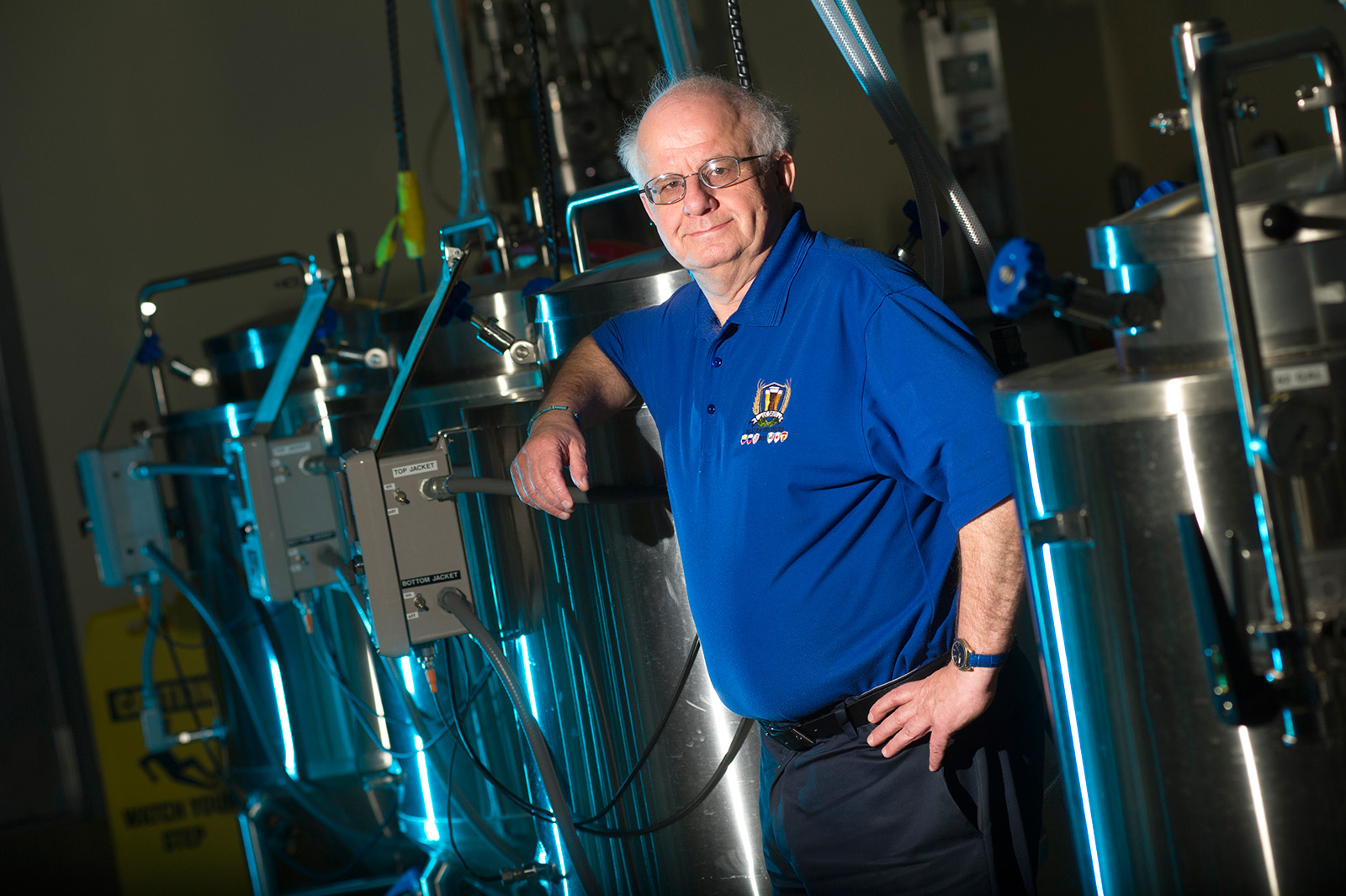 UC Davis food science and technology professor Charlie Bamforth is opening up his "Introduction to Brewing and Beer" class, which he has taught at Davis for 15 years, to students at any UC school online. (Karin Higgins/UC Davis)
April 10, 2017 10:59 p.m.
Charles Bamforth is known as the beer guy on the UC Davis campus.
However, his nickname is not a result of his collegiate drinking habits, but of his dedication to the alcoholic beverage in the realm of academia.
The distinguished professor of food science and technology at UC Davis has taught a general education class called "Introduction to Brewing and Beer" for 15 years. This spring, the course is offered in an online format for students across the UC system.
The new format will teach the topic better because of Bamforth's ability to interact with the students online with graphical enhancements, Bamforth said. Although the legal drinking age in the United States is 21, students of any age can take the class because it will not require them to drink beer.
[Related: UCLA Extension crafts "A Class of Beer" to be offered in spring]
Bamforth joined the brewing industry as a biochemist in 1978 to work for the Brewing Industry Research Foundation, a food and drink research company in the United Kingdom, as an enzymologist studying the enzymes of barley and yeast.
Bamforth was not looking for a career in beer but saw the job as an opportunity to put his biochemistry studies to work, he said.
"It could of just as easily been in any other work or life who needed somebody to study enzymes," Bamforth said.
Bamforth will never disclose his favorite beer; he has too many friends in the brewing industry. However, the brewing company he admires the most is Sierra Nevada.
"Chances are, you will find Sierra Nevada beer in my refrigerator," Bamforth said.
The online "Introduction to Brewing and Beer" course stems from an initiative from the University of California Office of the President because of the class's popularity at UC Davis, said Kem Saichaie, associate director at the Center for Educational Effectiveness at UC Davis.
The class is designed to introduce students to the world of brewing and beer, while also discussing the fundamental science and technology of brewing. Some topics include the history of beer, malts and the brewing business. The course will have three live lectures and 35 pre-recorded lectures.
Students in the food studies minor at UCLA can especially benefit from the new class because beer has important cultural and economic influences on society, said Joseph Nagy, the chair of the food studies minor at UCLA.
Drinking beer is often at the center of social activities – some cultures drink beer to create social cohesion, Nagy said. And beer brewing provides insight into a culture's economic priorities, since it requires an abundance of barley and wheat. The way in which a culture divides their crops between brewing and consuming shows its values, he said.
"It's a great topic to look through as almost a kind of prism through which we can see many other issues having to do with human history and culture," Nagy said.
[Related: Alumnus brews up flavors infused with heritage, diversity]
Students who wish to work for a brewery or want to learn how to home brew should take the class; it is important to understand both the science and business behind the beverage, said Logan Franey, a UCLA Anderson School of Management student and president of the Anderson Craft Beer Club.
"No matter what you are doing in the industry, knowing both those sides is really critical," Franey said. "You understand what goes into their job."
Ammon Williams, a third-year managerial economics student at UC Davis, is taking the online course because he is interested in agri-buisness. He said he hopes to pursue a career in a related field, such as hop acquisition for breweries.
In the transition to make the class available to UCLA students as well as UC Davis students, Saichaie revisited the class' topic order. Students should know about the malts before learning about the hops, a flower used for flavoring in beer.
Bamforth said his online class is a superior educational experience to that of his original in-person format. The online "Introduction to Brewing and Beer" requires more engagement from students through ungraded questions asked every five minutes during the lectures.
Additionally, the course will be enhanced with graphics, said Laura Metrulas, the class's teaching assistant. In one of the lectures, Bamforth will explain the structure of a hop while next to him a video of a hop being slowly taken apart will reveal its different components.
"Introduction to Brewing and Beer" is currently limited to 50 UC Davis students and 50 students from other UC campuses.
The course has been and will continue to be popular because it makes science interesting, Metrulas said. Most people do not think of beer as scientific, yet the class puts complicated scientific principles, such as the isomerization of alpha-acids that creates beer's bitter flavor, into the exciting context of beer.
Bamforth used to believe a quality education could only occur in the classroom, convinced students need to interact with their professor. After creating his new course, he is no longer skeptical of online learning.
"I jokingly say 'There is nothing quite like getting the spittle of your professor on your cheeks,'" Bamforth said. "I realize now that with the tools we have, I can very much interact with the students."