Boulevard Bites: Make Out's pricey plant-based dishes offer glimpse into LA culture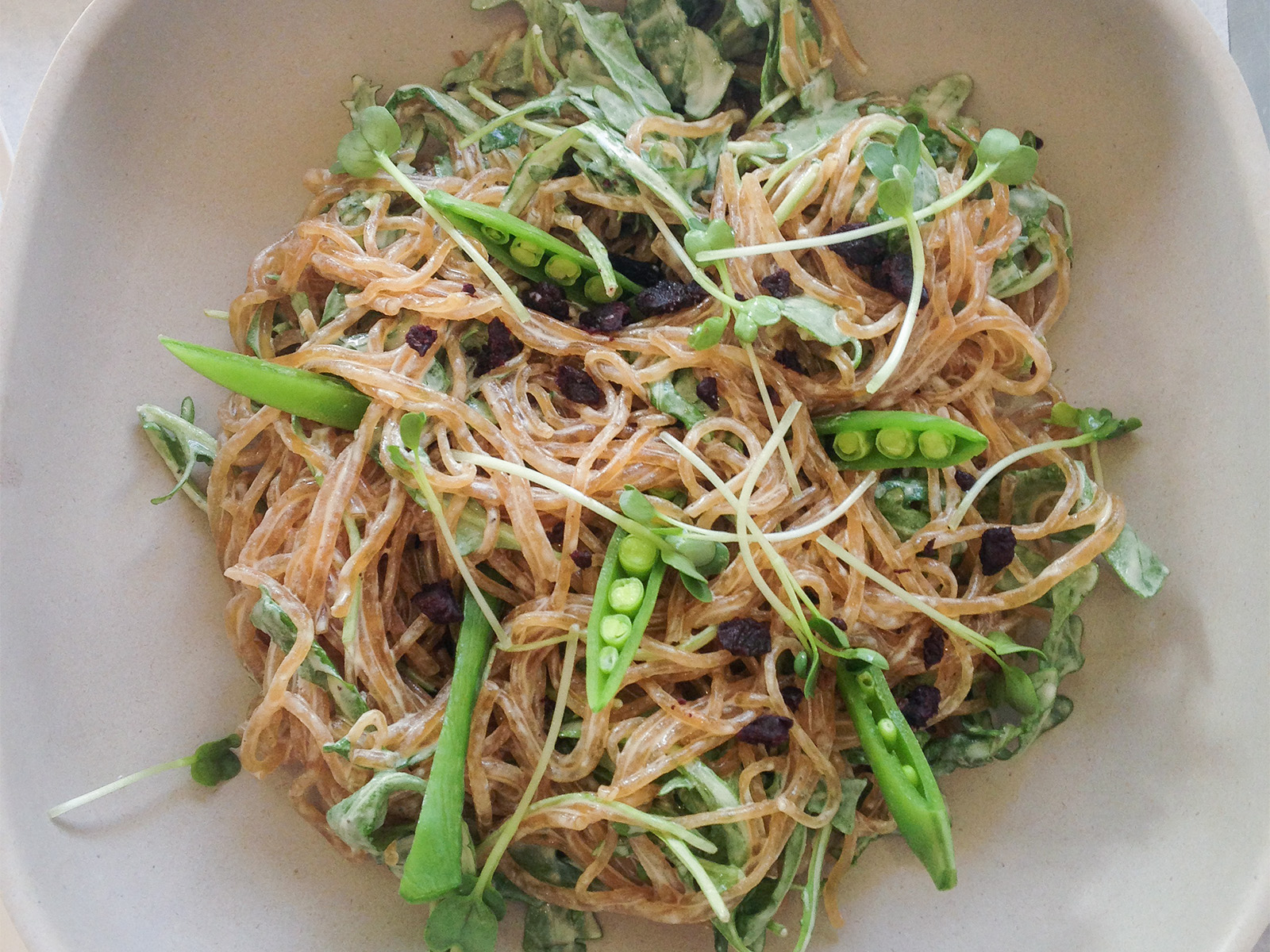 The $13 cacio e pepe bowl includes kelp noodles, black pepper cream, snap peas, dehydrated olives and sprouts. The dish's white cashew sauce had a savory salt-and-pepper flavor. (Lindsay Weinberg/Daily Bruin senior staff)
Make Out 9426 Washington Blvd Culver City, CA 90232
Finding a delicious restaurant in Los Angeles can be difficult among the city's thousands of dining options. To help readers narrow down their search, the Daily Bruin will review restaurants located along main streets near UCLA each week.
Wanna go to Make Out?
Uh, that came out wrong. It's a plant-based cafe and juice bar with a slightly weird name.
Located in Culver City, the trendy and expensive vegan restaurant has pressed juice that will make you squirm because of its sour potency, but the kelp noodle bowl miraculously turns mere plants into a complex and savory dish.
Make Out's amusing name is befit for its equally amusing bougie, vegan experience.
It resides in a courtyard inaccessible by car. Diners stroll down a stone walkway lined with pink blossoming trees and white outdoor umbrellas and enter the cafe. Customers pay at the front before their order is called out.
A smoker lingered across the street. A pregnant woman in medical scrubs walked in to order. Other customers included a little girl in pink and a woman in black sweats and flip-flops. One man wore a newsboy cap, examined his old-fashioned film camera and carried a teal yoga mat over his shoulder.

Natural light streams through large windows and onto the restaurant's marble countertops and white brick wall interior. Geometric brass ottomans topped with succulents are lined up in front of a long beige couch with pillows; a white-lit sign behind the couch reads "Everyday Plant-Food."
And that's the novelty – the food is plant-based. Menu items range from avocado key lime tarts to coconut ceviche tacos.
The cacio e pepe bowl includes kelp noodles, black pepper cream, snap peas, dehydrated olives and sprouts for $13. Served cold, the kelp noodles' slippery firmness was identical to that of glass noodles. Arugula sprinkled throughout complemented the light dish without making it too bitter.
The presentation looks as natural as the succulents on the table – sliced snap peas and green sprouts poked out of the noodles like seeds out of soil. While they added to the dish's aesthetic, such garnishes were not a culinary necessity; the sweet snap peas were too bulky compared to the dainty noodles, and the sprouts' texture was redundant when paired with the arugula.
But the cream sauce sells the meal. The sauce, white in color and made out of cashews, minimally coated the noodles and arugula like salad dressing. Despite the lack of actual cream, the sauce enhanced the bowl with a rich salt-and-pepper flavor that was evenly distributed because of its liquid form.
While the cream was cohesive, the large black dehydrated olives overpowered a single forkful. The shriveled olives looked like a fancy addition, similar in appearance to truffles or peppercorns, and they added a Mediterranean twist to the crunchy noodle salad. But they'd be better served in smaller shavings.
The cacio e pepe bowl will shock nonvegans for its intense flavor profile that is both fresh and salty, especially considering the delicious noodles are technically just a salad.
However, nonvegans will have more difficulty swallowing Make Out's $10 juices.
The Venice green juice – made of apple, cucumber, celery, parsley, spinach and lemon – was hard to finish. Served chilled in a glass bottle, the potent vegetables are too powerful to be casually gulped alongside a meal. These are for hard-core juice fanatics and not novice sippers.
The first taste is acidic, followed by a strong celery flavor and a refreshing cucumber aftertaste. While the apple isn't detectable, it likely adds a sweetness to the juice, without which it would be even more off-putting.
The Venice juice is refreshing after customers acclimate to the strange root flavors. It's like a sip from mom's garden, but without any floral notes, focusing instead on greens and herbs.
Nonlocals just trying to understand the Los Angeles juice culture should take it slow when enjoying the cleansing subtleties at Make Out.
Due to the high price, Make Out is only worth it if you're vegan and looking for an upscale meal, you're an adventurous student who wants to try it once or you really like the silly name.
Read more Boulevard Bites:
Three ramen shops battle to be the best bowl on Sawtelle Boulevard
The Butcher's Daughter's healthy, versatile menu is a vegetarian delight
The Tuck Room Tavern offers tasty options for Valentine's Day dates
Taste of Tehran provides wide range of Persian dishes
Tacos Tu Madre's bland tacos fall short despite shop's colorful aesthetic
Hamasaku boasts quality sushi, vibrant presentation
The OP Cafe's beachy bites make for a solid brunch
Inconsistent quality eclipses original flavors of Cake and Art
Ramayani offers authentic, affordable Indonesian cuisine
8oz Poke floats above the rest with dynamic flavors, high-quality fish
Weinberg is the prime content editor. She was previously the A&E editor and the assistant A&E editor for the lifestyle beat.
Weinberg is the prime content editor. She was previously the A&E editor and the assistant A&E editor for the lifestyle beat.