UCLA student reconnects with heritage as first Japanese Miss Asia USA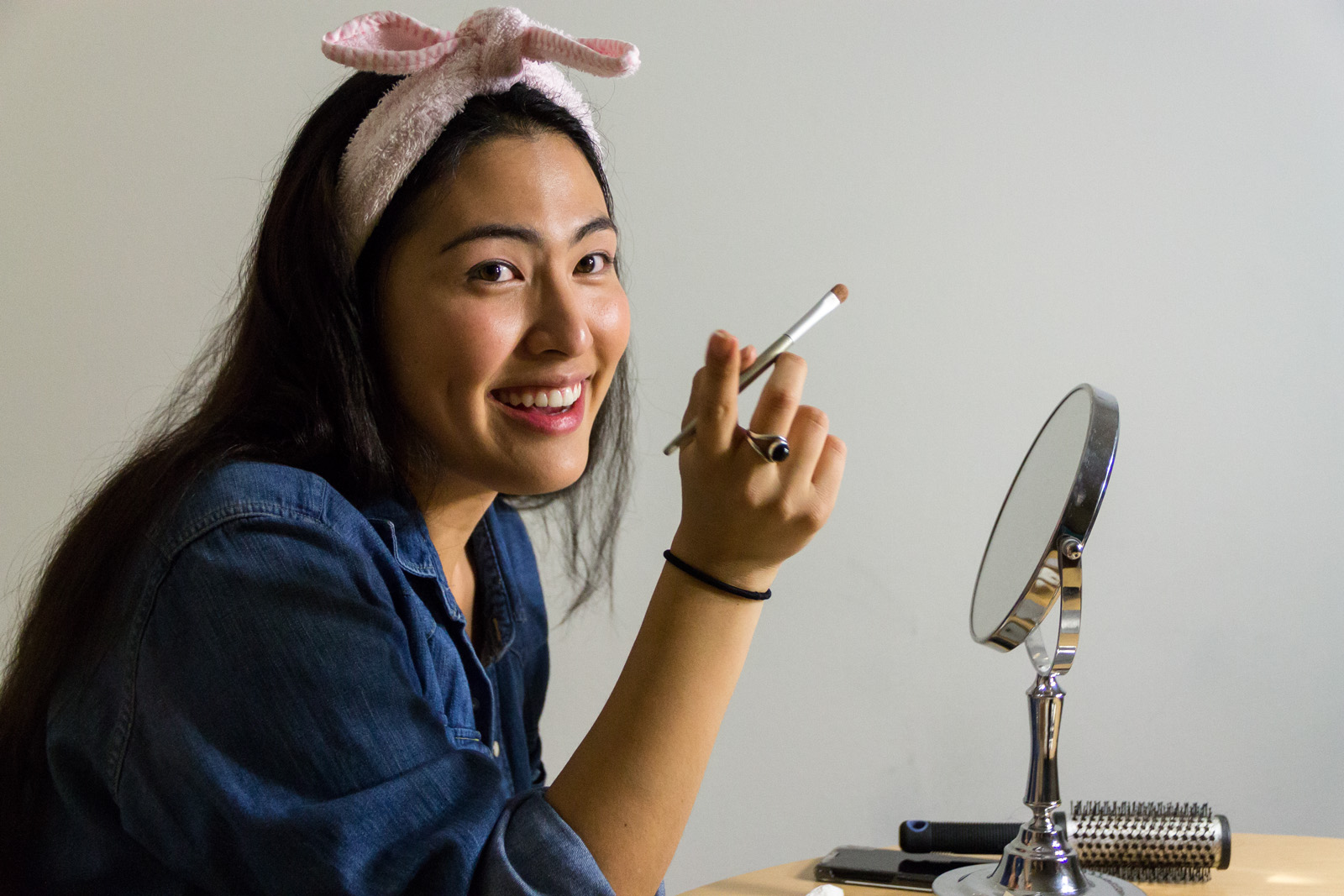 Third-year international development studies student Juri Watanabe was the first Japanese winner of the Miss Asia USA pageant, which brought her closer to her culture. Her beauty routine includes NuSkin cleanser, Too Faced bronzer and Yves Saint Laurent eyeshadow. (Emma Skinner/Daily Bruin)
Juri Watanabe uses 12 different products on her face when preparing for a pageant – and that's before she starts putting on makeup.
Watanabe, a third-year international development studies student, was the first Japanese delegate to win the Miss Asia USA pageant in November 2016. It was Watanabe's first pageant and she said it has helped her connect with her culture.
In her Westwood apartment, Watanabe greeted me while wearing a striped form-fitting dress and hot pink fluffy house slippers. Cartoon chickens were taped up as decorations from a Lunar New Year's party that never got taken down. White fairy lights on the wall spelled out the word "Lit" – her roommates' idea, but she's grown to love it.

[Related: Former UCLA piano student takes talent to Miss California pageant]

"I'm definitely not a pageant girl," she said. "(Pageantry) was weird for me and some people, but at least I got better skin out of it."
She took her face masks, moisturizers and cleansers out of plastic storage bins. Her face-prepping routine takes 40 minutes, and when training for Miss Asia USA, she had to do the routine at least once a day.
"I started because my mom got me into it, because it was helping me build up my confidence and going up in front of a large audience," Watanabe said. "It was kind of (a way) for me to become a stronger, more independent person."
We waited for her face mask to set, and she talked about how she missed living in Japan and consistently speaking the language. Growing up in Japan helped shape Watanabe's identity, she said, so representing the country is important to her, especially because she lived there for most of her life.
Watanabe went to an international school in Japan. However, when Watanabe entered eighth grade, she moved to the United States with her mother to pursue a better education while her dad stayed in Japan to work.
"In Japan, everyone is very respectful of each other, but I also think that's because it's a very homogenous country," she said, while blending a pink shadow into her eye crease with a fluffy eyeshadow brush.
She found it hard to learn English when she moved to the United States, because in Japan, her friends spoke both English and Japanese, so she never felt the need to become proficient in the former.
In the United States, she mainly just spoke Japanese with her parents.
In an effort to learn English, Watanabe began to lose touch with her Japanese heritage. She no longer bowed to her elders, she said, and being in the United States allowed her to become more free-thinking and outspoken.
Watanabe got to expand her knowledge of her country's customs while participating in the pageant. During the national costume portion, she learned a license was required to help others put on a kimono, giving her a newfound appreciation for the complexity of her nation's clothing, Watanabe said.
Since Miss Asia USA was Watanabe's first pageant, she was nervous about all of the time and energy that she and the people around her put into her success.
"It was nerve-wracking because you either win something or you don't," Watanabe said. "If you don't, though you learn a lot, it also feels like a waste of money. So I just put everything out there."
[Related: Alumna promotes cultural pride as Miss Chinatown USA]

It's an important honor for Watanabe to win the title, said Virgelia Villegas, president and CEO of Virgelia Productions Inc., the company that puts on Miss Asia USA.
"We're proud a Miss Japan finally won the crown for Miss Asia USA," Villegas said. "It's about time."
Thomi Perryman worked with many of the contestants for the Miss Asia USA pageant as a stylist, personal coach and choreographer, but he said he had his eye on Watanabe for the title. Watanabe wasn't aware she was the first Japanese winner until Perryman told her, he said.
"I pulled her to the side and said, 'Juri, let me tell you something, this is a high honor for you. You must realize you are the first Japanese contestant to win the title of Miss Asia USA,'" Perryman said. "And she just lit up like a Christmas tree."
Watanabe said winning the competition was a shock, especially since she didn't win any of the other special awards given throughout the night, so she wasn't called until the end of the pageant.
The pageant gave Watanabe a stronger sense of Japanese community, something she lost upon coming to the United States, she said.
"Now that I got involved with the pageant, it gave me so (many) more (opportunities) to meet people from the Japanese community in Los Angeles," she said.
Watanabe has met Japanese designers, photographers and journalists. She has also started doing work with the Japan Foundation by making speeches at some of its events.
After about an hour and a half, Watanabe finally finished her makeup – a rosy-eyed look with voluminous lashes and bronzed cheeks. But she still believes she isn't a makeup expert.
"I'm just happy I get to be a part of the Japanese culture of Los Angeles," Watanabe said. "Having this title, I am able to connect with people of my heritage, which is very important to me."