Chris Busco: City infrastructure could turn Los Angeles into a pedestrian paradise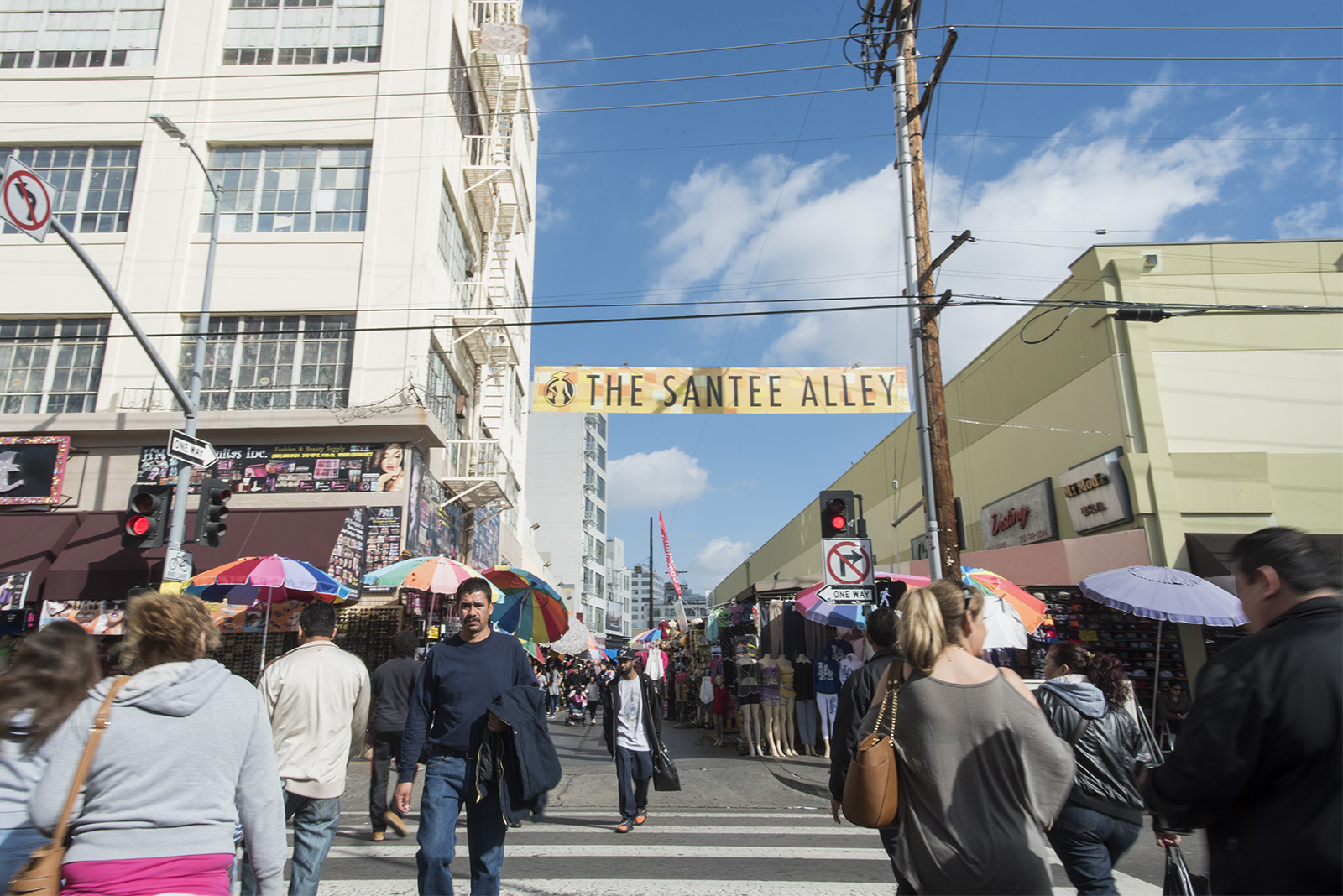 The Santee Alley in downtown LA's fashion district is a flea market featuring pedestrian-oriented infrastructure, including alleys that are blocked off to car traffic. (Miriam Bribiesca/Photo editor)
With 300 days of sunshine a year, star-studded boulevards and a plethora of major cultural institutions, the City of Angels seems to have all the makings of a pedestrian-friendly city. However, LA infrastructure still prioritizes drivers over the safety of pedestrians.
As overall traffic fatalities continue to rise, it's clear that LA has a safety problem, especially when bicyclists and pedestrians comprise a disproportionate amount of deaths. They make up 50 percent of those killed in accidents despite only being involved in 14 percent of accidents.
If Los Angeles wants to get serious about the street safety of Angelenos, it needs to rework the walkability of its streets. Right now, streets in Los Angeles are clearly utilized with the driver in mind. For example, the majority of space on almost every street is allocated to cars, while pedestrians are confined to small slivers of sidewalk space. While this is how we are conditioned to think of streets, this does not have to be the case.
As fewer people rely on cars as their primary mode of transit, the city needs to reimagine its streets to reflect increased demand for safe, walkable streets. Los Angeles should start employing pilot programs to make certain streets with high foot traffic restricted to pedestrians and cyclists.
In order to redesign our streets with the pedestrian in mind, it is important to understand what exactly makes an area good for foot traffic. Madeline Brozen, the program director for the UCLA Complete Streets Initiative, breaks up walkability into three main categories: aesthetic, destinations and infrastructure.
Aesthetic refers to the look of the urban environment, including interesting architecture and the presence of trees or other landscaping. A city with good destinations would be one in which pedestrians can access a plethora of shops and cultural institutions like museums, theaters and restaurants. Good infrastructure includes safe, well-maintained areas for pedestrians to walk, along with frequent and safe street crossings.
Los Angeles has the first two bases covered. There's a variety of premier destinations, be it renowned art museums or famous tourist sites. Furthermore, our most highly trafficked districts are well-maintained, providing the necessary aesthetic for good walkability.
"Los Angeles has a vibrant street life in certain places and really high bus and transit ridership," Brozen said. "We definitely see a lot of walking in our commercial corridors and by transit stops."
The difficulty then lies in infrastructure, which can impact safety.
"The next step is to get safety improvements where there are already people out walking so they won't get hurt or killed," Brozen added.
There's still progress to be made on that front. According to a study published by the city of Los Angeles in January, major two-way streets in Los Angeles comprise 12 percent of the road network, yet were the sites of 92 percent of pedestrian deaths. This demonstrates that areas of significant danger to pedestrians are concentrated in a relatively small portion of the overall road network.
The city has the data on walkability and it has the stats on pedestrian deaths. Now, it must take effective steps to make its streets safer for pedestrians with specific pilot programs testing the efficacy of vehicle-restricted or vehicle-regulated areas. One such area where this could work is near the intersection of Hollywood Boulevard and Highland Avenue.
Brozen identified reducing vehicle speed as the most effective means of preventing pedestrian death. In areas of high risk, the city should either close off all vehicle access or severely limit through traffic and slash maximum legal speeds dramatically.
Other cities around the world have implemented similar plans. Most notably, in Barcelona, Spain, a pilot program of five "superblocks" essentially closes off certain areas of the city to all through traffic. Some vehicle access is permitted, but only for residents and at extremely reduced speeds. So far, the program has reclaimed street space for people, rather than cars. For example, one intersection even became a playground.
Of course, some may argue that restricting vehicle access or speeds in certain areas will worsen Los Angeles' already horrendous traffic. Yet events such as farmers markets demonstrate the city can function normally despite the closure of certain streets to vehicle traffic.
Furthermore, many of the areas that would be closed to vehicles – like crowded downtown blocks – are ones that drivers already try to avoid.
And there are numerous benefits to improving walkability. Brozen identified three key upsides: improvements in public health due to more physical activity, greater social cohesion in the community and decreased carbon emissions from less use of motor vehicles.
Los Angeles has always been a place of imagination and innovation. Our commitment to seeing things a little bit differently has given us tremendous cultural force as a leading metropolitan area worldwide. Our city attracts some of the greatest intellectuals, visionaries and cultural figures that have allowed us to push the realm of what is possible in multiple fields.
As such, there is no reason why we should not also act as a vanguard for a new type of city – a city that is suitable for the 21st century and prioritizes the health and safety of its citizens as well as the environment.
With a little bit of work, Angelenos have the opportunity to make LA into a walker's wonderland.
Busco is an Opinion columnist and a staff representative on the Daily Bruin Editorial Board.
Busco is an Opinion columnist and a staff representative on the Daily Bruin Editorial Board.