The Quad: Students mourn, then rejoice Bruin Café's late-night dining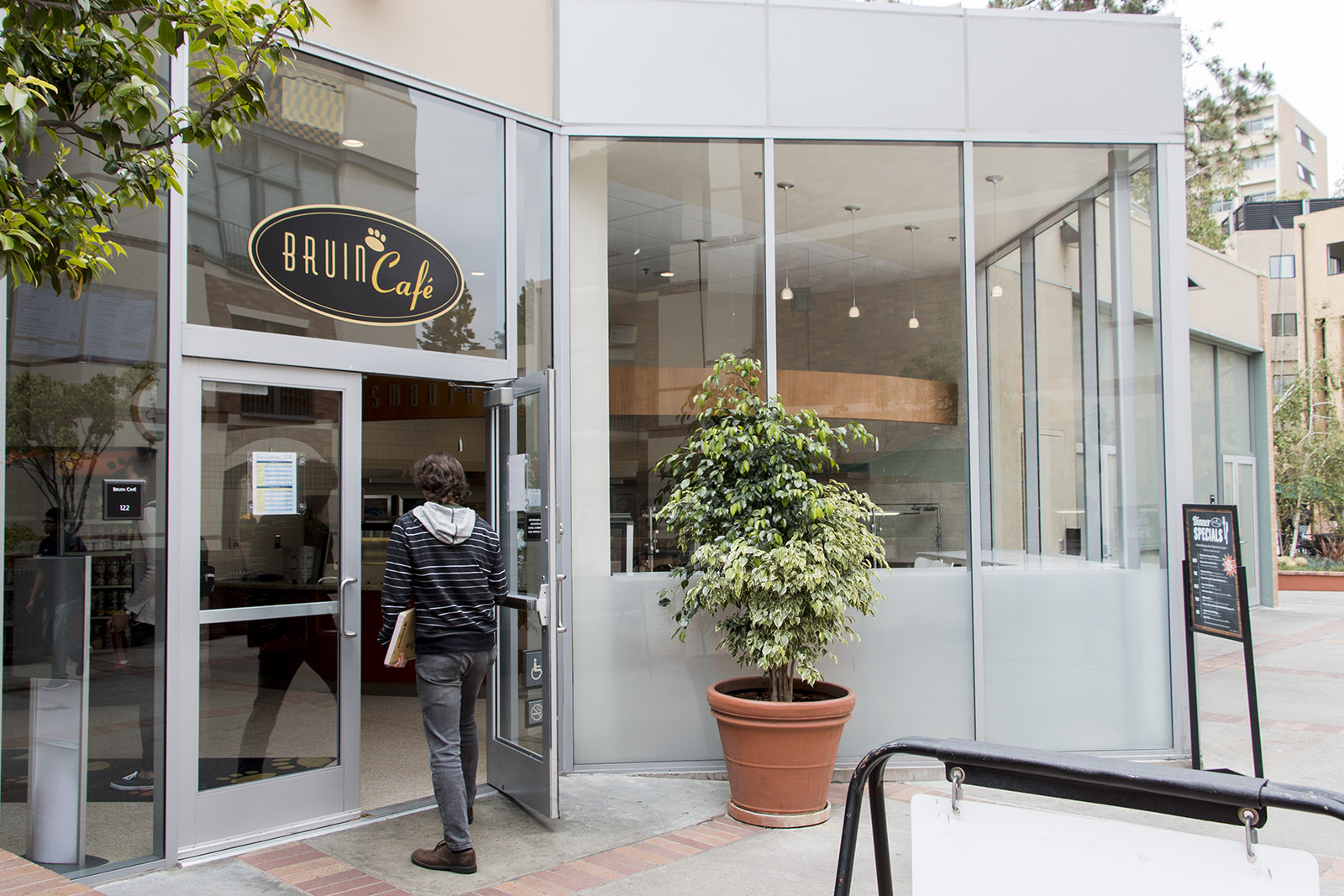 At the beginning of winter quarter, devastating news struck Bruins living on the Hill: newly opened The Study at Hedrick would replace Bruin Café as the only UCLA Dining Services option available after midnight. For many students, it was a difficult farewell. However, on Feb. 22, before Bruins even had a chance to wipe their tears away, UCLA Housing posted on its Facebook page – Bruin Café has reopened from 9 p.m. to 2 a.m. every Thursday through Sunday.
[Related: The Quad: A farewell to late-night Bruin Café, a lukewarm welcome to Hedrick Study]
Due to the high demand of students unwilling to climb up to Hedrick Hall for late night dining, UCLA Housing decided to reopen Bruin Café. As residents flooded the post with responses of joy and enthusiasm, I decided to go to Bruin Café at midnight to see for myself the result of this decision.
When I arrived around midnight, there were several handfuls of students scattered in Bruin Café. I ordered a smoothie without having to wait in line. As someone who usually goes to De Neve for late night, where I often had to wait for up to twenty minutes in line, Bruin Café seemed rather empty.
As I lingered in the cafe drinking my smoothie and doing homework, I noticed that students who remained in Bruin Café late were usually ones who came to study, instead of those who came for late-night food. To these students, the reopening gave them an extra study spot late at night.
"I don't eat anything here," Mustofa Dogon, a third-year electrical engineering student said. "I came here to study. If BCaf weren't open, I'd study in my room. I think it's convenient for BCaf to open late at night."
It might seem strange that he would prefer to study at Bruin Café, a place that was originally built as a dining hall, instead of The Study, which was was supposed to be, as the name suggests, a study. However, Bruin Café is much more convenient for non-Hedrick Hall residents, and with the variety of food options offered, The Study has grown to become more like a restaurant than a study lounge.
As opposed to students who stayed in the cafe to study, most students who came to eat usually left after getting the food they ordered. To many of these students, Bruin Café is their first choice for midnight food. Rhea Sahu, a first-year molecular, cell and developmental biology student is a loyal customer of Bruin Café.
"I think it should definitely be open until 2 a.m., because it's really convenient and I genuinely would rather come here than Hedrick for late night, even if I were living there," Sahu said. "I feel like it's more 'late-night food.' If this weren't open, I probably wouldn't use my swipe."
This is understandable. The central location of Bruin Café provides convenience for residents who live as far up the hill as Hedrick Hall, to ones living in mid-Hill residence halls such as De Neve and Dykstra, while the trek to The Study is often too far for these students. Its quiet environment is quite suitable for studying, especially compared to De Neve, which is often very noisy. Furthermore, many students find Bruin Café's late-night menu more appealing than other quick service options, making it their favorite stop for late night food.
In the end, it turns out that the decision of reopening Bruin Café is justified. Students heartbroken from its closing in January can now welcome the cafe back as another choice to study and eat at late night.
Yixuan Jiang is a Daily Bruin blogging contributor. She is particularly interested in writing about issues concerning health, popular culture and media censorship.
Yixuan Jiang is a Daily Bruin blogging contributor. She is particularly interested in writing about issues concerning health, popular culture and media censorship.