The Quad: Despite going mainstream, EDM maintains integrity with sound principles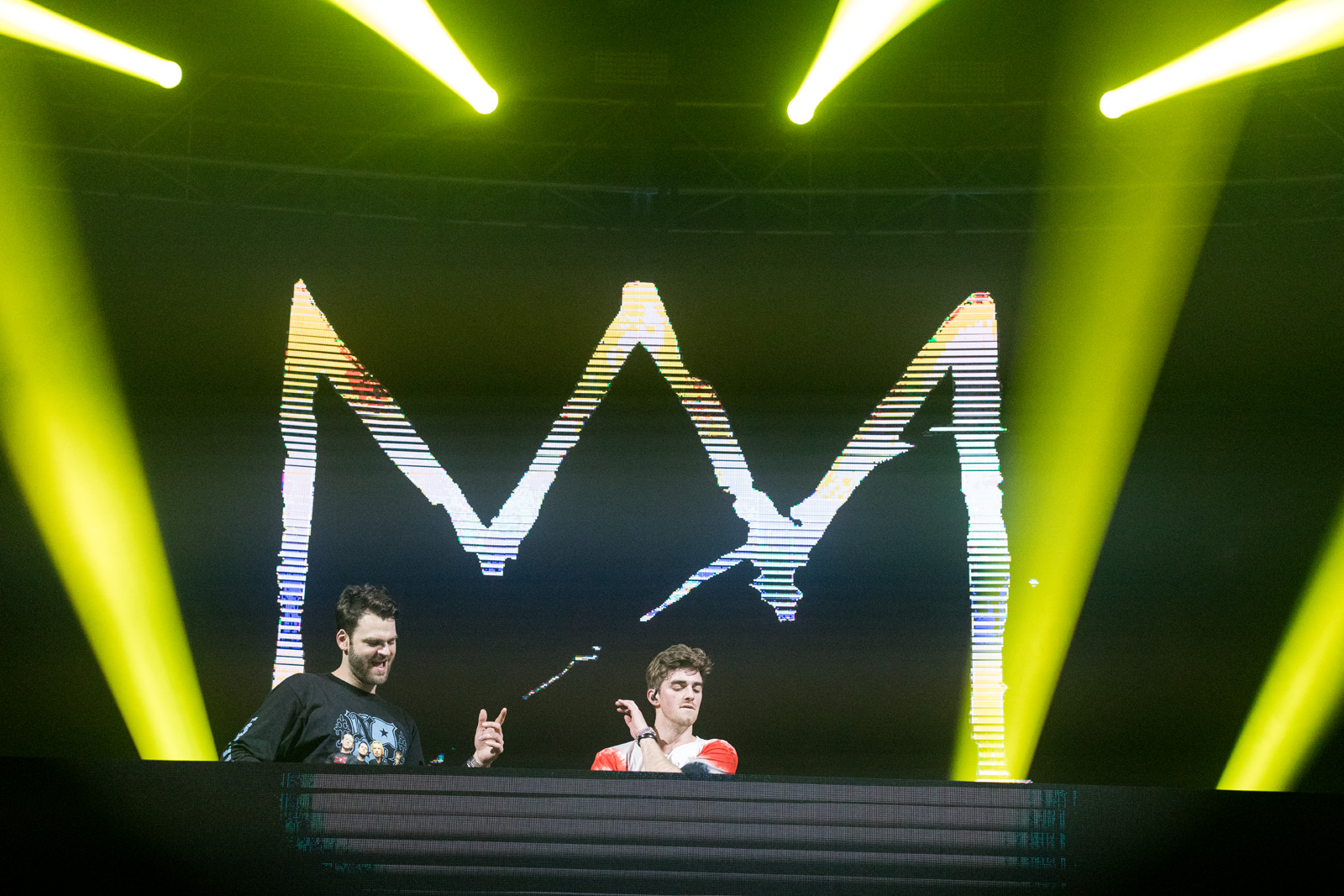 The Chainsmokers, pictured at the Hollywood Palladium, may be considered the Nickelback of EDM, but countless other artists strive to innovate in their music. (Dayoung Lee/Daily Bruin)
For many students, the light at the end of the winter quarter tunnel will be a weekend of electronic dance music at Beyond Wonderland. Featuring Diplo, Hardwell and NGHTMRE, the Insomniac Events-organized music festival will be held in San Bernardino, only about an hour and a half's drive from UCLA.
These events are nothing out of the ordinary. Festivals from Insomniac Events and other music festivals across California pepper the calendars of electronic music aficionados at UCLA. However, given the mainstream adoption of EDM into the realm of the Top 40, one cannot help but wonder if we've reached peak EDM.
Over the past several years EDM has dominated the music scene. With the rise of artists like Skrillex, Major Lazer and now The Chainsmokers, EDM has gone from pervasive dance club-techno to mainstream pop.
With EDM's ascension to mainstream music, some question the value of EDM, and the rave culture that accompanies it, and deny its validity as a serious music genre. Music experts argue that the EDM's popularity is fleeting and that the genre will never attain acclaim worthy of putting it beside genres like rock or punk in the grand scheme of music.
Many, including myself, would argue that EDM is, in fact, a genre to be taken seriously. Flume played the saxophone for 10 years before producing and Kygo was a classically trained pianist before he became a DJ. I believe it takes talent and an acute understanding of the way music works to become a successful DJ.
But others argue that EDM is simply the work of charlatans using computers to imitate music. True music, they say must be real: real musicians playing real instruments to make real music.
However, when you go back to the origins of EDM, that's exactly what you find: real people using real instruments. EDM as we know it today started in the 1980s as a form of electronic disco. Artists attached filters and synthesizers to their instruments to generate the electric sound.
From there, electronic music has branched out into house, trap and subgenres like tropical house and dubstep, concurrent with the rise of what we now know as modern EDM. In addition, during the 2000s, mainstream artists ranging from Kanye West in "Stronger" to Justin Timberlake in "SexyBack" started incorporating electronic sounds into their music.
However, the Top-40 glass ceiling was truly shattered in 2011 by Calvin Harris' "We Found Love," featuring Rihanna, which sat on the the Billboard Hot 100 for 41 weeks, bringing newfound popularity to EDM.
With EDM's integration into the mainstream, a slew of other related fads – rave clothing, pairing music with drugs, warehouse dance parties, etc. – followed its journey into American pop culture, bringing once underground rave culture to the forefront of the cultural conversation. Today, EDM and rave culture are practically synonymous.
In the 1980s and 1990s, raves were underground meetings held in abandoned warehouses and other secret locations. People were invited by word of mouth and they kept the locations discreet to keep the police and gangs from invading the parties.
Today, however, raves are anything but discreet. With the demonstrated popularity of EDM festivals like Beyond Wonderland and Electric Forest, raves have become public events and are celebrated for their atmosphere of acceptance, whether it be towards fashion choice, sexual orientation or drug use.
Perhaps due to EDM's newfound popularity and its association with drug-heavy rave culture, many are starting to question EDM's value as a musical genre. Due to EDM's lack of words and real instruments, many believe that the artistry is being drained from music and that this trend will bleed into other genres.
Critics of EDM often cite The Chainsmokers as an example of EDM's lack of substance.
Recently, The Chainsmokers were labeled the "Nickelback of EDM" for the rampant use of cliches in their songs. Critics argue that the qualities that characterize The Chainsmokers' music – repetitive drops, meaningless lyrics and monotonous beats – plague all EDM and are destroying the artistic elements of music.
I, however, argue that The Chainsmokers are the exception, not the rule. Flume uses a variety of styles in his music: He goes from traditional electronic "Helix" to trip-hop "Smoke and Retribution" to downtempo "Tiny Cities" all in the same album.
[Related: LA's Air + Style festival measures up to expectations for music fans]
ODESZA delves into electropop in "Say My Name" and switches to indietronica in their remix of "Something About You" by Hayden James.
Modern EDM cannot be pigeonholed into a single sound or motif. With artists like Zhu, Flume and Skrillex leading the charge, EDM has become an eclectic genre pulling from the past and present to create innovative genre-bending art.
While new listeners are joining the EDM movement every day, music experts argue that EDM's demise is not only inevitable, but closer than most think. With artists like The Chainsmokers becoming the new face of EDM, music experts believe pop is consuming EDM and that the popularity of artists like Skrillex or Kaytranada will fade in the coming years.
However, there's hardly any evidence to back-up these claims. If anything, EDM is on the rise: Calvin Harris became the first DJ to headline Coachella in 2016, The Chainsmokers are about to start a three-year residency at the Wynn Hotel in Las Vegas and thousands flock every year to EDM festivals from the Electric Daisy Carnival in Las Vegas to Tomorrowland in Belgium.
In 2016, the Electric Daisy Carnival celebrated its 20th anniversary with a recording-breaking 400,000 attendees during the three-day festival. If that's any indication of EDM's popularity, EDM might just be here to stay.