The Quad: A review of Beyond Burger's 'bloody' meat-free patty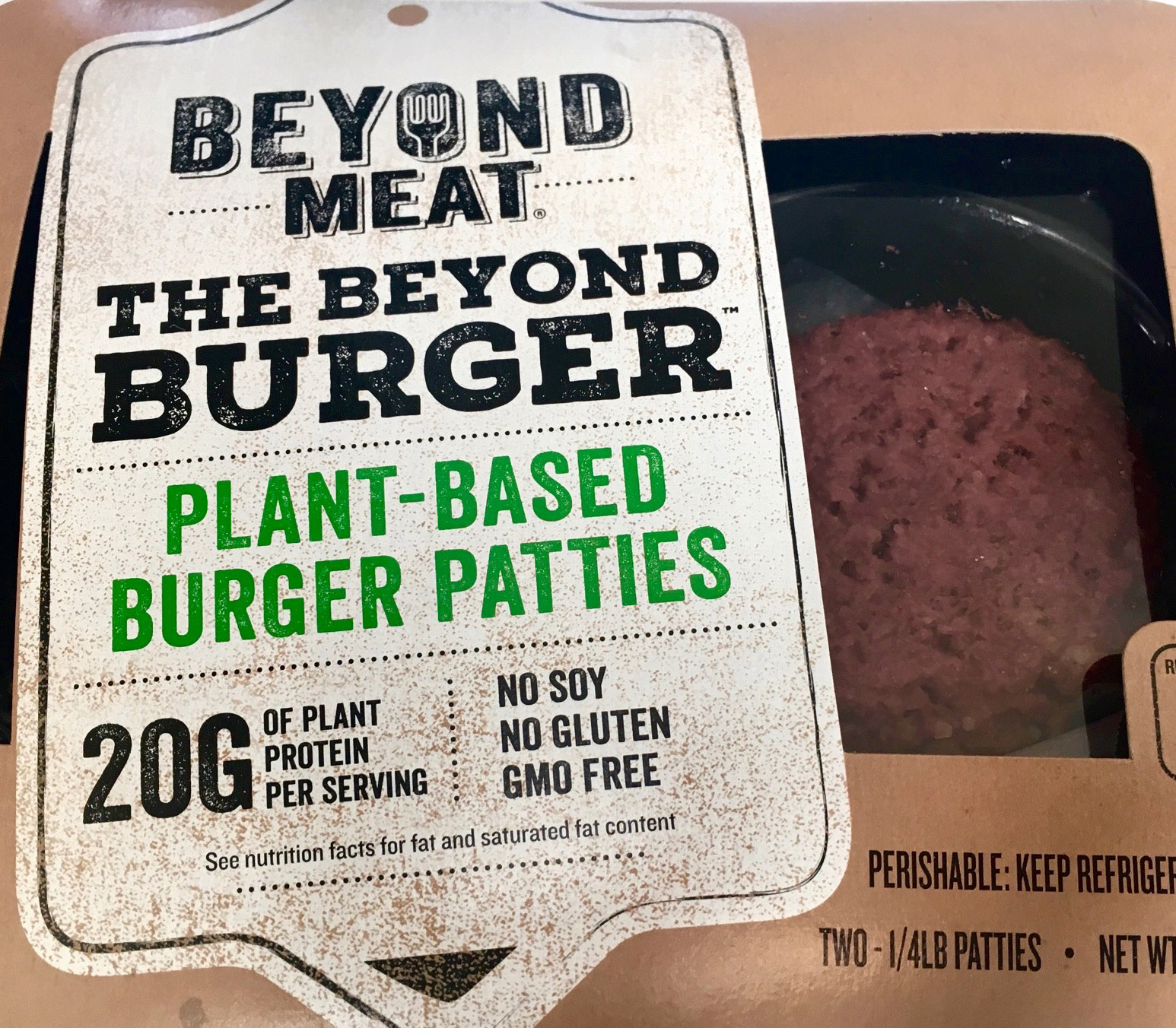 These plant-based burgers resemble meat in appearance and texture. (Giselle Abcarian/Daily Bruin)
The Westwood Whole Foods on a Saturday afternoon is a happening place. Outside, the tables are packed with UCLA students whose plates are piled high with a colorful variety of hot dishes. Inside, the aisles are even more crowded, and the chances of you leaving without running into someone you know are almost zero to none.
But what makes this Whole Foods worth bracing the masses on a weekend are the ample Saturday samples it offers, allowing you to try foods you may never have discovered on your own. Last weekend, I decided to try the Beyond Burger – a 100-percent vegan, gluten-free, soy-free and plant-based burger patty that not only looks exactly like a burger, but also claims to taste and bleed like a burger. Intrigued by the small bite I had, I decided to review the full patty with my roommates.
In the package, the burger looks exactly like a regular hamburger. It's bright pink, slightly wet-looking and thicker than most veggie patties I've seen. The smell, on the other hand, is a far cry from the smell of a regular meat burger. Its strong smell is almost unbearable if you get too close, smelling a bit like rotting veggies, but that's most likely just the smell of its main ingredient: pea protein.
So why would an omnivore choose a slightly weird smelling Beyond Burger over a real hamburger? According to the company, the goal in creating this burger is to improve human health, positively impact climate change, address global resource constraints and improve animal welfare by replacing animal protein with plant protein.
Their mission is not to provide an alternative to red meat but to supersede red meat completely, by creating a product that has all the same properties as red meat without the consequences of meat production.
This, of course, is a necessary cause. As the commodity with the highest total emissions and emission intensities, beef and meat processing in general contribute substantially to global warming and environmental issues.
Livestock farming not only causes harmful gas emission but also depletes 70 percent of the world's water and 47,000 square miles of land every year.
And as people are becoming more aware of these issues, it seems that the market for meat replacements is growing and investors are starting to notice. According to a New York Times article, Kleiner Perkins Caufield Byers, a venture capital firm that has backed Google and Facebook, is also backing Beyond Meat, not because they are interested in food but because they're interested in "big problems needing solutions, because they represent big potential markets and strong opportunities for building great returns."
Although the Beyond Burger is supposed to taste exactly like meat, I wondered whether the nutritional profile was closer to a meat patty or a veggie. While waiting for it to cook, I read the back of the package and was surprised to find that one patty has 290 calories. Compared to other veggie burgers such as MorningStar Farms' garden veggie burgers, which contain only 110 calories, this seems like a lot. However, this significant difference is most likely due to the high protein content of the Beyond Burger, which has 20 grams of protein compared to the 10 grams of protein in the garden veggie burger.
And while the considerable amount of coconut oil in the patty allowed it to brown nicely in the pan, it also ups the fat content to 22 grams, which is 34 percent of the recommended daily value of fat and significantly higher than most ground beef burger patties.
Once it was done cooking, the taste assessment began. Fourth-year dance student Caileigh Knapp, a vegetarian of five years, took the first bite of the cooked patty. Cutting into it, she became squeamish at the sight of the bright pink color inside. Hesitantly, she chewed and gave her verdict.
"I don't think it's good for vegetarians. I think it's good for people who are meat-eaters transitioning into vegetarians. It resembles meat so much that it sort of freaks me out," Knapp said.
This brings up an interesting point. The company claims that the Beyond Burger allows people to "eat delicious meat (who) don't want any of the bad stuff that goes along with it." But vegetarians who care about animals may not want to feel like they're eating one.
Fourth-year business economics student and meat lover Alyssa McCue tried the next bite. The most skeptical of the bunch initially, she was pleasantly surprised by the Beyond Burger.
"I'm impressed by the texture. It's pretty similar to a burger, but I can still tell that it's not meat. I would buy it for the environment though; it definitely tastes better than any other veggie burger I've had," McCue said.
Reducing your carbon footprint by changing your eating habits can be a daunting task, especially if you're not a fan of Native Foods-style fake meat or dishes with tofu. Yet, while the Beyond Burger may not taste exactly like meat, it's pretty darn close. With a little seasoning, some sauce and a burger bun, I'm guessing you'll hardly be able to tell the difference. Who says you can't have your burger and eat it too?
Giselle Abcarian is a Daily Bruin Quad contributor. She writes mainly about food and restaurants in Los Angeles.
Giselle Abcarian is a Daily Bruin Quad contributor. She writes mainly about food and restaurants in Los Angeles.