Oscars 2017: Costume designers to host discussion tailored for aspiring Bruins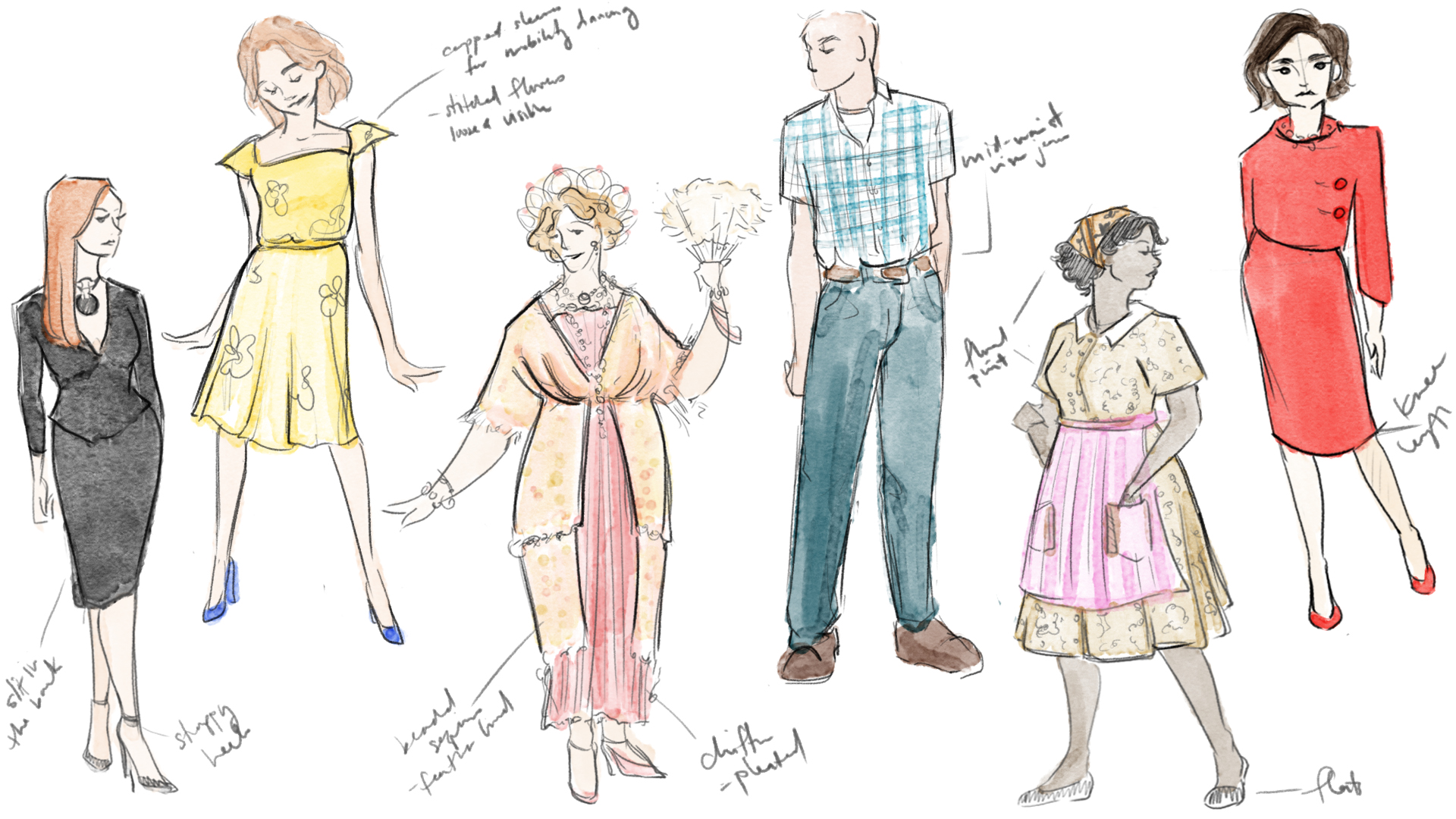 (Shelby Chan/Daily Bruin)
Sketch to Screen Costume Design Panel and Celebration Schoenberg Hall Saturday 2 p.m. $40
Oscars season has arrived in style at UCLA.
Students and Los Angeles community members will gather Saturday to hear the costume designers of some of this year's most critically acclaimed films discuss their artistic visions and processes. The event, titled Sketch to Screen Costume Design Panel and Celebration, will be put on by the School of Theater, Film and Television at Schoenberg Hall. This will be the event's seventh year.
The 2017 panel consists of three of the designers nominated for the 89th Academy Awards, including Consolata Boyle of "Florence Foster Jenkins," Madeline Fontaine of "Jackie," Mary Zophres of "La La Land" and three other industry designers, including Erin Benach of "Loving," Sharen Davis of "Fences" and Arianne Phillips of "Nocturnal Animals."
The panel represents all aspects of costume design, including the designers' creative processes, research and work on set, said Deborah Nadoolman Landis, the founding director of The David C. Copley Center for Costume Design at UCLA. Covering a wide span of genres within film, the panel includes contemporary design, period design and fantasy design. Only science fiction is missing, Landis said. The representation of genres will give attendees better insight into how designers begin new undertakings.
"A costume designer never knows what they're going to do next," Landis said.
[Read more: Oscars 2017]
Landis hopes students attending the panel will gain better understanding of costume design in today's entertainment landscape, by meeting the people who work on stories that become part of society's popular culture, including some of the movies from this year.
Zophres, whose costume design repertoire includes "Interstellar," "True Grit" and "The Big Lebowski," told Landis last year she was not sure about how successful "La La Land" would be because of its being a musical and low budget.
Musicals such as "La La Land" require different approaches to costume design because of the dancing scenes. During an early scene, Mia (Emma Stone) was originally supposed to spin out of a towel, necessitating a strapless dress, Zophres said. But Zophres was not keen on her wearing a strapless dress.
"The minute the choreography changed, I changed her dress," Zophres said.
One of the film's more challenging and memorable moments was the scene with "Another Day of Sun." The introductory scene to "La La Land" involves many cast members performing a musical number outside their cars during standstill traffic. The crew and cast had to be on a ramp with little access to base camp, where all Zophres' extra costumes were kept to prevent rips and tears, and film the scene all in one shot with dance choreography that limited her artistic vision, she said.
[Oscars 2017: Q&A: UCLA alum reflects on stuntwoman role in 'La La Land']
Her original plan as part of her artistic vision was to have more dresses on the women, however the safety issues with dancing in dresses caused her to put many of the women in pants, she said.
The stylistic decisions that come with designing for a musical are part of what Zophres will discuss at the panel, she said.
Panelist Benach, who designed costumes for films including "Drive," "The Lincoln Lawyer" and "Blue Valentine," will give a different perspective on design. She is representing the film "Loving," a period piece set in the 1950s and 1960s.
Benach began her artistic process by looking at pictures from the time period and reading the script. However, she said most of her inspiration for the two main characters' looks came from the living people on which the film is based – the late Mildred and Richard Loving.
Speaking with their daughter and watching Nancy Buirski's "The Loving Story," a documentary about the Loving v. Virginia case, helped Benach piece together designs for the two character's clothes, consisting of patterned dresses and earth-toned collared shirts.
Designing for a period piece involves sometimes weeks of research into the time period and region, she said. Fashion wasn't global at the time, so studying the historical context was important, Benach said, because each region of the United States had its own style. Physically getting her hands on clothes worn in the southeast from the 1950's and 1960's gave her a better idea of how to design costumes for the film.
Benach said she hopes students will be inspired by the panelists' work in different genres, from musical films like Zophres' "La La Land" to period pieces like Benach's "Loving."
Graduate student Chanèle Casaubon is planning on attending the panel for her third time. She is excited to hear the panel talk about the challenges that designers face.
"Every year is very different and absolutely incredible," Casaubon said.
[Throwback: Costume design panel shares experiences in the industry]
For students interested in costume design, attention to detail allows one to stand out, Benach said. As a craftsman, the goal is to make the audience have emotional moments and connections with the characters while watching the film, just as was Benach's goal while working on "Loving." Casaubon, who worked for Benach during the filming of "Loving," said creating a character's wardrobe is less about style and more about giving a life and backstory to a character.

"It's never about a skirt – it's always about what that skirt represents," Casaubon said.
Although all movies tell different stories with varying designs, the end goal is the same: connecting the audience emotionally to the film.
"The point is really to engage the audience at the end of the day," Benach said.