Oscars 2017: Alum creates software to breathe life into 'Moana,' 'Zootopia'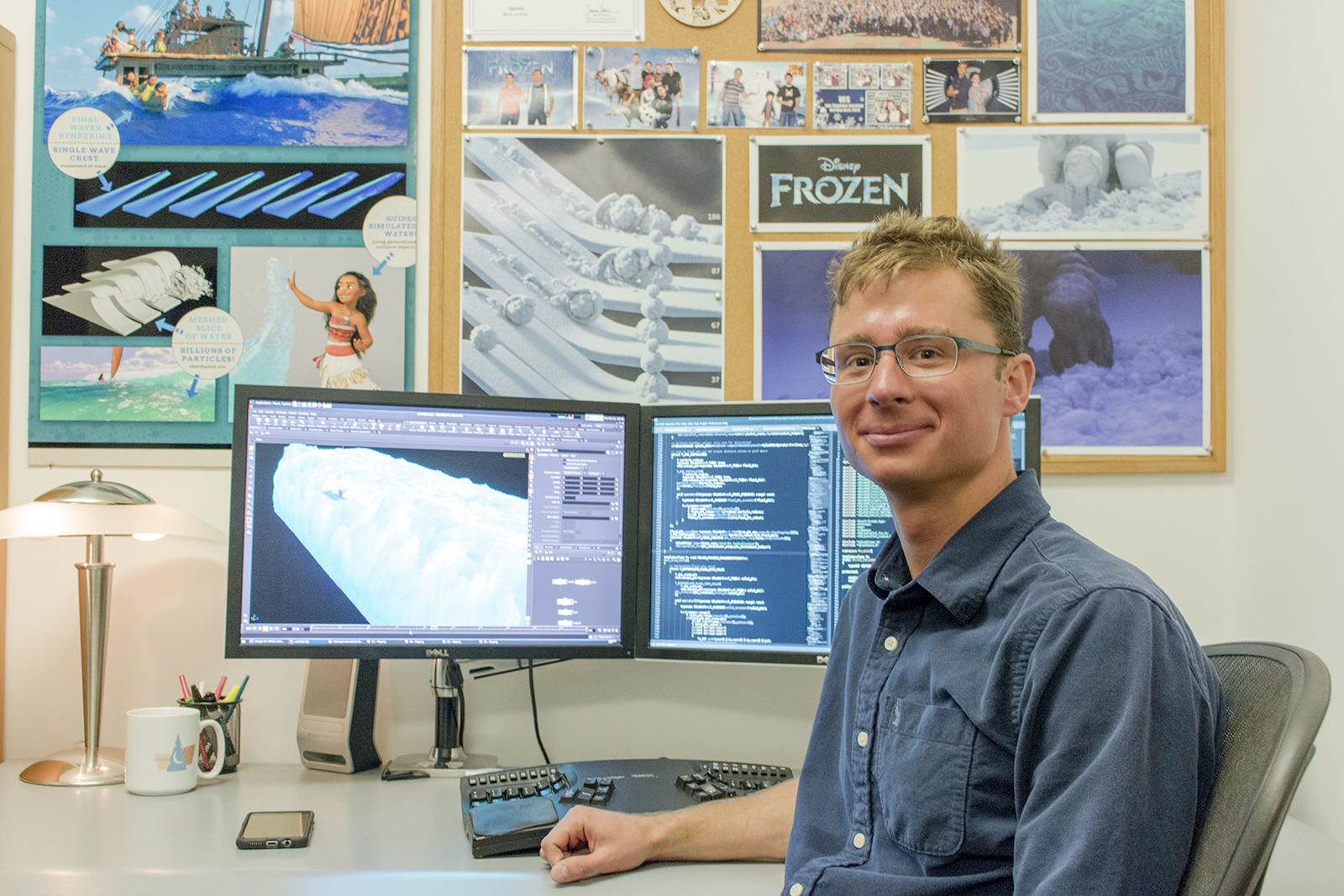 UCLA alumnus Alexey Stomakhin works for Walt Disney Animation Studios as a senior software engineer. He created programs that made the fur and flesh of animals in Oscar-nominated "Zootopia" look realistic. (Efren Piñon/Daily Bruin)
The walls of Melnitz Hall, lined with Hollywood movie posters, foreshadow the potential of students at UCLA. After studying within the entertainment capital of the United States, some Bruin filmmakers go on to contribute to award-winning films. In the week leading up to the 2017 Academy Awards, Daily Bruin A&E will spotlight UCLA alumni behind the scenes and on screen of Oscar-nominated films.
One billion simulated particles, eight computers and three days.
That's what it took Alexey Stomakhin to animate a single high-resolution, tube-shaped wave in the Disney film "Moana" for a scene that lasts less than a second.
Stomakhin, who graduated from UCLA in 2013 with a doctorate in mathematics, works as a senior software engineer at Walt Disney Animation Studios. He creates the tools that help animators make the Disney magic for films like "Moana" and "Zootopia," both of which received 2017 Oscar nominations for best animated feature film.
While most of Stomakhin's work on "Zootopia" went into making the animals' bodies and movements appear realistic, his work on "Moana" allowed the ocean to defy the natural laws of physics and behave like a magical entity.
[Read more: Oscars 2017]
His desk and bookshelf stand in contrast to the rest of the museum-like Roy E. Disney Animation Building, which is filled with toys and concept art for Disney's previous films. His corner of the office is bare aside from a few books on coding, posters explaining the software he created, pictures of him accepting awards and a lonely pair of Mickey Mouse ears. He just moved office spaces and is still in the process of decorating, he said.
Although he wasn't always involved in the world of film and animation, math has long been a big part of Stomakhin's life. Originally from Moscow, Stomakhin came to UCLA in 2009 after completing his undergraduate education in math and physics in Russia.
His sister, Ekaterina Stomakhina, missed her brother when he moved to America, but said she is proud and understands it was an important career move, since Russia has few opportunities.
At UCLA, Stomakhin began his graduate work with mathematics professor Andrea Bertozzi's crime modeling lab to predict the locations of crimes. He initially aimed to become a professor. Although he enjoyed leading undergraduate discussions as a teaching assistant, Stomakhina realized he wanted a career that would allow him to apply his expertise in a more tangible way, Stomakhin said.
[Read more: Oscars 2017: Alum tackles production design on war film 'Hacksaw Ridge']
"The more I looked at (being a professor), the less I liked it because it's hard to go from doing research at a university to doing something practical," Stomakhin said.
He began working with UCLA mathematics professor Joseph Teran, who uses computers to model the behavior of physical objects, like water or virtual surgeries, and does special effects consulting work for Disney animation studio. In 2011, Stomakhin began the first of two internships at Walt Disney Animation Studios.
"He's naturally talented at software engineering, math and physics and really fast at learning," Teran said. "He works with people who aren't experts at simulation like the artists to produce the shots they need, which is pretty important. He's one of the best students we've had."
One of the projects Stomakhin worked on as an intern at Disney was a flesh simulator used for the animals in "Zootopia." The program he helped design allows animators to realistically simulate the movements of muscle and fat on a character, adding a more natural feeling of weight and inertia to the animals, such as the chubby cheetah cop Clawhauser and the savage jaguar Mr. Manchas, Stomakhin said.
The software helped artists animate the jiggling of Clawhauser's jowls and the wobbling flesh of the elephants and hippos. The artists used Stomakhin's program to generate Manchas' full anatomy, from skeleton to musculature to fur, in order to ensure the jaguar's movement was as it would be in nature.
In 2013, Stomakhin began to work at Disney as a consultant before he was hired full-time. Now as a senior software engineer, Stomakhin develops new simulation software, including programs that Disney used to create snow in 2013's "Frozen" and water effects in 2016's "Moana."
"We grew up watching Disney movies, they were some of our favorites," Stomakhina said. "Now that Alexey works for Disney, he tells me all about how film production works. Watching these new Disney films has a much more personal meaning to me."
Stomakhin sits at his computer and clicks through test simulations from both "Frozen" and "Moana," comparing the unrefined, black-and-white raw animation to the completed, detailed footage. One of his favorite sequences is an animation of a snowball rolling down a hill and growing in size, like he used to see in Moscow.
He laughs because one of his professors didn't believe snow behaves that way in real life. He then shows me a video of him doing research by rolling balls of snow in Northern California.
[Read more: UCLA connections contribute to winter wonderland of 'Frozen']
Stomakhin consults physicists to learn about the physical properties of the materials the animators trying to animate and the equations they should use. From there, Stomakhin writes the code, allowing the computer software to solve the equations.
To the side of Stomakhin's desk is a whiteboard covered in calculations, equations and diagrams. It's not for any of his personal projects, though – a colleague had a problem and Stomakhin lent a hand.
Though having both films nominated for best animated feature film is exciting, it's unfortunate his projects are competing against each other, he said.
He loves the story and the message of "Zootopia," but he found "Moana" more visually appealing. If he had to pick a favorite, Stomakhin would choose "Moana" because he was more involved in the film and spent the last two years working on water effects, like intricate foam and splashes too complicated for a person to animate.
"The whole point of what I do is to create a submersive experience – believable worlds," Stomakhin said. "If I make special effects and nobody notices, then it means I did a good job. It's not distracting, but it helps you become submersed in the new reality."