2017 Oscars predictions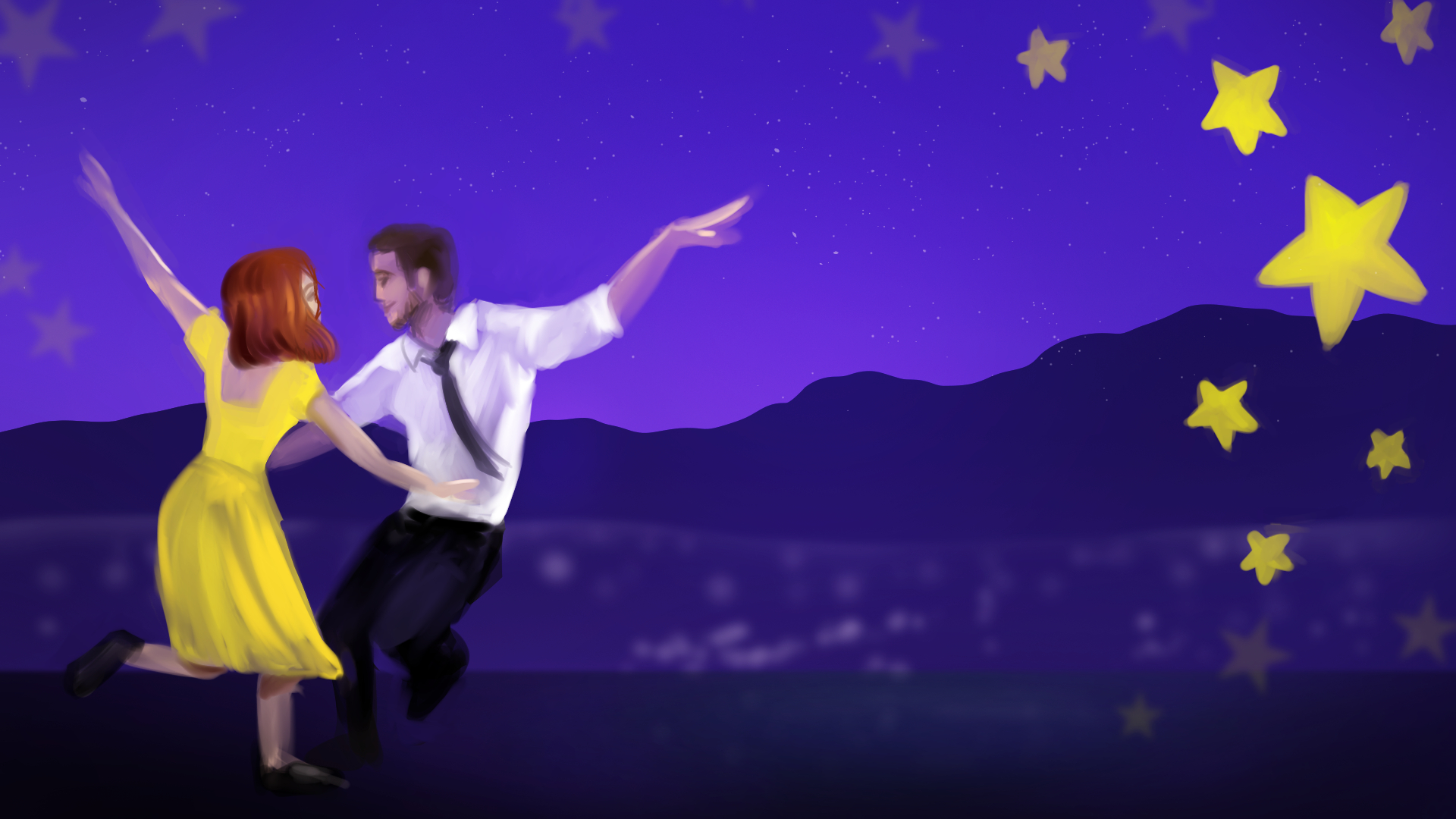 (Kelly Brennan/Daily Bruin senior staff)
Best actress in a leading role: Emma Stone
Tied for the most nominated film of all time, "La La Land" has to win at least one of the acting categories and, considering her nonmediocre voice, Emma Stone is the musical's best shot.
While the down-on-her-luck yet likable Hollywood hopeful is a well-worn character trope, Stone's triple threat of singing, dancing and dramatic acting is the dynamic kind of performance that may impress voters.
Oscar winners also need at least one standout scene, a moment to be included in every preview. When Stone steps into the audition room and breaks into "Audition (The Fools Who Dream)," both she and her character seize perhaps the most effective moment of the film and, most likely, the best actress award.
Best actor in a leading role: Denzel Washington
Casey Affleck seemed like an Oscar lock for best actor in a leading role about three months ago, but it looks like the "Manchester by the Sea" star's 2010 sexual harassment lawsuit has slowed his momentum.
Affleck dominated the early awards season with a Golden Globe, a Gotham and a Critics' Choice Award for his performance in "Manchester by the Sea." Yet Denzel Washington of "Fences" took home the Screen Actors Guild Award, which has matched every lead actor Oscar winner since 2005.
Recent award speeches by Mahershala Ali and Meryl Streep hint that Hollywood liberals will vote for strong political statements. I doubt such a vocal anti-Trump group would want to be labeled hypocrites for rewarding a powerful entertainment figure accused of sexual harassment.
[Read more: Oscars 2017]
Washington's role as an abusive father from Pittsburgh may not have been the best male performance of the year, but he still carried a film in which acting, and not much else, was front-and-center. This category also gives voters a chance to recognize him for a movie he not only starred in, but also directed and produced.
The two-time Oscar winner is also a prestigious actor with built-in Academy support, not unlike perennial favorites Daniel Day-Lewis or Meryl Streep. When no clear frontrunners exist, the Washingtons of Hollywood tend to get the trophies.
Best actor in a supporting role: Mahershala Ali
Mahershala Ali's Golden Globes loss may hint at an upset, but the "Moonlight" actor is still likely to pull off the best supporting actor win.
Ali, who plays Miami-based drug dealer Juan, probably clinched the Oscar in one scene – when his character teaches the protagonist, Chiron, how to swim. As he sits on the Miami beach recalling life in Cuba, Juan tells his young friend, "At some point you got to decide who you're going to be."
The statement, and the mystery of the man who uttered it, remains at the forefront of the final two-thirds of the film, though the character himself was physically absent.
While it may be rare for an actor to so thoroughly dominate a film he was barely in, not so rare is the Academy missing a slam dunk. Hold your breath when the presenter tears the envelope.
Best actress in a supporting role: Viola Davis
The four acting categories usually have one foregone conclusion and Viola Davis, who plays Troy Maxson's abused housewife in "Fences," fits this year's bill.
The actress has won nearly every major award she was nominated for this year, including the Golden Globe and Screen Actors Guild Award. The only other nominee with a prayer is Michelle Williams, and she gives only the third most important performance in "Manchester by the Sea."
Davis' performance was groomed as Oscar bait, as evidenced by the earliest previews for the film. There's a reason "Fences" trailers end with Davis' tear-ridden monologue: she releases a marriage's worth of pent-up frustration that will win her the Oscar.
[Oscars 2017: Amy Adams deserved Best Actress nomination for 'Arrival']
Being placed at the forefront of the Oscar voters' minds from the beginning to the end of awards season cannot hurt the chances of an already strong performance.
Music, original song: "City of Stars"
Lin-Manuel Miranda is a tempting award show choice, but "City of Stars" is too obvious a pick to pass up.
Voters love when a film critiques movie history, so by paying homage to the big production musicals of the mid-20th century, "La La Land" fits that trend to a T. If the academy is going to reward such a movie in one of the music categories, it would probably choose Justin Hurwitz's composition.
While "Audition (The Fools Who Dream)" from "La La Land" will also contend, "City of Stars" represents the sort Hollywood love letter voters will no doubt reciprocate.
"City of Stars" also has the advantage of being tied to a memorable scene. A great movie song is not only heard but also watched. Whether you like Ryan Gosling's voice or not, the actor strolling down Hermosa Beach Pier, reminiscing about Los Angeles' many dreamers, is an iconic moment in the film.
Best animated feature: "Zootopia"
"Zootopia," with its message of racial inclusion, is tailor-made for a night when attendees will probably get political again and again.
The box-office hit, which follows the exploits of an underestimated but not quite faultless bunny, may be threatened by the visually dazzling "Kubo and the Two Strings."
While the Academy does have a long history of recognizing technical achievement in animation, for which the 3-D stop motion of "Kubo" fits nicely, it is doubtful a small-studio film has the clout to overtake Disney. Independent movies may sometimes fare well in other categories, but when it comes to best animated feature, the major studios have a firm hold.
If "Kubo" is out, "Moana" could be in, but box-office numbers suggest it cannot top its Disney brethren, as "Zootopia" earned over $1 billon worldwide to the Polynesia-based musical's roughly $500 million.
In a category where mega-hits like "Toy Story 3," "Frozen" and "Inside Out" came out on top, public opinion is an unusually strong indicator of who will take home the prize.
Best director: Damien Chazelle
When in doubt, pick the guy who made LA traffic look fun.
Most of the best director nominees are worthy, but Chazelle stands out because his project looks harder to accomplish than the others'. Besides the synchronized freeway choreography, he also oversaw dance numbers, original music and Gosling's singing.
"Moonlight" director Barry Jenkins may get props for making art on a budget, but I do not buy that as justification for a win. Chazelle had to convince a major studio to give him millions of dollars for a musical. He then had to keep those people happy with that musical for two years, while still turning out a quality product.
The 32-year-old's balance of artistry with big-budget directing suggests both skill and, judging by his many nominations, the overwhelming adoration of the academy.
Best picture: "La La Land"
A record-tying 14 nominations means "La La Land" is set for a dominant night, one crowned by a best picture win.
The musical ticks off every traditional academy requirement. Even though it was, at best, the year's third most interesting film – behind "Manchester by the Sea" and "Moonlight" – it is a movie about movies and features the heartwarming message that, despite your clear mediocrity, you too can beat the odds in an unsteady industry.
To my fellow "Moonlight" fans: Far worse things could – and probably will – happen in 2017. At least this movie has James Dean references and some fancy footwork.