UCLA softball goes undefeated in first weekend of Mary Nutter Classic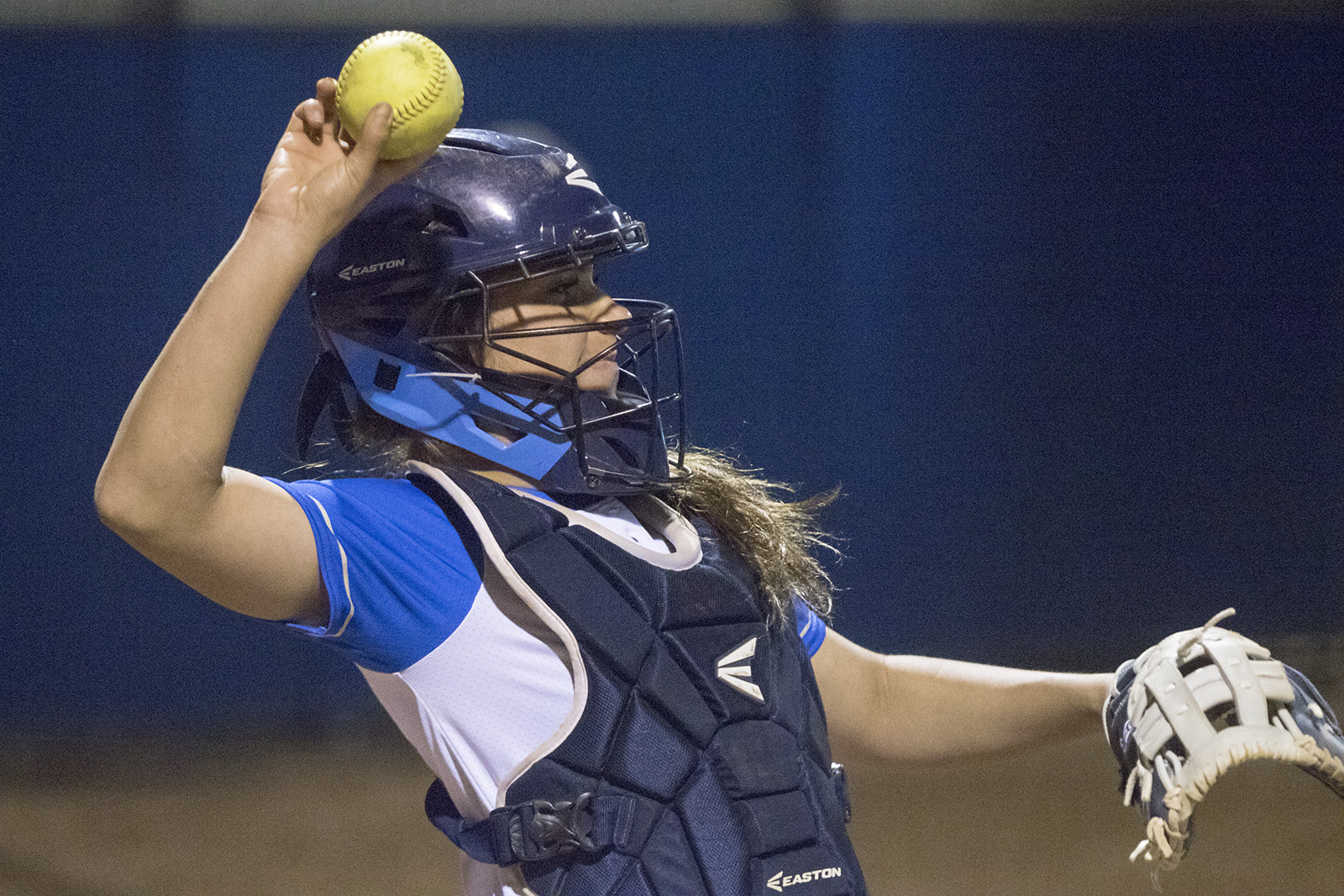 Junior catcher Madeline Jelenicki hit two home runs on Saturday, one in each game of the double header. The Bruins won all four games they played this weekend to improve to 10-1 overall. (Ken Shin/Daily Bruin)
Fresh off its first loss to No. 22 Kentucky (5-4), No. 6 UCLA softball (10-1) responded with four wins at the Mary Nutter Collegiate Classic.
On Friday, UCLA relied on its pitching staff in a 3-1 win over Cal Poly (6-3) and a 1-0 victory over University of Central Florida (3-4). Sunday was a different story. Offense propelled the Bruins past UC Davis (4-3) and Liberty (5-4), beating those teams 9-1 and 7-1, respectively.
"I wanted us to be challenged and learn different ways to win," coach Kelly Inouye-Perez said.
UCLA came across its first challenge in Cal Poly. The Mustangs struck first off the bat of freshman first baseman Hailey Martin.
Later, redshirt freshman Rachel Garcia replaced redshirt senior Paige McDuffee in the circle during the second inning.
"We are now getting into the position where the pitchers are able to come in and split some time, sharing games," Inouye-Perez said. "We were able to come in and release."
Garcia shut out the Mustangs for the remaining five innings – retiring 16 batters and allowing only one hit.
[Related: UCLA softball splits a doubleheader with Kentucky in extra innings]
UCLA's offense supplemented Garcia's efforts to defeat Cal Poly 3-1.
In Friday's second game, junior Johanna Grauer was in the Bruins' circle against UCF. Grauer continued her season's stout pitching with a complete game shutout to lower her ERA from 0.88 to 0.72.
The Bruins scored the only run they would need in the fourth when freshman third baseman Bubba Nickles scored off junior right fielder Madeline Jelenicki's single.
Grauer attributed her and the pitching staff's success to the team motto, "One TZ." It stands for one timezone, which she said reminds the pitching staff to stay in the moment for each pitch.
On Sunday, UCLA's offense found success against UC Davis and Liberty, scoring 16 runs on the day.
"Hit them on, hit them over, hit them in," Jelenicki said.
The Bruins did exactly that. Nine different Bruins delivered a hit against UC Davis. Junior second baseman Kylee Perez and sophomore catcher Paige Halstead stuffed the stat sheet with three hits each.
The Aggies got on the scoreboard first, but the Bruins' offense took the reins en route to nine unanswered runs. UCLA hit three home runs with one coming off the bat of Jelenicki, the team's home run leader with four. The Bruins cruised to a 9-1 win over the Aggies.
UCLA's offense drove in seven runs against the Liberty Flames – racking up four doubles along the way. Again, the Bruins received contributions throughout the lineup. Six different players connected for at least one hit.
[Related: Softball takes all five games against four schools at weekend tournament]
Besides batting 2-for-2, senior center fielder Gabrielle Maurice displayed base running prowess in one of the weekend's highlights. In the sixth inning, Maurice stole second and eventually stole home – scoring UCLA's fifth run.
"I think our team has bought into doing whatever it takes to get on the board," Jelenicki said.
The Bruins will return to Cathedral City for the second weekend of the Mary Nutter Collegiate Classic. UCLA will seek to continue its win streak against No. 12 Georgia (12-0) Thursday night.
Pham joined the Bruin as a junior in 2016 and contributed until 2017. He spent time on the softball beat.
Pham joined the Bruin as a junior in 2016 and contributed until 2017. He spent time on the softball beat.