Oscars 2017 Q&A: UCLA alum reflects on stuntwoman role in 'La La Land'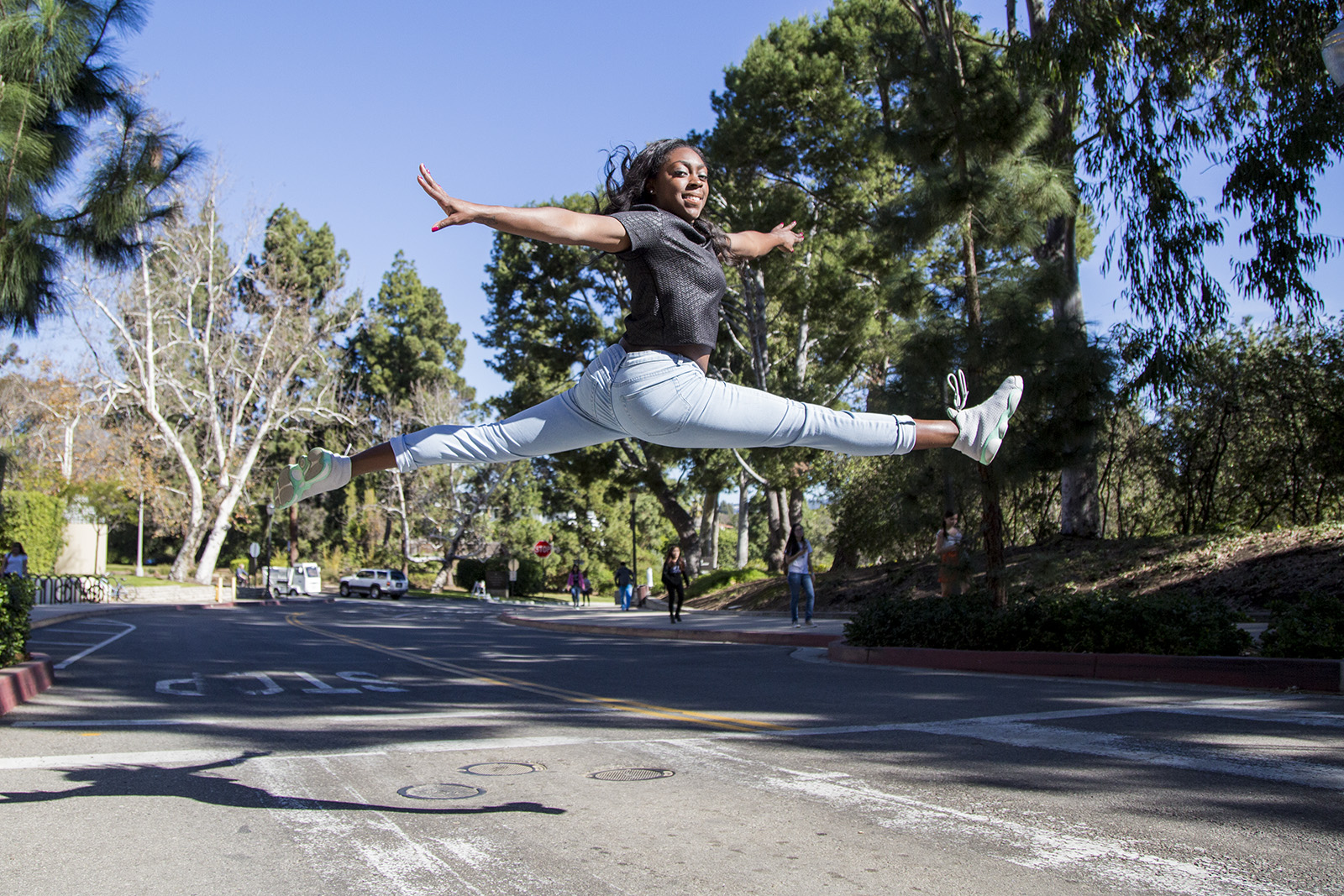 UCLA gymnast and alumna Olivia Courtney worked as a stuntwomen for the opening freeway scene of "La La Land". During the scene, Courtney had to land a backflip off of the hood of a red car into a space separated by only a few yards. (Owen Emerson/Daily Bruin senior staff)
The entry of Melnitz Hall, lined with Hollywood movie posters, foreshadow the potential of students at UCLA. After studying in the entertainment capital of the United States, some Bruin filmmakers go on to contribute to award-winning films. In the week leading up to the 2017 Academy Awards, Daily Bruin A&E will spotlight UCLA alumni behind and on the screen of Oscar-nominated films.
Olivia Courtney didn't know what she was getting into when she agreed to do movie stunts on a Los Angeles freeway.
But after seeing film stars Emma Stone and Ryan Gosling on set, she realized she may have signed on for a Hollywood hit.
The former UCLA gymnast and 2014 alumna worked as a stuntwoman for the opening scene of the movie "La La Land." The film, which garnered a record-tying 14 Academy Award nominations, begins with a dance number on an exit ramp connecting Interstates 110 and 105. When the traffic comes to a standstill, dozens of young people break into song and as many dance down the ramp, Courtney dances and backflips off the hood of a red car.
[Related: Alumna's documentary 'Chau, Beyond the Lines' reaches Academy Awards]
Courtney's flip was timed to a specific beat and required her to land between two cars separated by only a few yards. While initially nervous about making the tight landing, Courtney said the trickiest part of the shoot was the scene's final moments. When the song came to a close, every car door on the ramp had to be shut at the same moment – a feat, Courtney said, that took about 20 tries to perfect.
The Daily Bruin's Daniel Maraccini talked with Courtney about the experience of being on set, her reaction to the film's critical acclaim and the challenges of going from UCLA gymnast to Hollywood stuntwoman.
Daily Bruin: How did you get involved with stunt work?
Olivia Courtney: It's actually always been one of my goals. When you do gymnastics, you have a lot of body awareness, so I thought it'd be a really fun transition for me. After I graduated, I took a little break from flipping just to rest my body. When I got the call for "La La Land," it was actually just after I started training for stunts.
DB: How did you get involved with doing stunts for "La La Land"?
OC: A former UCLA gymnast contacted me, and she just asked me, "Hey do you think you can do a flip off a car?" and I told her (I thought I could.) Then she told me she was going to give some people my contact information.
I was very naive and didn't know what the movie was. So the stunt coordinator asked me the same questions and if I could come in … The next day in rehearsal when we were on the freeway, I was talking to the dancers in the opening scene and found out (that some of them) were the main backup dancers for really big artists like Justin Timberlake and Britney Spears. Then I started to ask more questions about what was going on and I realized this was a pretty big film.
[Read more: Bruin Backstories: Oscars 2017]
DB: What's been your reaction to all the attention the film has gotten?
OC: I think it has surprised a lot of us, because it's a musical and (that genre) isn't really popular anymore … As we were filming, (director Damien Chazelle) told us they really wanted to change the way musicals were viewed and that they wanted to bring them back. So I think this is a really good step for bringing them back and putting a new twist on it, so it's more modern and not a cheesy love story. I think it's definitely made a really big splash and opened a lot of doors for musicals to come in.
DB: What was the transition like going from gymnastics to stunt work?
OC: I feel like the transition for me was easier because I've been doing gymnastics my whole life, so I know how to work my body and fall. So that's a lot easier for me. But I have to learn a lot of fighting and kicks, which I've never done. So that part is challenging.
But it does remind me a lot of how I took my gymnastics career and all the training I had to put in. I'm someone who likes to be challenged, so this is my new challenge of just learning new moves and how to perfect them
DB: Would you encourage other UCLA gymnasts to go into stunts?
OC: I think it's a really good transition. If it's something you want to do and your body is still up for it, it's a cool industry. If you have that adrenaline in you still, then I think (stunt work) is a really good path to take … If you're crazy enough to flip on an eight-inch beam and do all that crazy stuff, then you're definitely capable.
DB: How does the adrenaline rush of gymnastics compare to what you feel while doing stunts?
OC: I literally hadn't felt it since the last time I competed at Pauley (Pavilion), just before I took my turn. You definitely miss it. I'd been doing it for so long, then all of a sudden it's gone. So then it was just kind of like, "Now what?" Not that many things are exciting for me, but after finding stunts and getting into that business I've found a lot more of that excitement again.