LA's Air + Style festival measures up to expectations for music fans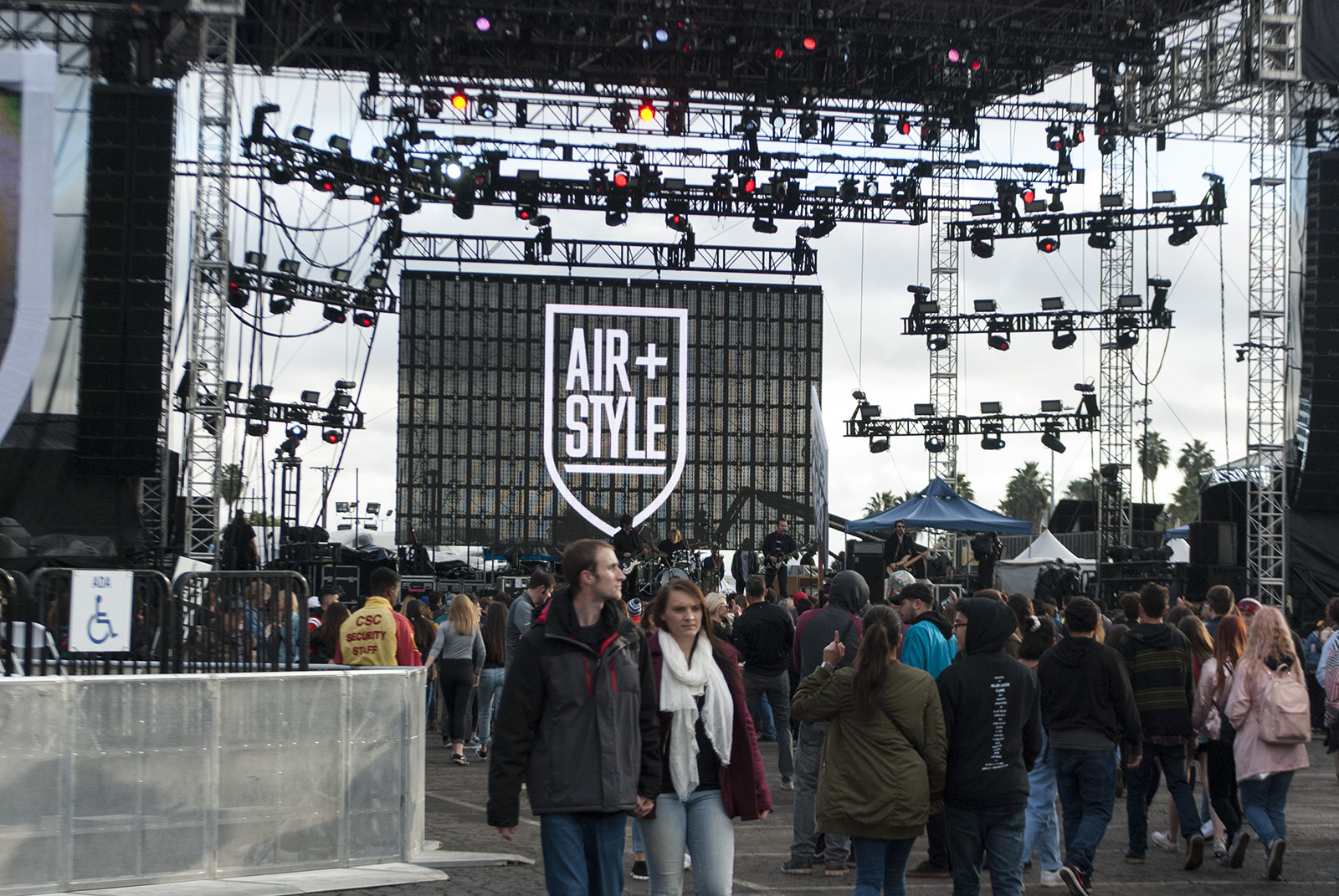 The Los Angeles portion of the annual Air + Style music festival took place Friday and Saturday in the Exposition Park area of Los Angeles and featured both established and up-and-coming artists. (Nick Kardan/Daily Bruin)
"Air + Style" Presented by Shaun White Exposition Park Saturday and Sunday
In a world filled with mega festivals like Lollapalooza and Coachella, Air + Style provides a more intimate festival experience that features both established and up-and-coming artists.
At boarding and musical festival Air + Style, performers strum guitars and shred the gnar. The festival, owned by professional skateboarder and snowboarder Shaun White, takes place annually in Beijing, Los Angeles and Innsbruck, Austria.
The Los Angeles portion Friday and Saturday at Exposition Park featured a mix of electronic, hip-hop and indie artists such as Flume, YG and TV on the Radio.
The snowboarding portion was a fun gimmick to watch while waiting for each set to begin, but was otherwise forgetful. In general admission, I didn't have a great view of the 16-story snowboard jump next to the main stage.
[Related: Coachella 2016]
The snowboarding competition featuring professional boarders Marcus Kleveland, Max Parrot and Seppe Smits largely took place at the same time as the larger music acts, which forced crowds to choose between watching the competition or going to see the musical guests. And music was the bigger draw.
Day One
RKCB
The Los Angeles indie duo RKCB impressed with their mellow tunes that reflected the cloudy skies hanging above Exposition Park.
The band performed smooth songs such as "Elevated" and "Baptize" from their EP "In Contrast" and album "Short Films," respectively. Casey Barth's voice was soothing yet attention-grabbing. Riley Knapp's keyboard playing complemented Barth's vocals with smooth, dreamlike notes. Their indie sound complemented the large number of EDM and hip-hop artists at the festival.
"We're always trying to push the boundaries, both sonically and writing wise – we always want to surprise our audience," Barth said.
Vic Mensa
Vic Mensa, covered in red and blue flashing lights, delivered a powerful political set that was undermined by technical difficulties.
The Chicago rapper came onstage 20 minutes after his 7 p.m. start time and had some difficulties with an overly quiet microphone.
Mensa criticized President Donald Trump and the police before launching into an emotional performance of "16 Shots," that ended with him falling to the ground amid the sounds of gunshots, which created a powerful statement on police brutality.
Mensa also premiered a catchy song about "rolling like a stoner" that will be on his currently untitled album set to release this year. He teased fans with "There's A Lot Going On" to close his set, singing the intro before thanking the crowd and walking off stage.
The performance, presumably cut short by the earlier technical difficulties, left much to be desired.
Vince Staples 
Vince Staples took hold of the audience's attention and empowered the crowd by having them chant "F– the police."
Riffing on Vic Mensa's political performance, Staples performed political songs ("BagBak"), new songs ("Loco"), bangers ("Norf Norf") and songs for his tenured fans ("Blue Suede"). Staples' distinct flow separated him from the other hip-hop performances of the weekend.
Staples also performed electronic songs that he has been featured on such as "Little Bit of This" by GTA and the Major Lazer remix of "Ghost." Despite not having his collaborating artists present, Staples owned the set with his strong vocal flow.
Cinematic visuals, such as film footage from the 1920s and immense fires, accompanied each one of Staples' songs, which he drew from his three albums "Prima Donna," "Summertime '06" and "Hell Can Wait." These visuals added depth to his performance by reflecting the lyrical content of Staples' songs.
Flume 
The festival's first day's headliner, Australian producer Flume, dazzled the largest crowd of the night with his signature blitzkrieg of bright lights.
Flume played mostly well-known songs from his recent album "Skin," including "Never Be Like You" and "Say It." Every song seemed to be accompanied with a fresh set of hypnotic visuals.
Most of the visuals were geometric patterns, but at one point a giant dog appeared on screen, which was mesmerizing. Flume had a specific light set made out of cubes that played with the audience's depth perception and hyped up listeners.
Halfway through his hour-long set, Flume brought out Pusha T, Vince Staples and Vic Mensa to perform with him. Unfortunately, the rappers were barely audible due to their microphone's low volume, weakening the effect of their onstage cameos.
Day Two
XYLO
XYLO's performance reminded the audience why music sounds better live.
The brother-sister duo added an edge to their electronic music by performing with real instruments rather than pre-recorded tracks. Its performance of "Afterlife," enhanced by the rich sound of live drums, added another layer to the typical electronic-pop group's performance.
Paige Duddy, XYLO's lead singer, strutted around stage wearing a black leather and latex outfit. She waved, clapped and succeeded in getting the audience personally involved in her music. A mosh pit even formed during the duo's performance of "Get Closer."
Marian Hill
Marian Hill provided an unusual blend of electronic beats and R&B vibes.
The singer-songwriter duo comprised of Jeremy Lloyd and Samantha Gongol, were joined onstage by saxophone player Steve Davit, who hypnotized the audience on "One Time." Although only a touring member with the duo, Davit stole the show with his jazzy riffs.
[Related: FYF Fest 2016 lights up LA with electrifying performances]
Seeing Lloyd, the producer of the duo, turn Gongol's voice into a beat before audience's eyes was also fascinating: Lloyd recorded a section of Gongol's singing, edited the voice and played the recording like an instrument. The step-by-step performance offered a behind-the-scenes look at the process behind the creation of electronic music.
YG
The color red dominated rapper YG's performance.
Everything from the wristbands thrown into the crowd to YG's monochromatic visual screen was red, reflecting his affiliation with the Bloods street gang.
YG played a mix of songs from "Still Brazy" and "My Krazy Life," throwing in the oldie "Toot it and Boot it" for his older fans.
Like Vince Staples and Vic Mensa, YG offered political commentary and led the crowd in a anti-Trump chant chant before performing the original version of "FDT."
YG kept the set lighthearted and often offered comedic comments like a humorous story about going to Big Bear Mountain with Shaun White, despite not knowing how to ski.
Major Lazer
A consistently great performer, Major Lazer proved itself worthy of closing the two-day festival.
The trio, comprised of EDM artists Diplo, Jillionaire and Walshy Fire, presented hyped remixes of popular songs and put on a show that went beyond just the music.
The group combined a mix of their own songs like "Pon De Floor" and "Bubble Butt," along with remixes of songs by other artists such as Drake and Future's "Jumpman." The group's smooth transitions meshed multiple genres like electronic, reggae and hip-hop together.
Major Lazer was joined on stage by a group of dancers – the only artist to use backup dancers. They danced and played snare drums along to a Major Lazer mix of "Calabria 2007." The dancers, a trademark of Major Lazer, showed that the three DJs are committed to putting on a full fledged performance rather than simply coming to play music.
The group also kept the crowd's attention by interacting with them. Early on in the show, they threw out handfuls of whistles into the audience, and about half in hour into the set, Diplo went inside a giant hamster ball and ran on top of the crowd.
Major Lazer's crowd control and stage production were on another level compared to the other artists of Air + Style. It closed the festival with a high octane performance full of surprises.