Undergraduate Juried Exhibition defies theme, showcases student art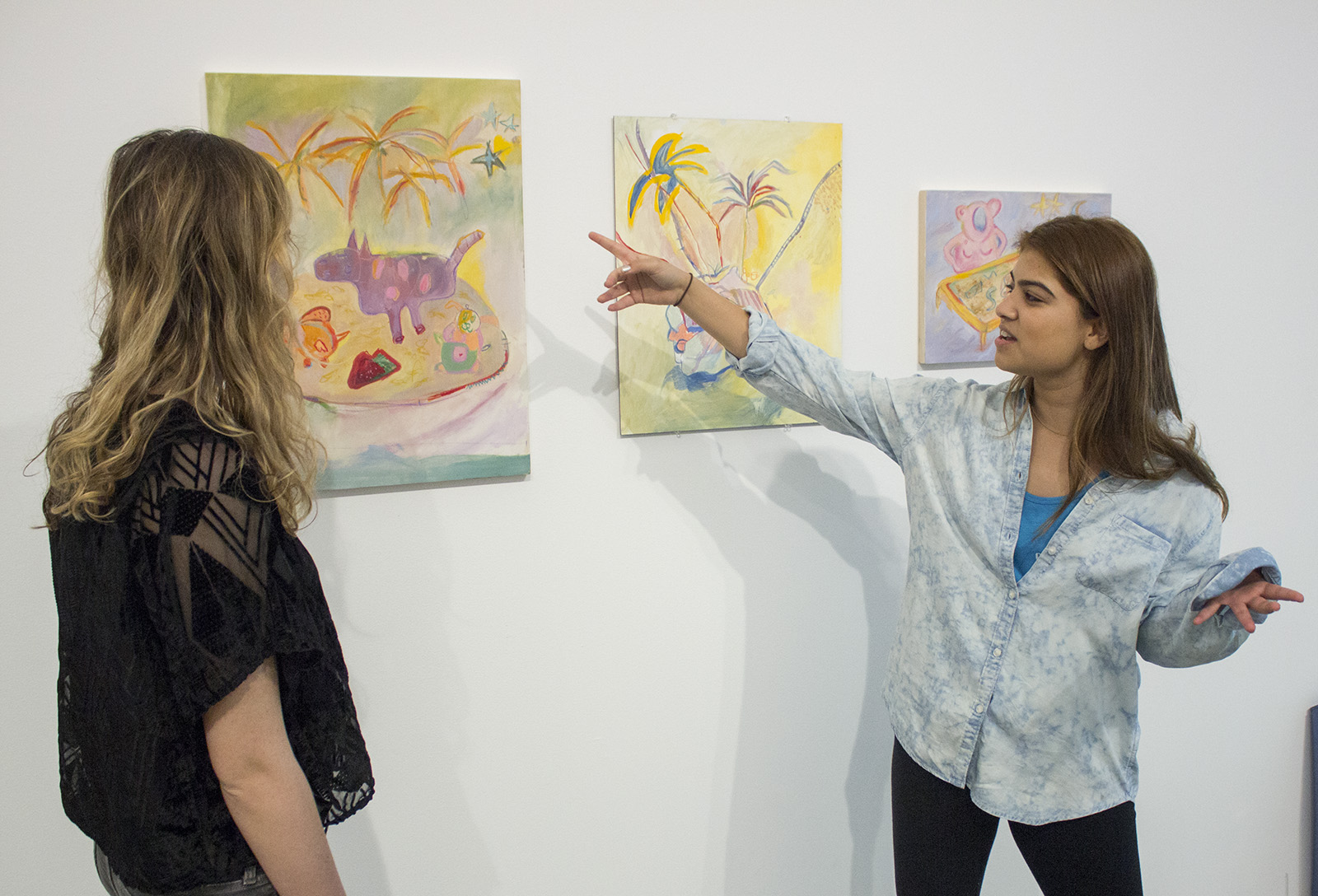 The Undergraduate Juried Exhibition, which will be open Thursday through March 2, features the work of 78 art students. (Alyssa Dorn/Daily Bruin staff)
Art Undergraduate Juried Exhibition Broad Art Center – New Wight Gallery Thursday through March 2 FREE
Press play and two hands slowly begin tapping drumsticks on a cymbal and drum in synchrony. A voice speaks over the drumming motions: "I was afraid of getting in the way, or slowing other people down."
After 45 seconds, the entire reel starts over.
The short film, entitled "Practice," by fourth-year art student Penelope Uribe-Abee is one of 78 art pieces that will be shown in the Undergraduate Juried Exhibit opening Thursday. For the annual occurrence, undergraduate art students submit their work for the exhibit and a guest judge selects the pieces to be displayed at the final exhibit.
The exhibition, which will run through March 2, includes short film pieces, photographs, paintings and sculptures that Sohrab Mohebbi, an associate curator for the Los Angeles art center REDCAT and this year's juror, arranged in the New Wight Gallery based on artistic medium and size.
[Throwback: UCLA Undergraduate Juried Exhibition in session for 2011]
Popular curatorial practice normally involves creating exhibitions based around a theme or a solo artist, but this exhibition has no theme and involves many artists, Mohebbi said. Without a theme, Mohebbi brought diverse pieces of art into communication in one gallery and avoided trying to fit the art into what he called a "curatorial box."
"For the most part, art itself has way more implications and opens up to way more ideas than a curator might think," Mohebbi said.
Since the pieces for the exhibit were not created for a specific class and were submitted without a theme constraint, Mohebbi said students were able to explore a variety of interests and concerns, including using art in identity politics and as a means to communicate with other artists.
"We have a lot of discussions about who is who and who are our friends or our enemies, who is the self and who is other," Mohebbi said. "I feel artists, as people who reflect on what is going on in the world, probably have thought about these issues themselves."
One of the artists who has incorporated current events in her art is fourth-year art student Lili Abdel-Ghany. Abdel-Ghany decided to create a steel-welded wheelchair with plastic drapery to criticize the current state of the American healthcare industry, she said.
"I was focused on how the healthcare industry has been slowly, more and more, becoming privatized and the damage that does to the system," Abdel-Ghany said.
She said the exhibit provides a forum for her to show her work and share her critique of the healthcare industry with peers. It is important to be in communication with other artists to hear their perspectives and dialogue critically, she said.
[Related: Undergraduate Juried Exhibition showcased at Broad Art Center]
Third-year art student Tania Zaidi also feels the importance of connecting with fellow artists and audience members through the exhibit.
She submitted three oil paintings called "The Uncanny World," as a series to show the nostalgia of childhood memories using surreal elements to visually express the feeling of realizing that what was once familiar now isn't. She said she chose to submit the works because she thinks many viewers will share her feelings of childhood nostalgia.
Zaidi also submitted a poem to be displayed alongside the paintings that explains her work. She believes by seeing the separate art styles – poetry and painting – in juxtaposition, audiences can start to think about separate pieces of art as part of an unified artistic discourse.
She said part of the exhibit's importance is that it brings diverse artists, styles and audiences together. In an exhibit without a theme, those artists could, as she did, choose the paintings that best represent their aesthetic and so contribute to the diversity of artistic talent present, she said.
Kiara Barrett, who created an acrylic landscape painting for the exhibit, said the lack of a theme was part of what added to the number and range of works that came together for the exhibit.
The third-year art student's piece – an abstract pink landscape – does not have a theme and might have been excluded from a themed exhibit.
"Having that openness helped," Barrett said. "It would have been very narrowing if there was a theme and everyone had to do the theme."
Third-year art student Jordan Angulo said the themeless nature of the exhibit gave him the opportunity to show what he considers to be his strongest work: a nine-minute video entitled "masc" that uses interviews to explore the identities of people who identify as male.
Without a theme, Angulo was able to choose without restraint the art that best shows his voice as a queer artist and his desire to communicate his ideas without being bound to a medium, he said.
Angulo also said he valued the exhibit for giving him the opportunity to be recognized for the first time by the outside art world. As a transfer student, he decided to take every opportunity presented to him, including the chance to be involved with his first public exhibition at UCLA.
To support the many students who also wanted to take advantage of the opportunity to exhibit their work, Mohebbi decided against choosing pieces for the exhibit based on his personal taste and quality.
Instead, he accepted many pieces that were submitted to the exhibit rather than choosing only a select few. He said he felt it was important to create a diverse exhibit and allow as many students as possible to prepare for the art world.
"Art is generative, so once you have had the experience of working with four different curators in four different years you'll learn that no matter what the selection criteria is, the work needs to stand for itself," Mohebbi said.
He said the Undergraduate Juried Exhibit gives students the chance to learn how professional exhibitions function. For this year's iteration, without a theme, the exhibition gives more students that chance and shows them how art can stand for itself rather than as part of a possibly limiting theme, he said.
"Once it starts to operate, it's not easy to limit it to a certain concept or theme, and that's the power of it," Mohebbi said. "It's both the advantage and the disadvantage that art has."