The Quad: Bruin Bash performers turned Grammy nominees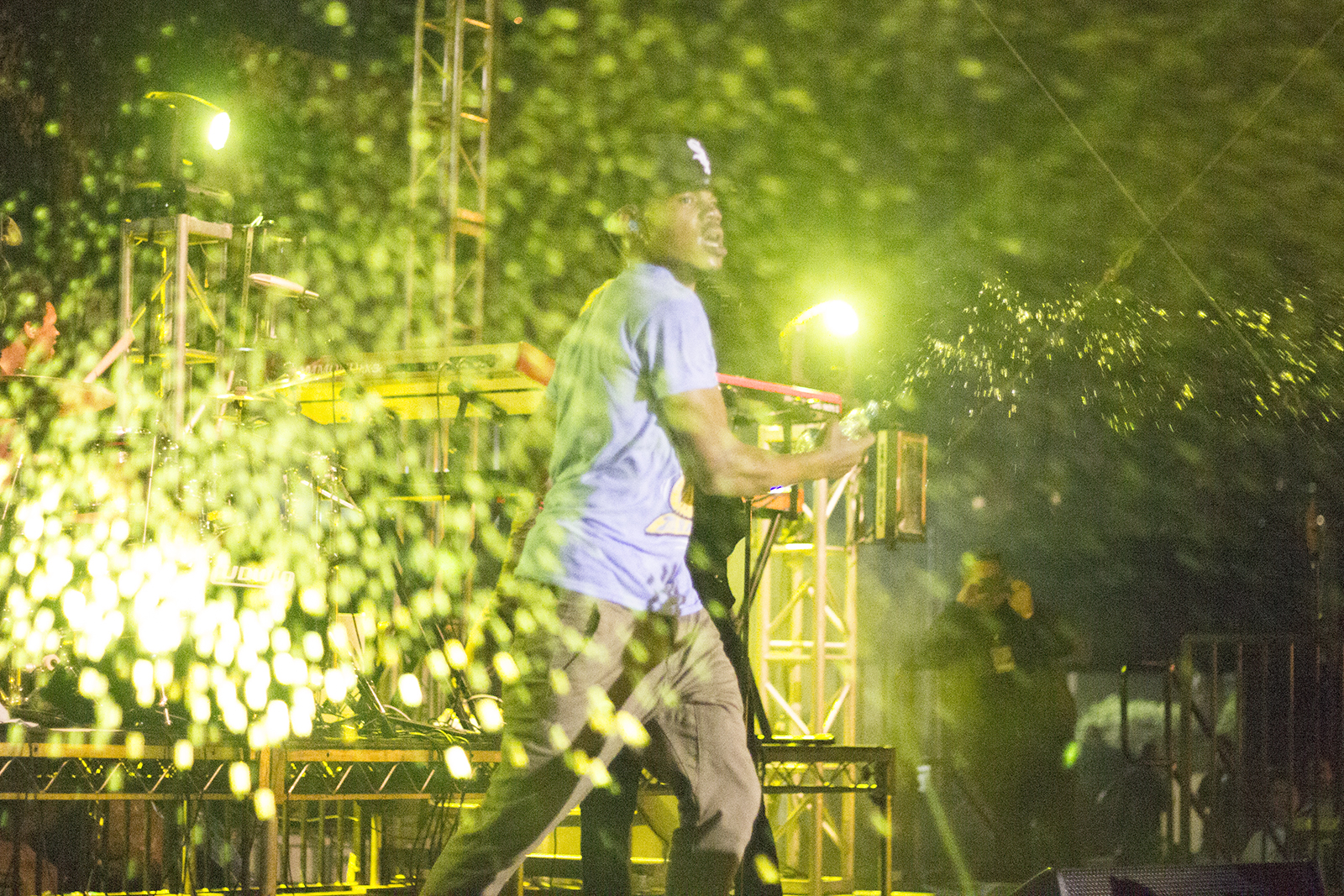 Chance the Rapper performed at 2014's Bruin Bash. (Daily Bruin file photo)
The 59th annual Grammys will be taking place this Sunday, Feb 12. Among the big names that get nominated every year, such as Beyoncé and Kanye West, are two recent Bruin Bash performers – Chance the Rapper and Anderson .Paak.
Chance the Rapper headlined Bruin Bash in 2014, while Anderson .Paak opened for Madeon in 2015 as part of NxWorries. Anderson .Paak has 2 total nominations, while Chance has 7 nominations, and both were nominated for Best New Artist.
During the past year, both artists have garnered much critical and popular recognition. Although both gained recognition earlier in their musical careers, it can't be compared to the amount of success that they have now. Despite their current success, Chance and .Paak were disliked by many during their Bruin Bash performances and performed at UCLA before their careers really took off.
I remember being super excited for Bruin Bash 2015 in my first year, only to be heavily disappointed with NxWorries. Their performance was generic mediocre rap that didn't get the crowd going but seemed to last forever. Everyone around me was still sitting down, and most people weren't paying attention. I remember being so bored that I checked my phone throughout and literally struggled to keep my eyes open. It felt more like a lecture hall than a concert, and the general consensus of the UCLA population was negative.
If only I had known then that just a year later, I'd be incessantly listening to "The Dreamer" and "Come Down" from .Paak's second album "Malibu." With the release of "Malibu" in the beginning of 2016, .Paak has garnered much critical acclaim, and made many Best Albums of 2016 lists, such as one from Complex. "Malibu" has been nominated for Best Urban Contemporary Album, the same category as Beyoncé's "Lemonade." Past winners of this award include Frank Ocean's "channel ORANGE" and The Weeknd's "Beauty Behind the Madness."
.Paak will be opening for Bruno Mars' 24K Magic World Tour, which will truly catapult him onto the national and international music scene. Fans of Bruno Mars are very likely to become fans of Anderson .Paak, since both are similar in their unique voices, the element of funk in their music and their generally upbeat songs. Although chances of .Paak winning his two Grammy nominations are low, his career is only going up from here.
Chance the Rapper's 2014 Bruin Bash performance was met with similar negative feelings – many students even left before his set was over. Two years later, Chance's presence is everywhere, from being blasted in the dorm showers to students wearing his merch on campus.
Although Chance gained recognition from his first two mixtapes, it can't be compared to the attention that his third mixtape, "Coloring Book," has gotten. "Coloring Book" has been nominated for three Grammys, including Best Rap Album, Best Rap Performance and Best Rap Song for "No Problem." It has made Grammy history by being the first streaming-only album to be nominated, as this is the first year that the Grammys has allowed streaming-only releases to be considered for nominations.
"Coloring Book" is critically acclaimed, noted for its wide variety of influences and different sounds. The Verge states, "Chance may still be a rapper, but it's not fair to call Coloring Book a rap album; it's a gospel album, a funk album, a jazz album." It's packed with different collaborations, including Lil Wayne, Young Thug and T-Pain. Even more impressive is the variety of references; from growing up in Chicago to religion to Harry Potter, "Coloring Book" is able to offer something for everyone and is able to do everything without being overwhelming.
In addition to his own album, Chance also has nominations for his work on "Ultralight Beam" and "Famous" by Kanye West, bringing his total nominations up to seven. Kanye himself has eight nominations, if that puts the magnitude of Chance's accomplishments into perspective.
Chance has many notable collaborations in addition to Kanye, including John Legend, Justin Bieber, Snakehips and The Hamilton Mixtape. In addition, Chance and .Paak have recently made a new song together.
Both Chance and Anderson .Paak are noted for the fact that they challenge the norms of rap and hip hop and R&B and soul respectively. Both bring something new and unprecedented to their respective genres and are trailblazers that can't be simply boxed into one genre. Chance has successfully infused hip hop and rap with gospel, trumpets and positivity; .Paak's easily distinguishable smooth voice and unique instrumentation sets him apart from the usual characteristics of R&B.
Maybe CEC has a knack for booking performers right before they blow up. In that case, I'd keep a watch on future Bruin Bash performers, even if their performance is sub-par. Or maybe having a bad Bruin Bash performance is a rite of passage for a future Grammy nomination. Either way, I'm interested in seeing if this trend with Bruin Bash performers continues.
The path to success isn't straight up, and UCLA was a part of both Chance and Anderson .Paak's dip before their rise. Even if Chance and Anderson .Paak don't end up winning their Grammys, being nominated is still a big deal and underscores how much they've accomplished thus far in their careers. In a few short years, both have become too big to be easily booked for any future UCLA events, and we'll just have to be content with the fact that we saw them perform first, even if we didn't like it then. But hey, Chance and Anderson .Paak – on behalf of UCLA, please come back and perform again. We promise to appreciate you this time.
Michelle Lin is a Daily Bruin Quad contributor. She writes about everything, but especially likes lifestyle and informative pieces.
Michelle Lin is a Daily Bruin Quad contributor. She writes about everything, but especially likes lifestyle and informative pieces.