Professor's work on album 'White Sun II' crescendos to Grammy nomination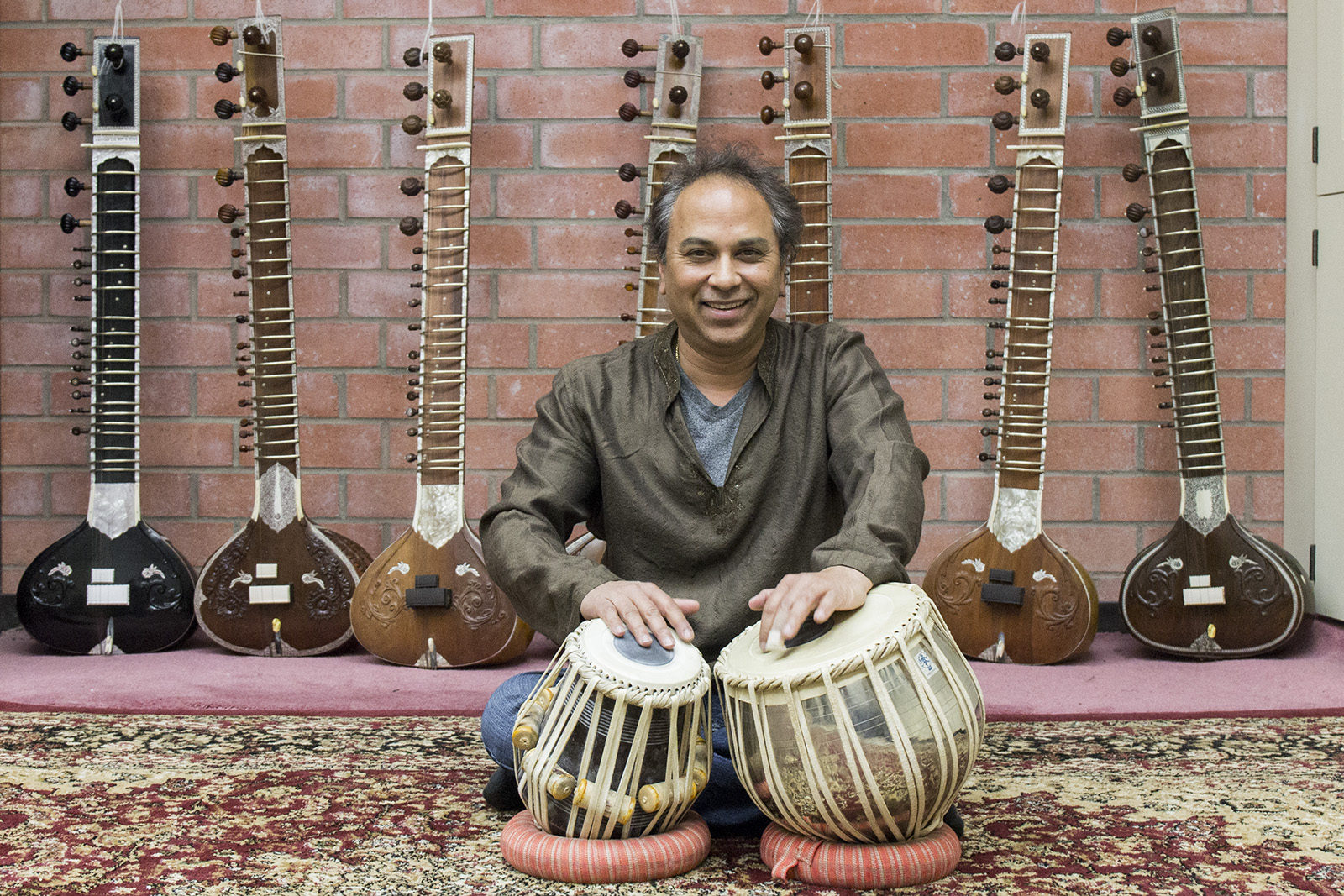 Ethnomusicology associate professor Abhiman Kaushal plays the tabla, South Asian drums, which he performed on White Sun's Grammy-nominated album. (Chelsea Zhang/Daily Bruin)
UCLA faculty, staff and alumni have contributed musical works that are nominated for the 59th annual Grammy Awards on Feb. 12. Their talents, ranging from playing the saxophone to composing songs to performing in an opera, have been recognized with nominations in five different categories.
Twelve-year-old Abhiman Kaushal frantically tapped out tabla rhythms he'd practiced for hours for his teacher in India.
But in his hurry to perform, he forgot to show the traditional sign of respect by kneeling down and placing his forehead on his teacher's feet at the start of the lesson. His master sent him home and told him to return in seven or eight months, he said.
"It wasn't because he was angry with me that he sent me back, it was to teach me patience," Kaushal said.
The tabla is a South Asian percussion instrument consisting of a pair of small drums. Classical Indian music's spirituality, values and ways of life that Kaushal learned from his master manifest in his tabla playing today.
Kaushal is an adjunct associate professor of the ethnomusicology course "Music of India" at the Herb Alpert School of Music, and he performed in White Sun's 2017 album "White Sun II," nominated for Best New Age Album at the 2017 Grammy Awards.
The album's New Age music, which consists of richly layered instrumentals and soothing vocals to channel feelings of serenity, contains parallels from the classical Indian music style that Kaushal has studied since he was a child.
[Related: UCLA faculty play in Grammy-nominated performance honoring Frank Zappa]
On New Year's Eve in 2015, Gurujas Khalsa, the lead singer of the New Age band White Sun, invited Kaushal to his first meeting with her and band members Adam Berry and Harijiwan Khalsa. Kaushal said he had always been deeply touched by the Gurujas Khalsa's clear and profound voice in the band.
They began their first recording session together and decided to collaborate for the album "White Sun II," which climbed to No. 1 in the Billboard New Age chart.
"Those music elements just fell into place," Kaushal said. "(The collaboration) felt like it was meant to be."
To create the music on the album, Gurujas Khalsa said she matched melodies she wrote to 5,000-year-old yogic mantras that are intended to improve cognitive functioning. Two-time Emmy Award-winning composer Berry then wrote most of the instrumentation and Harijiwan Khalsa made song-structure adjustments and guided the production of the tracks.
Kaushal improvised his tabla playing at least 95 percent of the time, unlike many who use sheet music, Gurujas Khalsa said.
Playing the music he had learned as a child, Kaushal looked relaxed, happy and as if he was in a different time and space, Gurujas Khalsa said.
"He can play anything you ask him to and he plays what he feels," Khalsa said. "He comes up with the best parts himself and adds so much life to the songs."
Khalsa uses White Sun's music in the yoga classes she teaches, but said many of the band's listeners, including Kaushal, are not yogis themselves or do not believe in yoga's effects as a spiritual practice, she said.
"No matter what background and beliefs people have, the music can make things at least a bit better in their lives – that's my favorite part," Khalsa said.
Kaushal said he has found parallels between the New Age music and the tabla's inherent introspectiveness. He learned to play and appreciate Indian classical music's inwardness, which was manifested in his recording with White Sun, he said.
"I was on a different sphere," Kaushal said. "Something was making me play, not me playing."
By contributing his tabla playing to New Age music, Kaushal said he feels he is following his tabla master's advice in being open in pushing his boundaries as a musician and exploring different aspects of life.
[Related: UCLA music professor commissions Grammy-nominated classical piece]
Kaushal's student, third-year bioengineering student Nithin Dharmaraj, has listened to "White Sun II" and noticed a harmonious intersection between Indian classical music and White Sun's New Age genre. Both genres embody spirituality, said Dharmaraj, who hopes to play tabla after college like his teacher.
Passing on the torch of the lessons he learned from his own master is an essential component maintaining the values both in Indian classical music and White Sun's New Age genre, Kaushal said.
"When I first came here, I was a classical Indian musician – I still am, that is the trunk of my tree," Kaushal said. "But after coming here, I've been exposed to many different genres … They've opened avenues in different directions."