Former student performs in Grammy-nominated opera "The Ghosts of Versailles"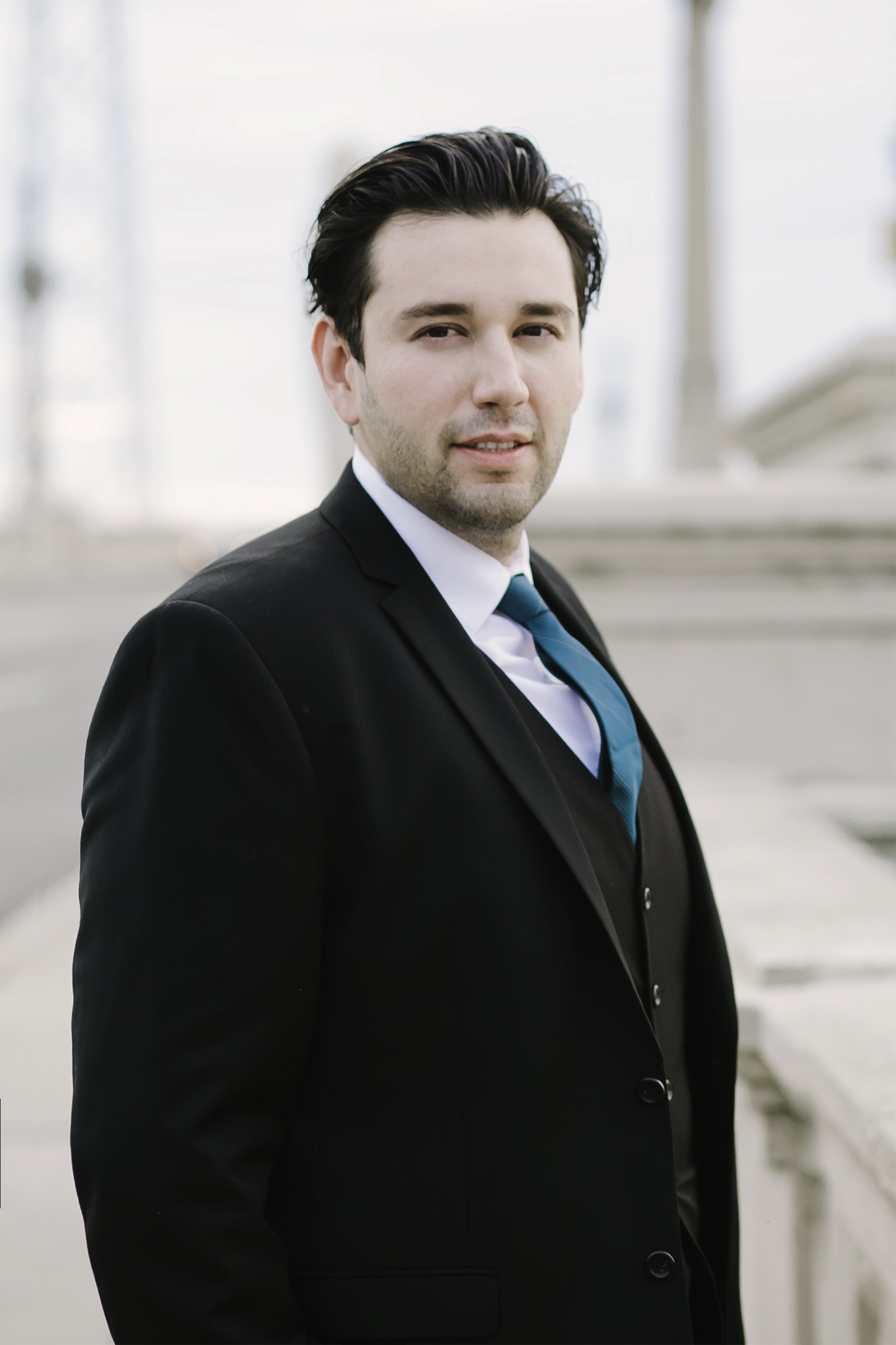 Joshua Guerrero took classes at UCLA after his operatic talent was discovered. He performed as Count Almaviva for the Los Angeles Opera's production of "The Ghosts of Versailles," which is nominated for two Grammy Awards. (Courtesy of Gabriel Guzman).
UCLA faculty, staff and alumni have contributed musical works that are nominated for the 59th annual Grammy Awards on Feb. 12. Their talents, ranging from playing the saxophone to composing songs to performing in an opera, have been recognized with nominations in five different categories.
Joshua Guerrero had five days to learn the role of Count Almaviva for the operatic production "The Ghosts of Versailles," but it would later earn the show a Grammy nomination.
The former UCLA attendee received an unexpected call from Los Angeles Opera's senior director of artistic planning, Joshua Winograde, in December 2014. On the phone, Winograde said the tenorRichard Croft cancelled a week before rehearsals were scheduled to begin for the company's upcoming production,"The Ghosts of Versailles" and asked if Guerrero would like to play the lead role of Count Almaviva.
"The Ghosts of Versailles," an opera by John Corigliano performed from February to March of 2015 at LA Opera under the baton of Maestro James Conlon, has now earned two Grammy nominations – for Best Opera Recording and Best Engineered Album, Classical – of 2017.
[Related: UCLA faculty play in Grammy-nominated performance honoring Frank Zappa]
Singing opera – much less among the world-class voices at the LA Opera – was not the initial career goal for Guerrero, he said. But Guerrero became consumed with the craft as he played roles in Opera UCLA and later the LA Opera.
Guerrero originally began studying music at age 20 after walking through a seminary in Florida in 2003, when he heard voices from a madrigal choir singing, "The Lord Bless You and Keep You" by John Rutter ricochet off the corridor. The hauntingly beautiful sounds stopped him in his tracks and propelled him to audition and join the choir, which brought a young Guerrero affirmation of his singing skills and ignited his pursuit of a musical career, Guerrero said.
After leaving the seminary, Guerrero sang professionally as a Venetian gondolier in Las Vegas.
He sang in the 2010 annual competition Palm Springs Opera Guild, where he met Mona Lands, a former accompanist at UCLA. After hearing him sing, Lands urged him to take opera courses at UCLA in fall of 2010.
Although he lacked the formal training of opera repertoire, Lands said she encouraged him to audition for UCLA's opera professors because of the brilliant potential she said she heard in his voice.
Peter Kazaras, the director of Opera UCLA who heard him audition, recognized the power behind Guerrero's voice despite his lack of training at the time of his audition, he said.
"It was immediately apparent to me that he had an important, world-class voice and that he also didn't know what he was doing yet in certain ways but had an incredible gift," Kazaras said.
During his two yearsatUCLA, Guerrero played roles in Opera UCLA productions such as Don Ottavio in "Don Giovanni," and Orpheus in "Orpheus in theUnderworld."
[Related: UCLA music professor commissions Grammy-nominated classical piece]
For Guerrero, mimicking pop and jazz artists was natural and easy, but when it came to opera, it was always a challenge, he said. Working with Kazaras and Lands to play the roles for Opera UCLA was enlightening because it allowed him to see how much was left for Guerrero to master in his repertoire.
"Opera to me was always the unattainable," Guerrero said. "Opera was on a pedestal and I wanted to conquer it and be the best I could be before I did anything else."
After completing his courses at UCLA in 2012, Guerrero was accepted into the Domingo-Colburn-Stein Young Artist Program at LA Opera, an organization for talented singers who are transitioning from academic training to a professional career in opera.
While in the young artists program, Guerrero was offered the opportunity to play Count Almaviva in LA Opera's now Grammy-nominated production of "The Ghosts of Versailles." Within the span of five days, Guerrero learned the role of Count Almaviva and adjusted to an unfamiliar contemporary opera music score by spending hours in the practice room with his voice coach. 
"It tested my limits and I was able to do better than I ever expected," Guerrero said. "It has been a whirlwind and all of it goes back to UCLA."
Guerrero played the role of an 18th-century French count and learned to walk in a wig and heels and capture the superior, noble air of Count Almaviva – and his idiosyncrasies, like fidgeting.
Vladimir Chernov, a UCLA voice professor and private teacher for Guerrero, aided him in honing this harmonious connection between auditory and visual pleasure. Chernov demonstrated the walk he worked on with Guerrero – strident steps, lifted chin, with eyes downcast and right hand poised to wave orders at any given moment.
"His personal character is like silk or like a beautiful woven fabric," Chernov said. "We are building that texture and things which are not visible in our lifetime."
Kazaras, who debuted the role of Count Almaviva in the original 1991 production of "The Ghosts of Versailles" at the Metropolitan Opera in New York City, said he knewthe role was demanding in vocal capacity and acting technique, but was certain Guerrero would be able to master it.
Guerrero's combination of vocal skills and acting talents invigorate his roles and will make him stand out as he continues in his professional career, Kazaras said.
Being wholly connected to a character, and vulnerable in that position before the audience, enhances a beautiful exchange of energy between performers and viewers, Guerrero said.
"That is something you cannot define, the unspeakable extra layer in a voice that just touches you because it has to do with the openness, vulnerability and willingness to make that exchange," Guerrero said.
One of his favorite moments of the performance comes at the end of every night. In the final scene of "The Ghosts of Versailles," the characters are in jail, awaiting a death they have accepted. Guerrero's character, Count Almaviva, begins a quintet with the words, "O god of love, O Lord of light," during which the rest of the ensemble joins in. A single note initially seems to fill the room and the addition of voices eventually creates a beautiful harmony, Guerrero said.
"On the last night I remember almost losing it from emotion," Guerrero said.
In the moment, Guerrero reflected his awe at the journey he went through for the production – from a phone call to the agony of learning a role in five days and coping with the process of being thrown into it.
"There is nothing like the right moments of culmination of emotion, voice and a soaring orchestra," Guerrero said. "It's truly divine."