Grad student melds Arab, Hollywood culture through filmmaking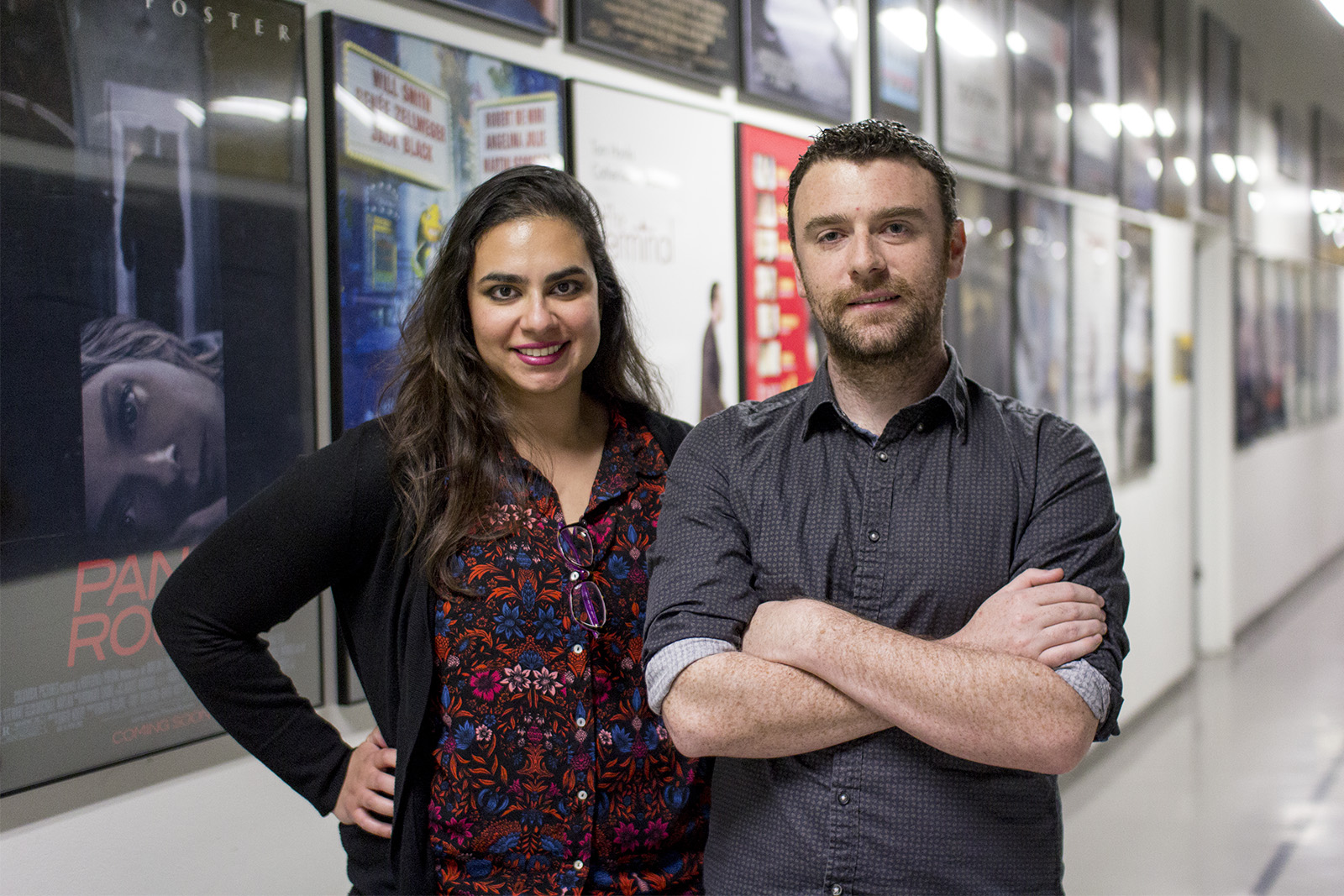 Graduate student Hanadi Elyan (left) and her husband Nathan Bennett (right) run the film production company Reel Arab Productions out of Dubai, United Arab Emirates, though they are currently living Los Angeles while Elyan finishes film school at UCLA. (Amy Dixon/Daily Bruin)
Hanadi Elyan works in Melnitz Hall on an original short film, but about 8,400 miles away in the United Arab Emirates, filmmakers hired by her roll out film projects for her clients.
Elyan, a graduate student at UCLA's School of Theater, Film and Television, founded Reel Arab Productions with her husband, Nathan Bennett, three years ago in Dubai. She hopes to use the knowledge and experience she gains to help her grow in the world of Arabic cinema.
Reel Arab Productions offers a spectrum of services in video production, including storyboard development, shooting and postproduction, so clients can avoid working with multiple independent film professionals and take care of all their filmmaking needs at once.
At UCLA, Elyan plays the dual role of studying film direction as well as managing her enterprise. But running a business from across the world isn't easy, they said.
"Because we love it so much, it's very hard to let go," Elyan said.
Keeping Elyan's educational and professional dreams alive is where Bennett comes in. While Elyan concentrates on learning, Bennett manages the business from Los Angeles by communicating with clients, despite the 12-hour time difference between Los Angeles and Dubai, he said.
Distance is just one challenge. Operating a production company in the Arabic film industry, which has only just started playing a role on the world stage, is a different endeavor altogether, Elyan said. While Arabic cinema is advanced in the commercial realm, the UAE still has miles to go in terms of feature films, she said.
"The film industry is about 100 years old, whereas the UAE is 40-something years old, so you can see it's not there in terms of narrative," Elyan said.
The Arab and American film industries harbor differences not only in terms of their history, but also in terms of the way films are made. When Reel Arab Productions started, most production companies in the UAE had Western personnel who didn't completely understand Arabic culture, Bennett said.
"What we did was create Arabic content that's original but at the same time on par to the international standards," Elyan said.
Elyan and Bennett's grasp on the Arabic mentality allowed them to gain the trust of their clients and, subsequently, the creative freedom to produce organic content, Elyan said. Bennett attributes their success to being bilingual in Arabic and English.
"We understand what you want, as an Arabic brand or as an international brand selling to Arabic customers," Bennett said. "It's tricky to get that right balance and I think we had it."
The company's logo – an illustration of a film reel encased by the traditional Arab headscarf – depicts the essence of the enterprise, which is creating branded content of international quality with an Arabic flair, Bennett said.
"We're about making films with the Middle Eastern (people)," Bennett said. "It's not just an implant from a Western country."
Though Elyan may be taking a respite from Reel Arab Productions for the next few years to focus on education and filmmaking in Los Angeles, her vision is still etched in her roots, she said. She chooses to portray what she knows and make films that reflect a culture she is familiar with, she said.
"There's plenty of other students that can make American films very well," Bennett said. "There are very few Arabic women telling Arabic stories."
Her most recent project at UCLA is a short film based on immigrants. The plot follows the story of an Arab woman and the struggles she encounters as she attempts to attain a visa for a Western country.
"Unfortunately, it's very relevant right now," Elyan said.
Elyan strives to recreate traditional Arab settings by shooting at UCLA's Melnitz Hall and at external locations such as Arab markets in California. She's worked to find Arab actors and build Arabic-looking sets in Los Angeles on a student budget. The film is currently in production and set to release in March.
Film professor Rory Kelly taught Elyan last year and helped her make a lighthearted and comedic short film about a little girl who spends the day at the beach struggling to find a bathroom.
Kelly is now the mentor for her advanced film project about immigration. He appreciates how Elyan is experimenting with a different kind of topic that is especially pertinent given the current political climate, he said.
"I like that this year she's turning towards a more serious subject and using her talent to actually grapple with an issue," Kelly said.
Elyan views her time at UCLA as a training period as she uses Reel Arab Productions' funds and expertise in production to assist her with her project. Her knowledge is not something she can learn just by working in the field in Dubai, Bennett said.
The couple plans to return to the UAE film scene after Elyan finishes her studies. Their eventual hope for Reel Arab Productions is to have more features and not just short films, Bennett said.
But for now, Elyan's focus is on introducing Arabic cinema to the world through UCLA.
"It's only starting," Elyan said.
Devjani is the top editor of the Arts and Entertainment section. She was previously the assistant editor for the Theater Film and Television beat.
Devjani is the top editor of the Arts and Entertainment section. She was previously the assistant editor for the Theater Film and Television beat.