Student tests out taco technique at Sur La Table cooking class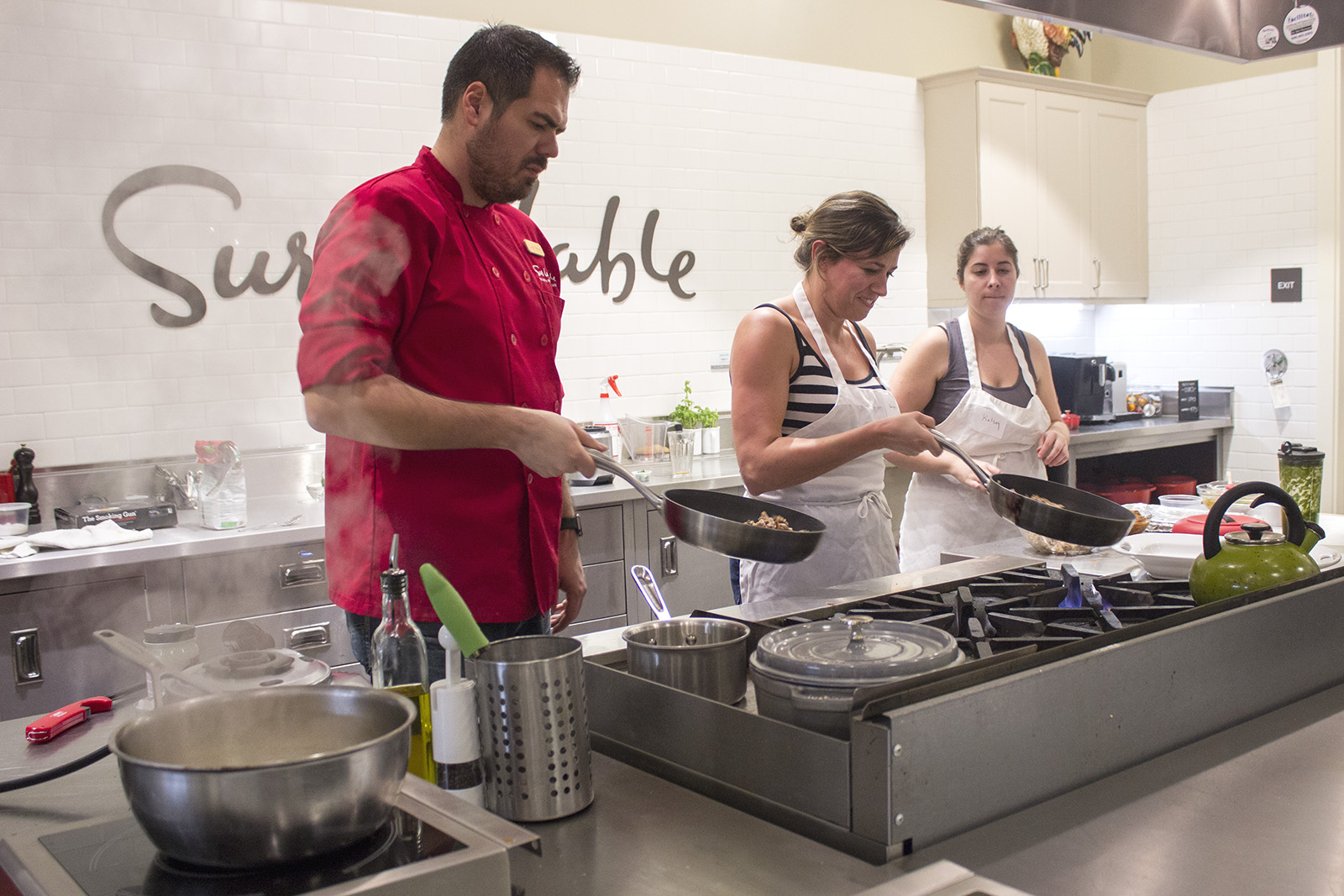 Chef Mike Schafer teaches Kayla Gorski and Kelsey O'Brien to brown the carne for the tacos at Sur La Table's cooking class. (Alyssa Dorn/Daily Bruin staff)
I was in a five-star kitchen until I looked out the window facing Weyburn Avenue.
The glass frame acted as a divide between the commotion of the familiar Westwood Village and my self-proclaimed "foodie's oasis" – Sur La Table.
Known for its picturesque kitchenware, the shop opened its doors to the Westwood Village community in July. Sur La Table offers daily cooking classes, ranging from $59 to $89, as a higher-end escape from dorm dining and off-campus kitchens.
This week, Sur La Table was inspired by Mexican food as participants learned to make Mexican street-style tacos.
With the help of chef Mike Schafer, I along with five others embarked on a hands-on culinary adventure, learning helpful kitchen techniques. Although I found some aspects difficult to replicate within the confines of college life, the recipes are feasible outside of a professional kitchen.
[Related: Sur La Table to spice up Westwood with upscale kitchenware]
The back kitchen room, which became our culinary playground, came stocked with all the premeasured ingredients and appliances needed to construct the tacos. Aluminum trays sat on the counter in a conveyer belt fashion, lined with small cups of salt, oregano and lard.
Each guest found a personalized name tag by the sink and a place setting complete with a cutting board, knife and white apron at his or her respective station.
At the start of the lesson, we gathered around a wooden counter surrounding the stainless steel island.
Schafer, who works as a personal chef, sliced an onion without looking at the cutting board. Trusting his cutting technique, he looked up at the six strangers in front of him and launched into a story about cooking tortillas with his grandmother. Schafer facilitated what I found to be a comfortable environment where conversation among the students and chef was encouraged.
Los Angeles resident Kelsey O'Brien, who took the class with her brother as his late Christmas present, said Schafer was knowledgeable and friendly. His approach to teaching is important, as he is instrumental in creating the class environment, she said.
"(The instructor) makes a big difference in whether the students feel relaxed and open to asking questions," O'Brien said.
The lesson felt less like a professional cooking class and more like an informal gathering. While we worked, I consistently taste-tested from the bowl of pickling red onions and jalapenos we made at the beginning of class, which was left conveniently next to my work station. I am usually opposed to spicy foods, but I was addicted to the onion's pepper-infused flavor.
Between braising the pork and grilling the fish, we also made salsa. Schafer instructed me to cut the fresh cilantro while my partner sliced the onion. Following his instructions, I twisted the bundle, tore off the long stems and began chopping the leaves into fine pieces. Thankfully, my less-than-artistic knife skills – a result of my intimidation by sharp objects – were not judged.
I had the chance to take a break from using a knife when I made tortillas. After pouring the flour, salt, lard and hot water into a glass bowl, I used my hands to combine the ingredients. My partner rolled the dough into balls and I used the tortilla press to flatten them into thin disks.
[Related: Sur La Table brings new culinary shopping experience to Westwood]
As the 2.5-hour class progressed, I became increasingly comfortable talking to my neighbors. The occasional "good job" or "nice knife work" both boosted my confidence and encouraged me to leave my bubble of personal space.
Although I considered Sur La Table an ideal learning environment, I could not help but put the food I was making into context. As a college student on a budget with minimal kitchen equipment, obtaining a pressure cooker for the pork shoulder or purchasing a smoking gun to give the chile salsa a smoky flavor seemed out of reach.
Back in the comfort of my parents' home, however, the recipe seemed completely plausible.
I found certain technical skills like learning how to cut an onion or how to properly brown pork the most memorable. After watching Schafer and then practicing at my own station, I saw how I could incorporate the more basic skills into my less-than-impressive apartment kitchen cooking.
Friends Kayla Gorski and Maggie Cadigan came to Sur La Table with intentions to learn more about cooking. Gorski said the techniques she learned, like how to make tortillas and use a smoking gun, were applicable to her home cooking.
"Nothing was too overwhelming or complicated or scary, so I can certainly see myself recreating this at home," Gorski said.
The class culminated with a comprehensive final product: pork carnitas with pickled red onions and grilled fish tacos with smoked chile salsa. Once a room of talking and laughter, the back kitchen faded into silence, and sound was replaced with the aroma of pork, onions and jalapenos. In buffet style, we constructed one of each type of taco and shamelessly returned for seconds and thirds.
Needless to say, Sur La Table, I will be back for fourths.