Clea Wurster: Fraternities should abolish misogynistic men-to-women ratio policies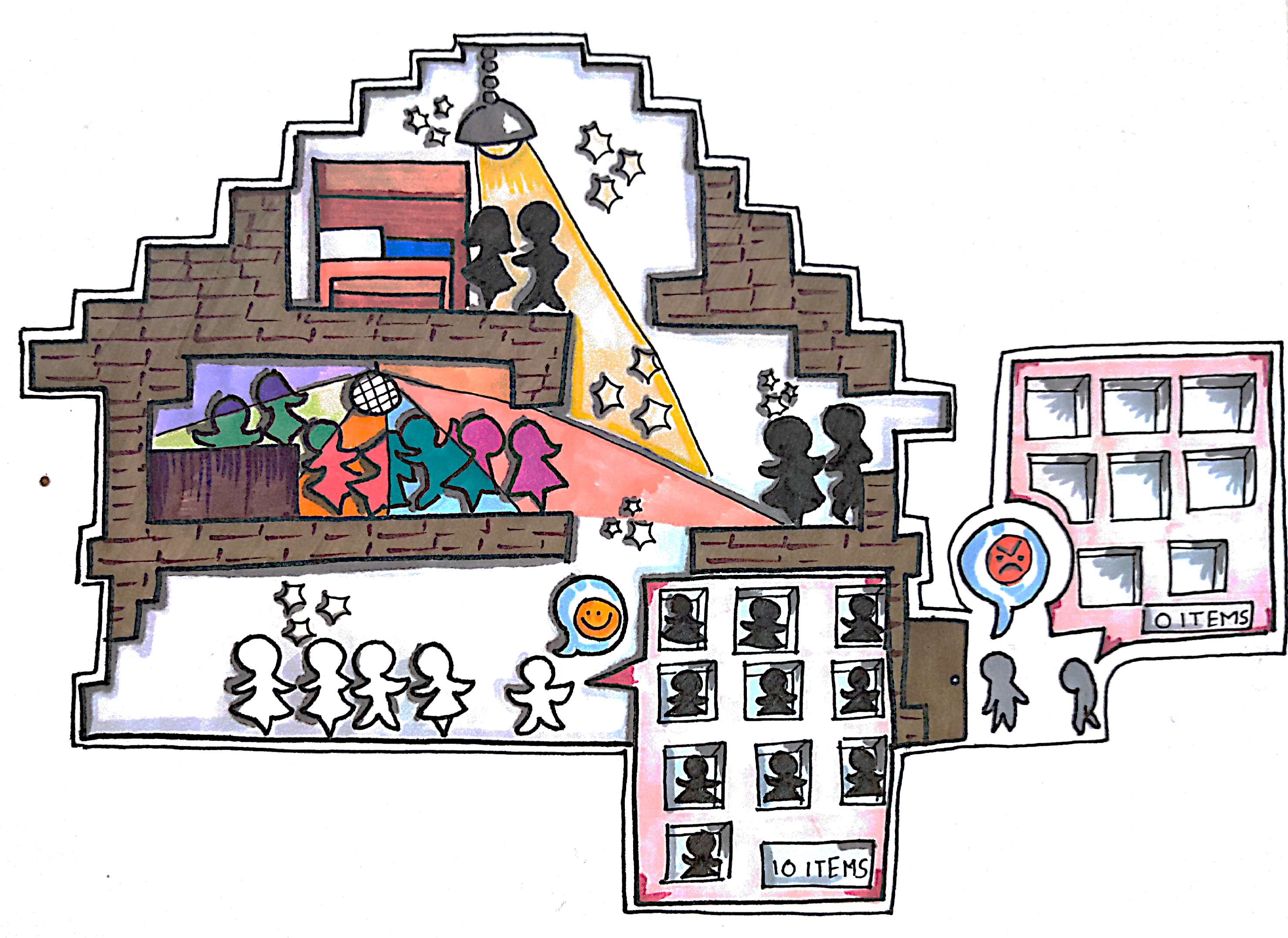 (Shreya Mantri/Daily Bruin)
Fraternity members are 300 percent more likely to commit a rape, according to a study thrice confirmed. It's no wonder that college women often head to Greek parties with a cautious attitude and an army of peers to face the frats.
Fraternities often adhere to an unofficial policy called the "frat ratio," which seeks to create opportunities for fraternity members to meet women by limiting how many men are allowed to attend frat parties. This ratio is enforced by practices like guest lists that limit the number of men independent from the fraternity who can attend, but leave the door open to any and all women that try to enter.
This unofficial policy is inherently misogynistic and promotes rape culture by operating on the assumption that a higher ratio of women to men increases a frat boy's chances of "scoring." In an age when fraternities are trying to dispel negative stereotypes, they need to abolish sexist policies like the ratio.
According to a number of people I spoke to within UCLA fraternities, this gender ratio is ideally 1:1. These numbers are maintained by turning away men at the door and allowing in women. Fraternity members say that striving to meet this number is what is best for everyone in terms of having a good time, but many women on campus have a different take on the ratio.
The ratio often turns women away because they fear the behavior it encourages.
"They just want more and more girls there so they can get lucky," said Delanie Moreland, a first-year history student who said she attended a fraternity party within her first quarter to get the full college experience.
Lori Zarmer, a first-year neuroscience student who has attended several fraternity parties, agreed that the ratio isn't about what is best for women in attendance, stating that men only think the parties are good if they have ample chance of spending the night with a woman.
And this has been going for a long time. Fraternities at UCLA have seen rape allegations publicly reported as recently as 2015, but have yet to take the initiative to address the underlying causes of such assaults. This is a stark contrast to other fraternities in the nation that have taken steps to address the perpetuation of rape culture.
UC Berkeley students even temporarily banned fraternity parties in October due to continued sexual assaults at Greek events. UCLA Greek life has yet to match that initiative with any meaningful actions. While a strict ban might not be effective, promoting inclusive and respectful parties would be a good start.
[Submission: Greek life organizations should internalize, facilitate diversity]
Many women experience uncomfortable or even frightening situations when at fraternity parties, including unwelcome touching, flirtatious conversation and even provocative dancing from their male counterparts. I myself have witnessed more than enough unwanted advances and have even been forced to step in and help party guests who aren't capable of extracting themselves from their situations. Women are often forced to travel in large groups to minimize contact with unyielding men.
Moreland recounted a troubling experience from a fraternity party where a man urged her to go upstairs alone with him.
"If other girls hadn't been there, I don't know what I would have done," she said.
To address the environment that ratios produce, fraternities should take a harder stance on sexual violence and address issues of sexual assault with their younger members. Creating an open dialogue and espousing key components of consensual sexual relationships – starting with abolishing the ratio and continuing with mandatory workshops for new members addressing these topics – could allow fraternities to lead our generation into a future in which Greek life is no longer characterized as a cult-like, sex-crazed thing of movies.
By abolishing the ratio, fraternities would be taking their first steps to address the negative image caused by media attention and allegations of sexual assault. It would communicate to UCLA's student body that Greek life no longer stands for the sort of rape culture that many believe they have cultivated in the past.
Fraternity members claim that the ratio promotes bonding, but there are much more effective ways to promote intrafraternity bonding, such as retreats that don't cater to goals of meeting women, as members stated the parties do.
Many of the fraternities here at UCLA claim to uphold the values of the national organizations they represent. These values, mentioned in their mission statements, generally include morality and chivalry. Though fraternity members claim that they do uphold these values, it is important that they are carried throughout all areas of life. Yes, that includes partying.
Fraternities are institutions of immense influence at UCLA and have the capacity to shift their peers away from misogyny and towards a culture of mutual respect among students. With great power comes great responsibility, and so far Greek life has not pro ven that it can handle such responsibility. Announcing a departure from the established norm by abolishing ratios could push them in the right direction.