Grad student redirects passion toward film after finishing med school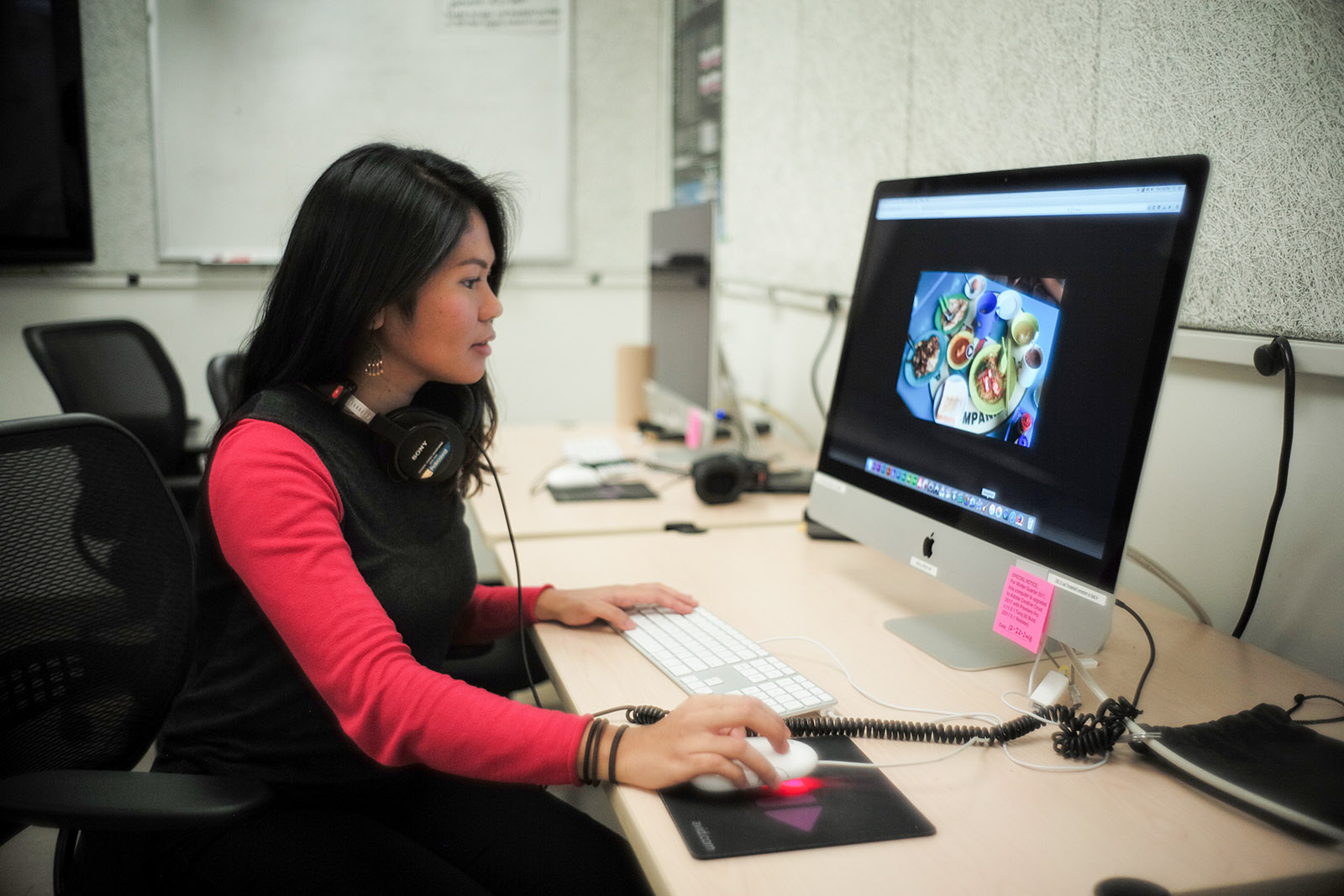 Film graduate student Myra Aquino is working on on a short film about Southeast Asian breakfast foods. Facebook connections from the region sent Aquino clips of their countrys' local dishes for her project, "The Southeast Asia Conversation." (Marley Maron/Daily Bruin)
Myra Aquino traded doctors' scrubs for a director's chair.
During her four years at the University of Miami, Aquino doubted her passion for medicine. Her mind wandered in class, imagining her family medicine lecture turning into a martial arts movie. She envisioned the choreography, the acting and the shots of characters destroying everything in the classroom.
Aquino finished medical school about a year ago – now she's a graduate student in UCLA's film program.
"I just realized it just wasn't for me," she said. "If I couldn't be creative, I wasn't fully who I was. I couldn't be a full person."
Medicine is a more stable and respected field, she told herself. Aquino thought her parents would be concerned if she gave up being a doctor for filmmaking. In many Filipino families, medicine is a sign of success, she said.
[Related: TFT grad student turns everyday moment into film]
After her first year of medical school, Aquino took film classes in San Francisco, rekindling an interest in film that began while she was waiting to hear back from medical schools. During that time, she watched everything from classics to international films.
"I spent that whole first year really second-guessing myself," she said. "Every day I was asking myself, 'Did I make the right choice?'"
Mai Tran, Aquino's classmate in medical school, noticed that Aquino was unhappy. She enjoyed poetry and talked about her film ideas, whether it be medical television shows or karate action movies, Tran said.
So Aquino approached her dean, who encouraged her to wait one more year before deciding to transfer. During her third year she could try her hand in the clinic, interacting with patients.
But after her first rotation in surgery, Aquino still didn't think medicine was for her. She felt weighed down by the stress, competition and despair.
"I realized those weren't my values," Aquino said. "More than that, there was just no space for me to be creative anymore. … I was already feeling at that point pretty – I mean it sounds dramatic – but dead inside."
This time her dean told her she might like another type of medicine – pediatrics, internal. Wait it out.
[Related: Alum transforms film-narrating experience into creative passion]
Aquino suppressed her emotions and kept her composure in front of worried patients, she said. It felt almost fake to be with her patients – if her heart wasn't in medicine, what kind of doctor would she be?
"For me it's either I could save lives or I can make a life, once it's saved, worth living," Aquino said. "I was more interested in the living part."
Joseph Choi, Aquino's childhood friend, admires Aquino for wanting to make her parents happy and sticking with medical school.
"She didn't want to do something halfway – she wanted to go through with it," he said. "She felt like she needed to have this rebirth and do what she wanted to do all along, which was to make films and tell stories."
But Aquino finished one more year of medical school for the sake of completion and then spent a gap year applying to film school.
Her criteria for choosing a film school was its fun factor, something medical school lacked, she said. The turquoise Nike shirt she wore during our interview almost looked like medical scrubs.
Now that she has set aside her actual lab coat, Aquino spends her days in Melnitz Hall.
Last quarter, she created a two-minute film about a girl who gets stood up in a bar, starts talking with the bartender and realizes they have a connection. Yet in the end, the bartender is revealed to be a robot, programmed to say anything to appease her.
Aquino identified more with the robot, because in medical school she felt socially programmed to behave in a robotic way. She had no spirit.
This quarter, Aquino is working on a short film she wrote called "The Gray," about an undercover cop in purgatory. The auditions were last week and it will be released in March.
In the long term, her goals lie in Southeast Asian film. By 2021, she wants to produce a feature film about Southeast Asia to tell stories of different backgrounds coming together, she said. In July, she began connecting on Facebook with people who want to tell the region's stories for her project, "The Southeast Asia Conversation." Her new online connections, whom she's never met, sent her clips about people in their countries eating breakfast.
During her one-hour break between classes Tuesday night, Aquino sits at a desk in a Melnitz lab, viewing part of her short film about Southeast Asian breakfast foods.
The film opens in a kitchen in Myanmar with two parents and their toddler sitting at the breakfast table, surrounded by dishes of food. They scoop noodles onto their spoons before the scene changes to Singapore. Two men work in the kitchen, one spreading round pieces of dough onto a grill and one assembling kaya toast with coconut milk.
Aquino points out how the curry and naan on the Singaporean breakfast table have Indian influences, while a cup of milk tea on the table is reminiscent of the British occupation of Singapore. She is fascinated by the cultural influences that manifest in breakfast foods, a Western invention, she said.
She clicks on a clip she hasn't yet added to Adobe Premiere – two girls in Brunei eating Nutella on toast.
"You get a sense of how people come together over food," Aquino said.
She wants the film to increase curiosity about other Southeast Asian countries and start a conversation about what it means to be Southeast Asian, she said.
Aquino opens her laptop and reveals a maze of files marked "MS 1" through "MS 4." She has kept an online journal about her time in medical school, complete with conversations with her patients, doodles on her biology homework and digital illustrations about working in Tokyo.
Laughing, she remembers the time in her life when she felt like a different person. One photo in her notes explains how a soon-to-be father saw "The Hangover Part II" on the television while his child was born. On a diagram of molecules, she had written that Huntington's disease was like an alien coming from a rocket ship.
"My impulse to write and create is really strong," she said.
By the end of the year, she's going to turn her collection of words and pictures – full of dark humor – into a memoir.
"Having this reminds me of what I went through … and what I can handle," Aquino said, eyes on the screen.
Since coming to UCLA, Aquino has met people who call her courageous for giving up the prestigious career of being a doctor. But for her, she knew she had to do it.
All people have is their life story, she said. And instead of having despair, she wanted to express her creativity and tell a story.
"Could I do that to my patients – feeling like my brain was somewhere else? Wanting to be creative, but they were in front of me, and they were real people," she said. "I'm a workaholic anyway, so I might as well be a workaholic about something I love."
Weinberg is the prime content editor. She was previously the A&E editor and the assistant A&E editor for the lifestyle beat.
Weinberg is the prime content editor. She was previously the A&E editor and the assistant A&E editor for the lifestyle beat.