UCLA study finds LA sushi restaurants often serve mislabeled fish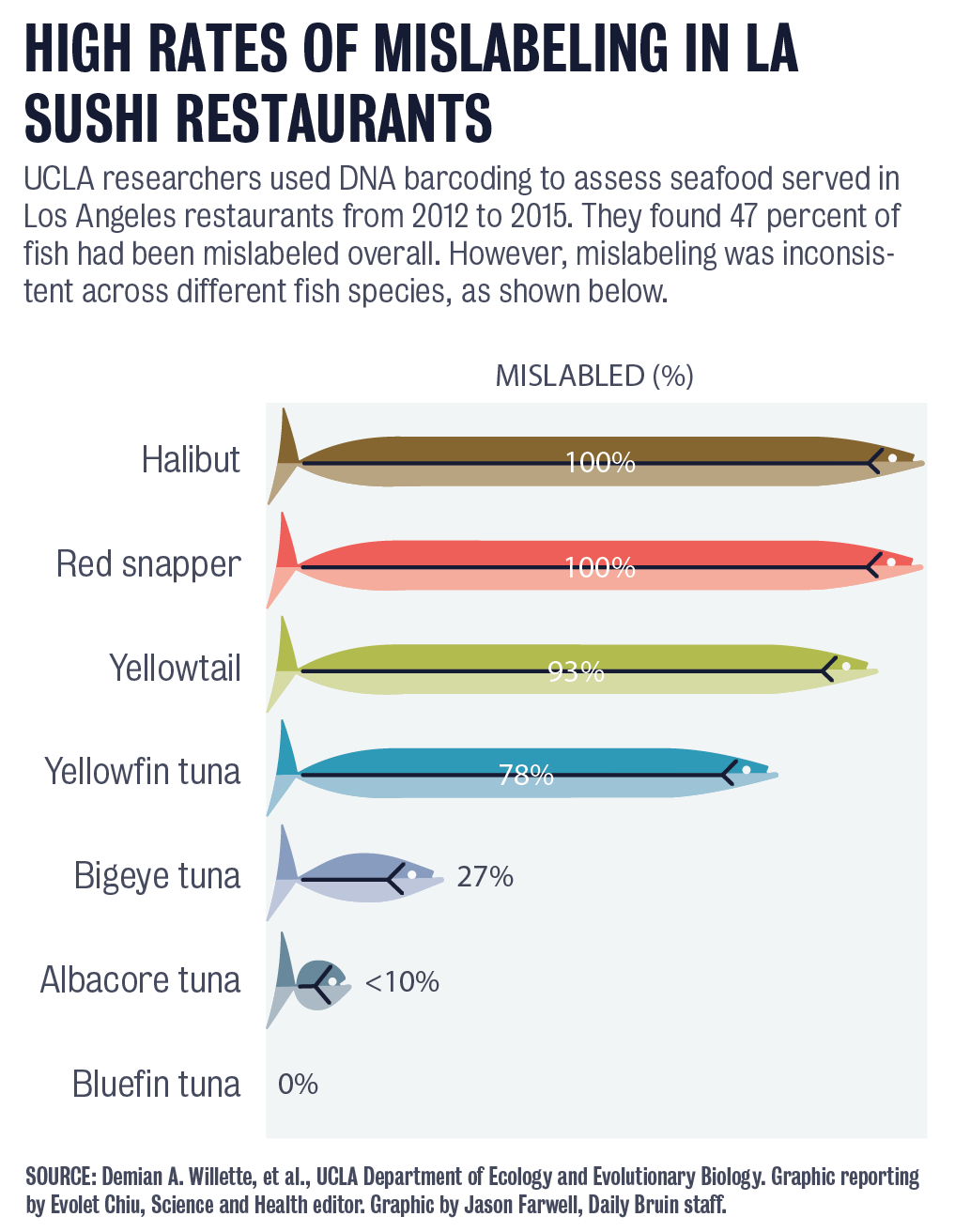 About half of the fish served in Los Angeles sushi restaurants are mislabeled, which can harm long-term fishery sustainability and consumer health, according to a new UCLA study.
UCLA researchers found that 47 percent of fish in Los Angeles restaurants are mislabeled in a study published earlier this month. Researchers collected samples of nine species of fish from 26 LA restaurants between 2012 and 2015.
The researchers analyzed the DNA sequence of fish served at the restaurants to identify a sample's species. They found that species such as halibut, red snapper, yellowfin tuna and yellowtail were mislabeled at least 90 percent of the time. Salmon and mackerel were mislabeled less than 15 percent of the time, and bluefin tuna was never mislabeled.
All restaurants, which were selected based on whether they had high ratings, had at least one case of mislabeling throughout the four-year study, said Demian Willette, a Loyola Marymount University professor and lead author of the study. There have been previous studies examining seafood mislabeling, but this was the first study to show a consistent pattern over multiple years.
Willette said there can be various causes of mislabeling. Some fisheries or restaurants may substitute high-market-value fish with lower-value fish to increase profits. Others may substitute fish to subvert overfishing regulations. Mislabeling can also happen unintentionally, resulting from incorrect assignment of common names or loss of information throughout the supply chain, he said.
Mislabeling can pose health concerns, according to the study. For example, one-third of halibut was substituted with olive flounder, a species known to cause gastroenteritis outbreaks in Japan in 2012. Mislabeling also prevents consumers from accurately identifying fish with higher mercury levels.
Additionally, mislabeling can cause fisheries to become unsustainable and makes it difficult for consumers to make ecologically sustainable choices, said Paul Barber, a UCLA professor and senior author of the study.
"People who like sushi and restaurants have an invested interest in this industry," Barber said. "The goal of this study is not to point fingers, but to raise awareness of the issue, and help consumers and restaurants ensure the industry is sustainable."
Westwood sushi restaurant spokespeople said they take different approaches to prevent seafood mislabeling.
Clement Mok, the head of brand marketing and communications at Sushi Nozawa, which owns the sushi restaurants SUGARFISH and KazuNori in Westwood, said he acknowledges seafood mislabeling is a problem some restaurants have to deal with.
[Related: New KazuNori location brings hand-rolled sushi to Westwood Village]
Mok said he thinks naming conventions may complicate the seafood identification process.
"The naming conventions of the different fish in the different parts of the country are problematic in getting the right fish," Mok said. "For instance, halibut is named one thing on the West Coast, but it's called fluke on the East Coast."
Mok added Sushi Nozawa uses the local names of fish and has its fish undergo several quality inspections, including testing the fishes' mercury levels.
"We do our best to our knowledge that we are not mislabeling any of our fish," Mok said. "Chef Nozawa has been around for a long time, and he is very knowledgeable about what a fish should look like and taste like, so we have a quality-setter to review all the fish that we purchase."
The study supports Mok's statement. Researchers found that 77 percent of mislabeled red snapper is actually red sea bream, the type of fish restaurants in Japan would market as red snapper.
Nushii, a restaurant in Westwood that serves sushi burritos and bowls, works with various organizations such as the Monterey Bay Aquarium, said Afroze Ali, the director of customer experience at Nushii. The restaurant also requires vendors to provide documentation on which guidelines they adhere to and where they get their fish.
"We regularly work with our vendors and expect a high level of transparency from them so that we can be transparent with our customers," Ali said.
Nushii also refrains from using certain types of fish that are prone to mislabeling throughout the supply chain, Ali said.
[Related: Sushi burrito trend rolls into Westwood with new restaurant Nushii]
Barber said his team is open to working with any sushi restaurants concerned with the identity of their seafood, and would like to continue this study as a part of the undergraduate course in marine science.
Willette said he thinks solutions to mislabeling are plausible.
"The zero percent mislabeling rate of bluefin tuna actually gives us hope at a solution," Willette said. "Bluefin tuna is a highly valued and increasingly common fish in the oceans, yet we observed a mislabeling rate of zero percent."
Willette said bluefin tuna serves as an example that accurate tracking and labeling of seafood through the entire seafood supply chain is possible.