Alum transforms film-narrating experience into creative passion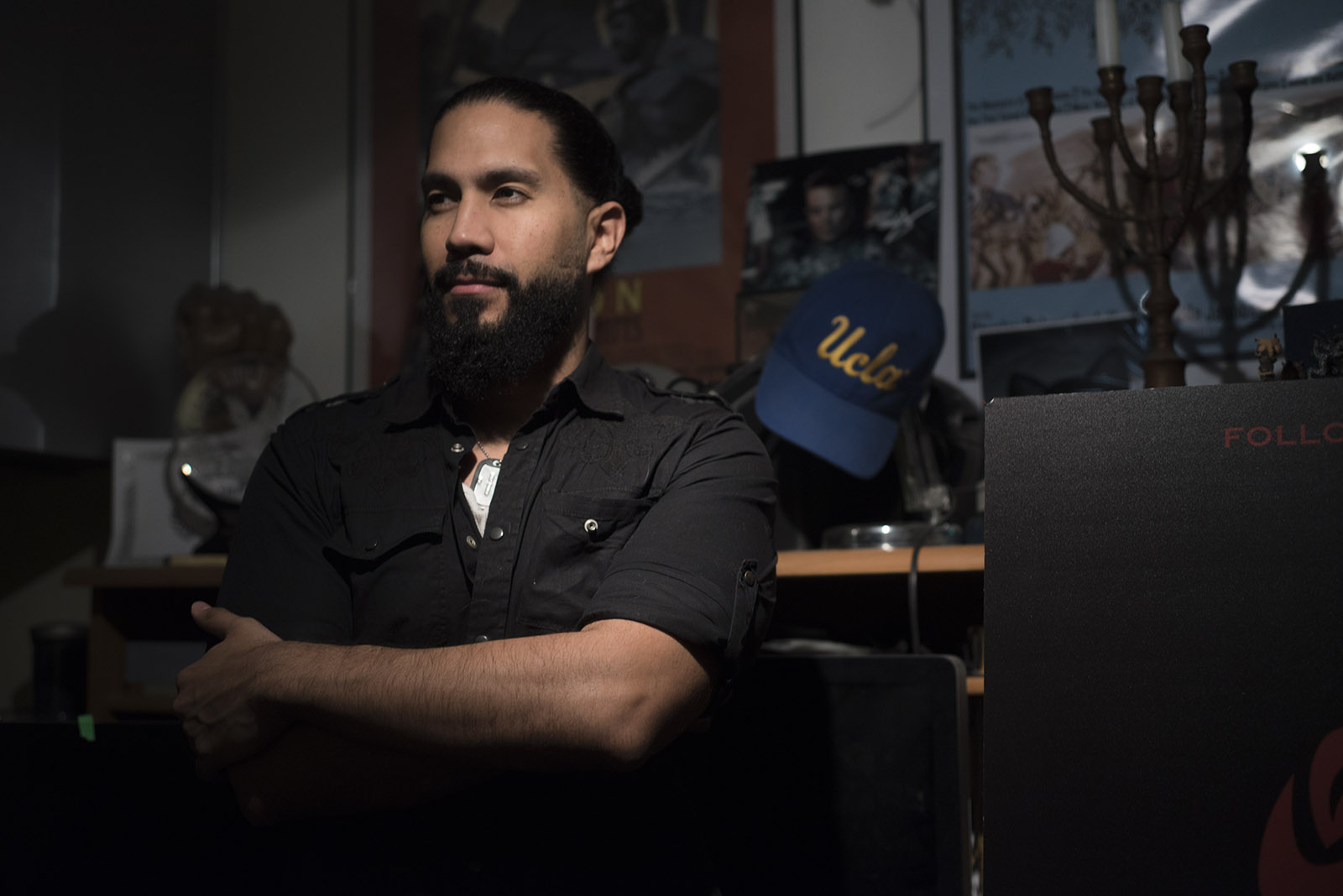 Alumnus Dallas King had to interpret movies for his mother when she took him to movie theaters as a child. He explained the movies to her scene by scene because of her blindness. (Emaan Baqai/Daily Bruin senior staff)
When Dallas King's mother brought him to the movie theaters as a child, he was tasked with more than just finding the right seat and the right-sized popcorn. He also had to interpret the movies for his mother, who was unable to see them.
His mother's blindness gave King a base for storytelling and an interest in the powers of film. The UCLA alumnus' upbringing has impacted how he creates his movies and how he faces adversity in the world.
King first attended UCLA as an undergraduate political science student, but returned later for a masters degree in his real passion: film.
The director, writer and producer returned to the UCLA campus to film one of his latest projects, "U.Z.L.A.," which is currently in post-production. "U.Z.L.A." follows a group of college students being hunted down by infected zombies on the UCLA campus.
The movie is typical of his other films, which are high-concept movies that include genres such as action, science-fiction, fantasy and horror.
King's interest in high-concept movies began in his childhood. Growing up, he lived with his single mother and his brother, both of whom are blind, in government housing, and moved almost every year, he said. King turned to movies as a way to escape from daily issues in his life, such as constantly switching schools and often feeling alone, he said.
Becoming engrossed in a movie to evade the pressures of real life ignited his love for films.
"Anyone that goes to the theater, they want to escape for two hours into another world," King said. "When I was younger, film was an escape for me."
Rose King, Dallas King's mother, said her son became more interested in movies as his childhood progressed. She recalled that one of his favorite movies to put on at home was the 1964 film "Zulu."
Dallas King enjoyed "Zulu" as a child because it was filmed in South Africa, and King wanted to feel like he could explore lands he hadn't been to before, he said.
When not watching movies at home, he had to ask his mom to go to the theater with him to see movies that were rated PG-13 or R. Since technology for blind moviegoers didn't exist in theaters at the time, Dallas King sat beside her and explained what was on the screen, he said.
"His creative mind started really young, and it enhanced when he was narrating for me," Rose King said.
Some films Dallas King narrated included heavy or explicit content such as sex scenes and assault court cases, which made for some awkward theater experiences with his mom, he said. However, narrating graphic and serious scenes altered how he viewed serious topics.
"I believe (that experience) was one of the foundations of what gave me a really solid base of storytelling," Dallas King said. "It really pushed me to explain things that were larger than life, because a lot of things in film are."
Dallas King attended UCLA as a first-generation college student. He originally applied to college because his high school counselor said he couldn't get into or afford college, he said. But he was going to prove his counselor wrong.
After Dallas King finished UCLA and dropped out of Cal State University, Northridge as a graduate student, he decided to travel.
During his travels, Dallas King and his mother had conversations on the phone, and in those talks, he mentioned how he was writing scripts. Their phone conversations inspired Rose King to persuade her son to come to back to UCLA in fall 2009.
King studied for his masters in film at UCLA under the teaching of Becky Smith, a professor and now vice chair of production in the school of film. Dallas King's interest in high-concept films and striking visuals runs distinct to his family life, Smith said.
"Something he's extraordinary at is visual ideas about things, and yet here he has a family where two of the people he's closest to don't have sight," Smith said.
Due to the high-concept genres King works with, his sets and lighting choices are mesmerizing and larger-than-life, Smith said. For a small film project in the graduate program, some of King's extras were covered head-to-toe in body paint with sparkles on their eyelids.
"It's always something spectacular and fantastical and it's a lot of amazing eye-candy," Smith said.
Though King focuses now on creating films rather than interpreting them, he and his mother still talk almost every day. He updates her on filming troubles and other roadblocks in his life.
"All I really have to think about is that no matter what I'm enduring at the time, nothing is compared to living in this world without eyesight, like my mother or my brother," King said.