The Quad: Attending a taping of 'The Ellen DeGeneres Show'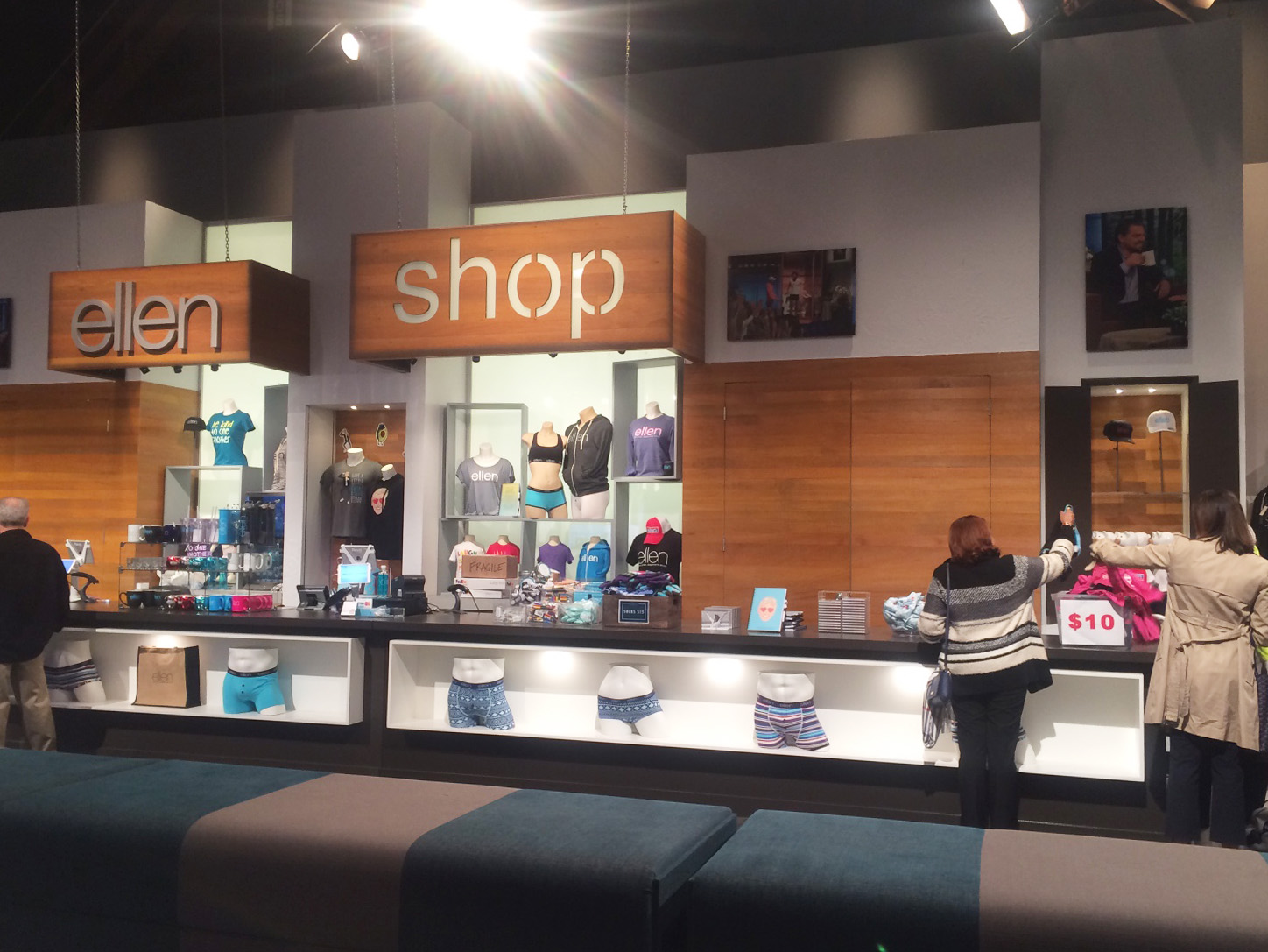 Television tapings are a lot longer than you think, but at least there's a gift shop. (Michelle Lin/Daily Bruin)
I didn't expect to already ditch a lecture in week one – I'd like to think that I possess some level of self-control. But when a friend asked me if I wanted to go to a taping of "The Ellen Degeneres Show," bad Kermit took over and my decision was made.
Located in the Warner Bros. Studio in Burbank, California, "The Ellen Degeneres Show" is the pinnacle of the Los Angeles stereotype. With palm trees lining the street, mountains in the distance and huge posters with the Big Bang Theory and 2 Broke Girls on the studio walls, you can't get more LA than that.
On Jan. 10, I went to the taping of the Wednesday, Jan. 11 show, as the show airs the day after it tapes. This episode featured Octavia Spencer and Billy Eichner.
This experience is definitely not for the impatient, as it involves a lot of waiting. First, we waited in a parking lot across from the studio, where we got numbers that determined which order you entered the studio. My friend and I got the numbers six and seven, which put us in the first group of audience members. Once we crossed the street into the studio, we again waited in a room with a big store, where Ellen merchandise was sold.
After around three total hours of waiting, we finally entered the stage for the taping, and were specifically seated by the stage managers. It was absolutely surreal to see "The Ellen Degeneres Show" set with my own eyes – the two sofas, the palm tree background and the sliding blue doors.
The stage manager came out and had us practice cheering, clapping, standing up and dancing. When he told us to dance, "Can't Stop the Feeling" by Justin Timberlake played, which confirmed the fact that I really was a member of the Ellen audience.
[Read more: Diving into world of TV production at 'The Ellen DeGeneres Show']
I never thought that I'd be a part of the audience that I had always assumed to be a homogenous group of white suburban moms. Although the audience was approximately half middle-aged women, there were also many younger members, and the energy of the crowd was infectious and seemingly tangible.
At first, I found the cameras slightly intimidating, since they moved around and I didn't want to look directly into them. However, as time went on I got used to it, and tried my best to fulfill my duty as a happy and laughing audience member.
When Ellen came out onto the stage, the energy in the room rose to a fever pitch. She launched into a monologue about pets sleeping in beds, and welcomed back a person from a show a few days ago to be the guest DJ, since tWitch wasn't there. Then, she interviewed a young Elvis tribute artist, who performed.
The main guest was Octavia Spencer, who is best known for her role in "The Help," and is in the recently released "Hidden Figures." Despite her immense critical acclaim, I still remember her best for playing Dr. Evilini in the "Wizards of Waverly Place."
The commercial breaks aren't real, as the Ellen show isn't live. Rather, they're a few minute intervals for audience dance-offs to commence, but more importantly for the staff and Ellen to get ready. Because of the many commercial breaks, we had to clap and cheer a lot to welcome Ellen and the celebrity guests back, and the stage manager would make wild gestures to get us to be louder.
[Read more: Inspired by Ellen, UCLA student fights cancer with humor]
During one of the commercial breaks, Octavia Spencer came to sit in the audience, and her seat was in the row right in front of me. She danced with the audience members, and I looked directly into her eyes and said hi. I was literally 3 feet away from her, guaranteeing my ephemeral spot on national television and, hopefully, forever in Octavia Spencer's memory. After the break, Ellen called Octavia Spencer back from the audience to play "The Price is Right."
The second guest was Billy Eichner, known for a comedy game show called "Billy on the Street," who talked about his experience at Obama's farewell party. I found both Octavia's and Billy's interviews with Ellen interesting, as I was able to observe the dynamic between Ellen, the celebrity guest and the audience. This interaction isn't fully translated onto television since viewers at home can't completely see what's going on behind the camera, so I feel lucky to have been a part of it.
After filming everything for the next day, Ellen changed her outfit so that a game show segment, Make it Rain, could be filmed for an upcoming episode. And just like that, the taping was over after around an hour. Ellen thanked us for coming to the show and giving her love.
Throughout this whole experience, I could feel Ellen's positive presence in every single aspect. All of the workers, from the security guards to the stage managers to the cameramen were all extremely cheerful, evoking a Disneyland-like atmosphere. All the employees, audience members and celebrity guests were genuinely happy to be there, and this authentic happiness testifies to Ellen's influence and the power of positivity.
If you're a big fan of Ellen or any other talk show hosts based in LA, I'd definitely recommend trying to get tickets. Although it will definitely entail a lot of waiting, the experience is unquestionably worth it.
For the Ellen show, visit http://www.ellentv.com/tickets/, where you can request tickets for any day that's not fully booked. In addition, you can call 818-954-5929 for the day of standby tickets.
Ellen's message of positivity, love and kindness was extremely refreshing, and I can't think of a better way to kick off not only my winter quarter, but 2017.
Michelle Lin is a Daily Bruin Quad contributor. She writes about everything, but especially likes lifestyle and informative pieces.
Michelle Lin is a Daily Bruin Quad contributor. She writes about everything, but especially likes lifestyle and informative pieces.