The Quad: What it takes to be a UCLA EMT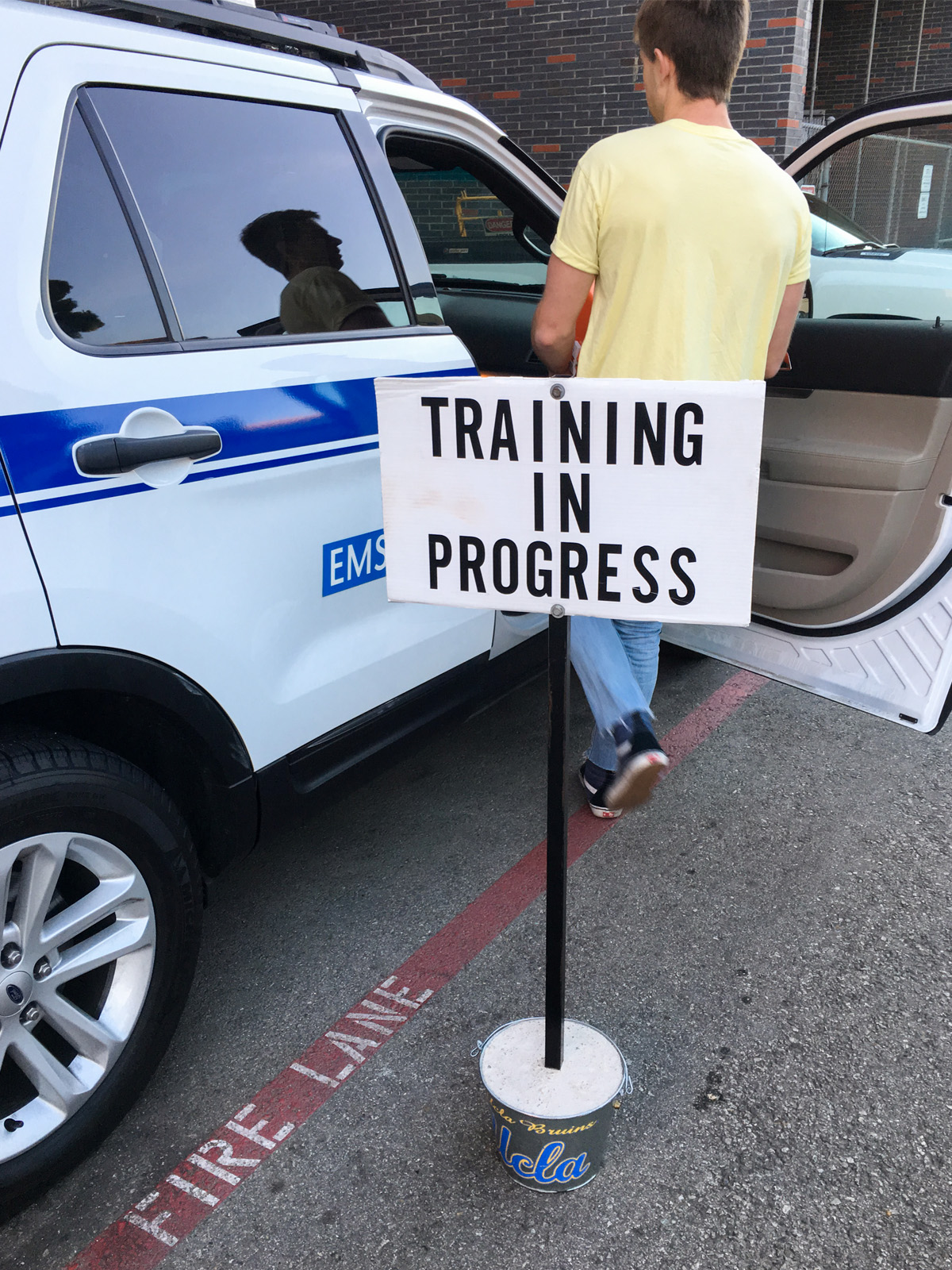 UCLA EMS technicians undergo a rigorous training process in order to be prepared for a variety of emergency situations. (Belicia Tang/Daily Bruin)
From a cut on the finger to a cardiac arrest, the UCLA Emergency Medical Service is here to respond to medical aid calls both on campus and in Westwood.
Established in 1978, UCLA EMS is a student-run organization dedicated to providing the best possible care to those suffering medical emergencies.
Available 24 hours per day and 365 days per year, UCLA EMS is staffed by hand-picked, top-notch student emergency medical technicians. UCLA EMTs must be full-time UCLA students and at least 18 years old, have a 2.0 GPA or higher, at least one year of driving experience and their California EMT certification.
EMTs are the first responders to 911 calls. Say you've overdosed on vodka at a frat party or sprained your ankle while playing flag football on the IM field. Your 911 call goes to the UC Police Department, which then dispatches an emergency unit to respond to your needs and transport you to Ronald Reagan UCLA Medical Center.
In addition to responding to medical aid calls, EMTs also act as station officers at UCPD, taking nonsuspect police reports, handling the campus lost and found and manning the front desk.
UCLA EMS also staffs on-campus events, including basketball games in Pauley Pavilion, concerts and commencement ceremonies.
While most EMTs who work for UCLA EMS are pre-med or pre-health students looking to go on to medical, nursing or physician assistant school, UCLA EMS does not hire solely based on major or career goals. In the past, North Campus students have been hired by EMS.
Only the truly dedicated are hired by UCLA EMS, as the road to employment is long and costly.
The first step is to get an EMT certification, which itself can cost more than $1,000. Prospective EMTs must complete an EMT course before taking the National Registry of Emergency Medical Technicians Exam to obtain their EMT certification.
UCLA Center for Prehospital Care (CPC) offers EMT courses on four different schedules.
Once certified, students can apply to work for UCLA EMS, which recruits every fall and spring quarter. The hiring process spans two weekends and is comprised of eight stages:
Cuts are made during each round. According to Reynolds, this past fall recruitment cycle saw 50 students apply with only five making it all the way through. After getting hired by UCLA EMS, EMT hirees must go through a three-part training regimen that lasts six months or longer.
While the UCLA EMS training program is undoubtedly intense, it produces highly competent EMTs who you'd be lucky to trust your life with if faced with a medical emergency.
Working as an EMT is a part-time job, but it is still a large time commitment. Tom Reynolds, manager of UCLA EMS since 2008, likens the time commitment of the job to that of a five to six-unit class. While past UCLA EMTs have been involved in other extracurriculars, like Greek life and research, working for EMS is usually the highest priority for EMTs after academics.
The EMT pay rate starts at $11.25 an hour, with promotional opportunities up to $14.63.
With the high costs, large time commitment and near-minimum-wage pay of working as an EMT, one might wonder why students choose this job out of the many offered at UCLA.
In part two of this two-part series on UCLA EMS, we will hear from UCLA EMT's about their individual experiences working for EMS and what they've gained from working for UCLA EMS.
Belicia Tang is a Daily Bruin Quad contributor. She writes about a wide range of topics, including mental health, meditation, dance, and the psychology of motivation and success.
Belicia Tang is a Daily Bruin Quad contributor. She writes about a wide range of topics, including mental health, meditation, dance, and the psychology of motivation and success.