UCLA skilled trade workers end five-day strike protesting wages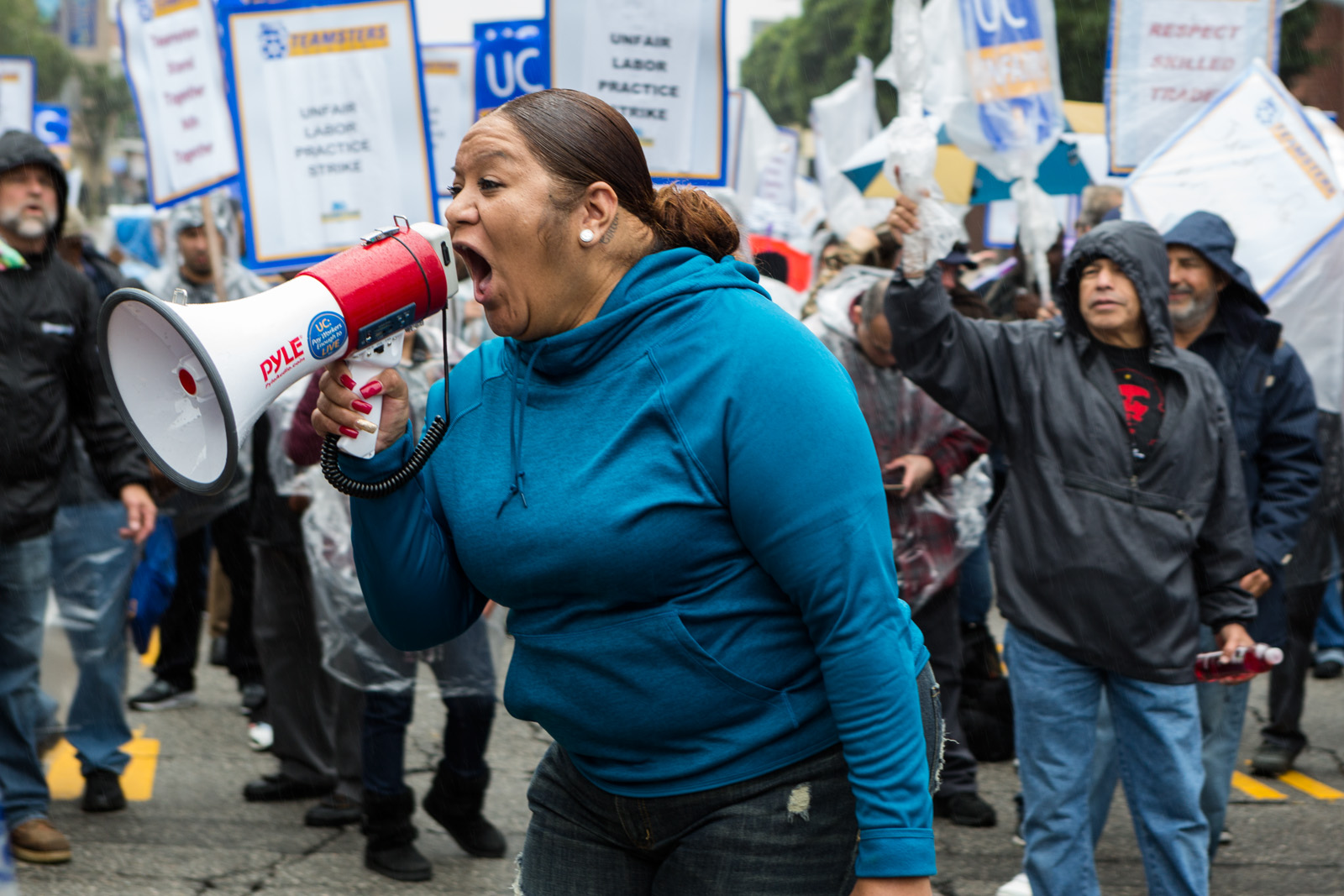 Skilled trade workers wrapped up a five-day strike at UCLA Tuesday, while clerical workers across the UC went on strike for 24 hours the same day. (Laura Uzes/Daily Bruin)
January 10, 2017 10:42 pm
Hundreds of workers waved plastic-wrapped signs that read "UC unfair! Strike!" in the air, undeterred by the rain.
Members of Teamsters Local 2010 marched on campus and throughout Westwood several times Tuesday as part of their push for higher wage increases. At one point, strikers marched into the intersection of Westwood Boulevard and Wilshire Boulevard, temporarily disrupting traffic.
The university called the strike "unlawful" in a statement and encouraged the workers to settle negotiations at the bargaining table. The statement also explained the pay raise, health care benefits and other support options offered to workers under a new contract.
UCLA said its current wage proposal would make UCLA skilled trade workers the highest compensated employees in their category among colleges in Southern California.
[More on wage negotiations: UCLA workers plan five-day strike to protest wages]
Skilled trade workers began their strike Friday and returned to work at midnight Wednesday. Teamsters workers previously went on strike in November, also over wage increases in contract negotiations.
Bill Hosea Mason, a Teamsters member, said he was striking to make his voice heard and inform UCLA community members of the bargaining situation.
"We just hope this protest leads to a contract and a fair raise," Mason said.
Robert Leonard, a union representative for Teamsters representing the skilled trade workers, added the 600 skilled trade workers at UCLA have not had a contract in five years and have not had a raise in four years.
UCLA has said the skilled trade workers have not had a contract because the union that previously represented them did not bargain in good faith.
University of California Police Department dispatchers, part of the Teamsters administrative and clerical bargaining unit, also went on strike with other clerical workers across the UC system for 24 hours Tuesday. The workers claimed the UC was not offering high enough raises and was negotiating in bad faith.
Lori Hancock, a public safety dispatcher, added that other agencies in the area pay higher salaries for bilingual education.
The UC said in a statement its proposed 18 percent wage increase over the next six years, in addition to a 22.5 percent increase from the last contract, would keep administrative and clerical worker salaries market-competitive.
[Photo gallery: Teamsters Local 2010 go on strike against UC wages]
Students said they were relatively unaffected by the strikes. Many said they were surprised workers were on strike. Others said they read the email the university sent out during winter break but dismissed its content.
Uma Lakshminarayan, a second-year computer science student, said she only realized the effects of the strike when she went to pick up milk from the UCLA Hilltop Shop, and was told that none had been delivered due to the strike.
"It's pretty odd that this is the first time it's affecting me, considering I arrived on Sunday," Lakshminarayan said. "I really hope they receive fair pay."
Raymond Le, a second-year biology student, said he thinks the school should address the workers' issues.
"(The issues are) probably significant based on the strikes they have held and will continue to hold," Le added.
Contributing reports by Madeleine Pauker and Brianna Campbell, Daily Bruin senior staff.