Theater review: 'Waitress'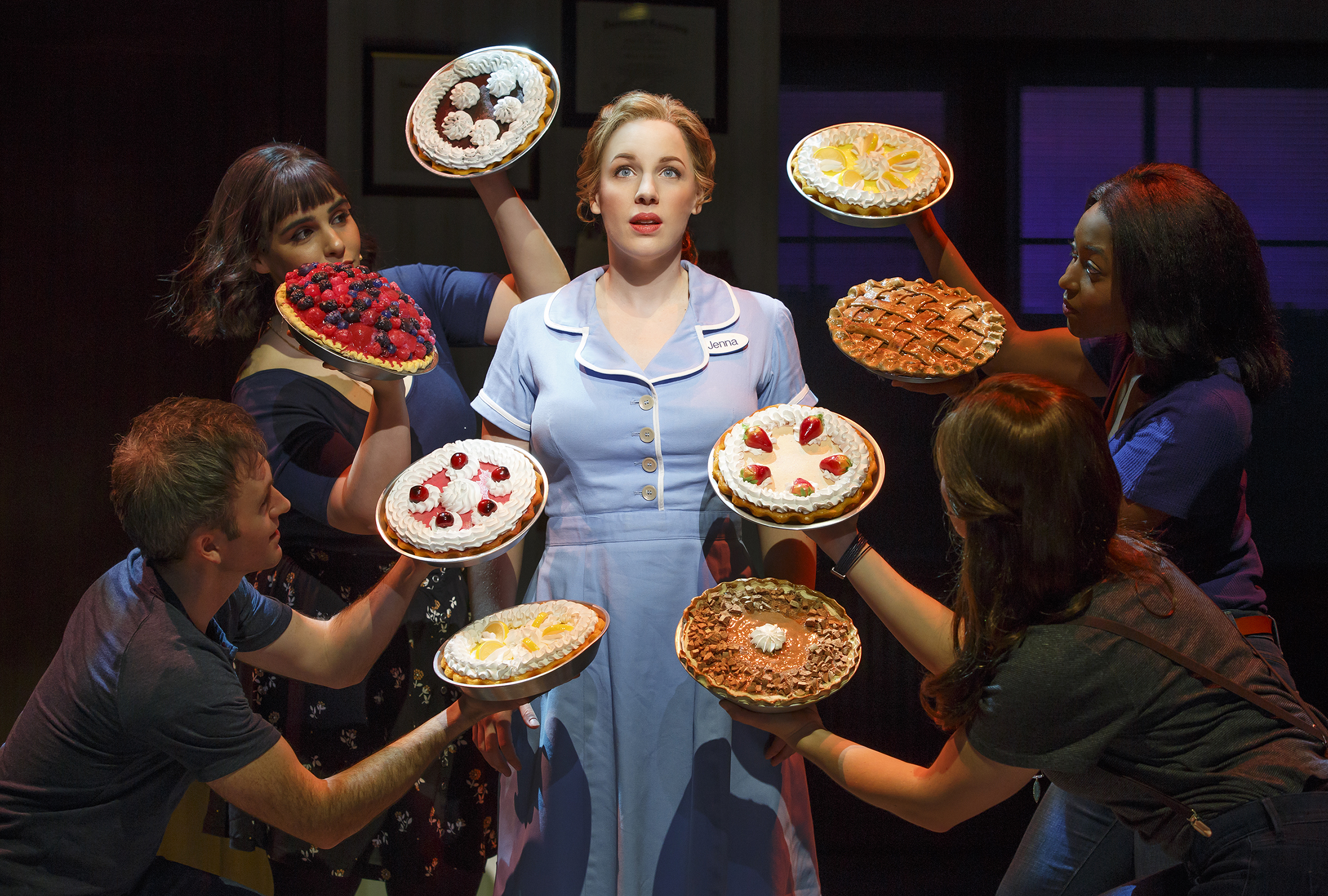 In alumna Sara Bareilles' "Waitress," expectant mother Jenna (pictured, as played by Jessie Mueller) works at a diner baking pies. (Courtesy of Joan Marcus)
"Waitress" Music and lyrics by Sara Bareilles The Brooks Atkinson Theatre
UCLA alumna Sara Bareilles serves up a sweet story about a waitress who finds joy in baking pies.
Bareilles wrote the music and lyrics for the musical "Waitress," based on the movie of the same name. The consistent baking theme, warm-hearted plot and awkward humor are the show's strengths, but also hinder the musical from being serious and transcendent.
"Waitress" follows baker and waitress Jenna (Stephanie Torns), who discovers she is pregnant with an unplanned child. She feels trapped living with her abusive husband Earl (William Popp) – he takes her tips from the diner, refers to her as his property and demands physical affection.
Her co-workers at Joe's Pie Diner encourage Jenna to enter a pie-baking contest and use the $20,000 prize to leave Earl if she wins. Jenna begins an affair with her gynecologist Dr. Pomatter (Drew Gehling) to avoid the reality of her life.
The show's music is filled with Bareilles' Grammy Award-nominated bubbly, sing-song melodies. While some songs break from her signature soulful style, such as "Never Ever Getting Rid of Me," most songs keep a clear, high pitch throughout, including the ever-present lyrics "sugar / butter / flour" in the background of multiple numbers.
Bareilles incorporates a whimsical and atypical Broadway style – many songs are dialogue-based. Jenna chooses to think about her issues in terms of baking a pie, comparing elements of her life with ingredients, such as caramel to represent her affair.
During the first act, Jenna's storyline fades into the background compared to those of the more amusing supporting characters.
Ponytailed, geeky waitress Dawn (Caitlin Houlahan) sings the relatable "When He Sees Me," worried that her dating profile will attract men that are either unappealing to her or are disappointed by her. Her concerns manifest in Ogie (Christopher Fitzgerald), a taxman with an inhaler who loves magic tricks and Revolutionary War reenactments. His desperate love for her, which results in spontaneous poetry, makes him one of the funniest and most enjoyable characters.
Likewise, the awkwardness of Dr. Pomatter while courting Jenna is charming, though it also provides an exposing foil that reveals how static Jenna initially is as a character. Pomatter bumbles and mutters, dropping papers and giddily eating Jenna's mermaid marshmallow pie.
The doctor's boyishness and Ogie's nerdiness lighten the tone of the somber story of a financially unstable mother who wants to give her child a better life.
However, their outrageous characters only highlight the fact that Jenna is unfortunately often defined by her situation and not by her own character traits – she's a baker, a pregnant woman, a wife in an unhappy marriage. She lacks will and conviction in the first act to feel, decide or act for herself, which becomes repetitive and frustrating. Her passivity is key to her later character development, but her weaknesses are outshined by the personalities of other cut-out characters.
"Waitress" is much stronger in terms of significance and satisfaction in its second act than its first.
While classic secondary characters dominated the attention in the first act, the musical picks up speed after husband Earl pushes Jenna further.
She sings a note to her baby, dreaming of a better life, conceptually similar to the power ballad "I Dreamed a Dream" in "Les Misérables." The most famous song of the show, the analytical "She Used to Be Mine," finally evokes true empathy and complexity.
Jenna begins to reclaim control of the musical and her life. Torns – an understudy for Jessie Mueller, the original Jenna – has a beautiful clear voice, and adeptly portrays Jenna's struggling mother-to-be persona through her uncomfortable body language.
As for the baking motif, puns such as "When there's a whisk there's a way," only enhance the sweet undertones of the show.
"Waitress," with its lack of huge choreographed numbers, allows the focus to rest on Bareilles' delightful music and the simple message of self-actualization.
Weinberg is the prime content editor. She was previously the A&E editor and the assistant A&E editor for the lifestyle beat.
Weinberg is the prime content editor. She was previously the A&E editor and the assistant A&E editor for the lifestyle beat.