Student dives into world of TV production at 'The Ellen DeGeneres Show'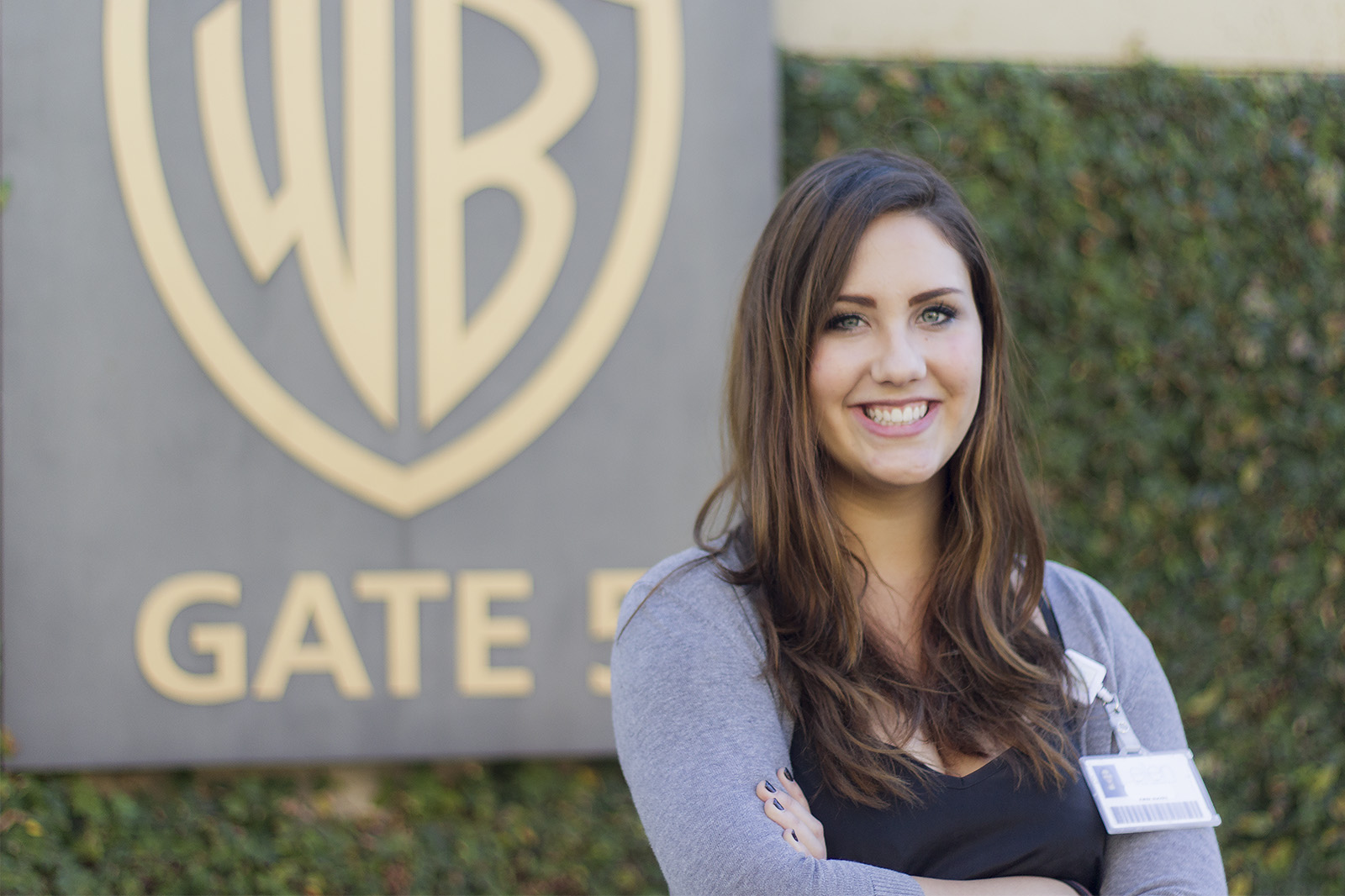 Third-year English student Erin Hayes interned at "The Ellen DeGeneres Show" during fall quarter. Her duties ranged from watching late night television shows to sorting through fan mail. (Habeba Mostafa/Daily Bruin)
Erin Hayes' typical Friday activities range from being backstage with Tom Hanks to driving a golf cart around the Warner Bros. lot.
Hayes, a third-year English student, is an intern at "The Ellen DeGeneres Show" from August through December. The internship marks a transition for Hayes from work in the film industry to the daytime television industry, exposing Hayes to new experiences and memories in entertainment. Moving to television allows Hayes to progress toward comedy talk shows, for which she ultimately hopes to write.
Hayes was a body double on the ABC drama "Body of Proof" when she was 14, had a small featured part in the 2013 film "The Way Way Back" and worked as a production assistant on 2016's "Ghostbusters."
"The Ellen DeGeneres Show," however, is her first experience working in television and a step closer to her goal of becoming a television writer.
"I knew beforehand how funny her show is and am a fan myself," Hayes said. "It was cool to be a part of something that impacts so many people in a positive way."
[Related: UCLA student inspired by Ellen DeGeneres, fights cancer with humor]
One of eight interns on set, Hayes works on set 30 hours a week – from 9 a.m. to 6 p.m. on Tuesday, Thursday and Friday. At "The Ellen DeGeneres Show," interns rotate through six departments: talent, production, audience, digital, human interest and research, as well as in the control room for the show, Hayes said.
On the days she is present, Hayes is assigned a number of tasks such as recording a late-night log, which includes her watching every late-night show that was on the night before and recapping it for producers, as well as getting lunch orders for guests. Her most interesting orders are salads, because she has to figure out how much of the ingredients she has to put in, Hayes said.
Interning at a talk show also allows for run-ins with famous guests. Hayes said one of her favorite guest interactions was with Hanks when he appeared on "The Ellen DeGeneres Show." She is a fan of Hanks because she admires him and views him as down-to-earth, Hayes said. Though she did not personally talk to Hanks when he was on set, she said she enjoyed being around him and watching him interact with others backstage.
"I was pretty starstruck," Hayes said. "It was really cool to … watch him interact with everybody and be exactly the great guy I always thought he would be."
[Related: UCLA marching band supports alumnus Mark Harmon on 'The Ellen Show']
Haley Jones, a third-year cinema and media studies student at the University of Southern California, interns with Hayes on "The Ellen DeGeneres Show." Hayes and Jones sort through fan mail together for "The Ellen DeGeneres Show" and have received a number of memorable items, such as human hair and a rotten potato with a face drawn on it, Jones said.
"Erin and I always try to choose the (boxes) we think are going to be really unique fan mail," Jones said. "We open those up, and a lot of times, it is."
During the show's Mark Harmon Week, Hayes took part in an activity on-screen that didn't go according to plan, she said. Hayes had to use a confetti cannon when Harmon, an "NCIS" actor and UCLA alumnus, walked down a hallway at the studio. Hayes' confetti cannon exploded in rehearsals, but during the actual taping, she could not get her confetti cannon to work, she said.
"It's this ongoing joke for the rest of the internship how she had one simple task and she couldn't do it," said Sarah Litvin, a fifth-year communications, radio/television and film student at Rowan University. "It's my favorite memory of her."
Hayes' internship on "The Ellen DeGeneres Show" will end Dec. 16 when the show goes on hiatus for Christmas break, but Hayes will continue her experience in television with an internship at Conan O'Brien's show next quarter starting in January. She is sad to part with her fellow interns as well as the positivity of "The Ellen DeGeneres Show," but leaves with fond memories.
"I've learned a lot about working in a positive environment and the importance of staying happy, no matter what craziness life throws at you," Hayes said.
While "Conan" and "The Ellen DeGeneres Show" are both filmed at Warner Bros., the "Conan" internship will be different for Hayes because she will be interning in the script department. Since she wants to be a comedy writer, Hayes is full of anticipation for the upcoming internship, she said.
"I feel like if I enjoy it, then hopefully that's the right thing for me to be doing," Hayes said. "And I like making people laugh. I would like to do that on a global scale."