'Nocturnal Animals' provides valuable acting experience for UCLA alumna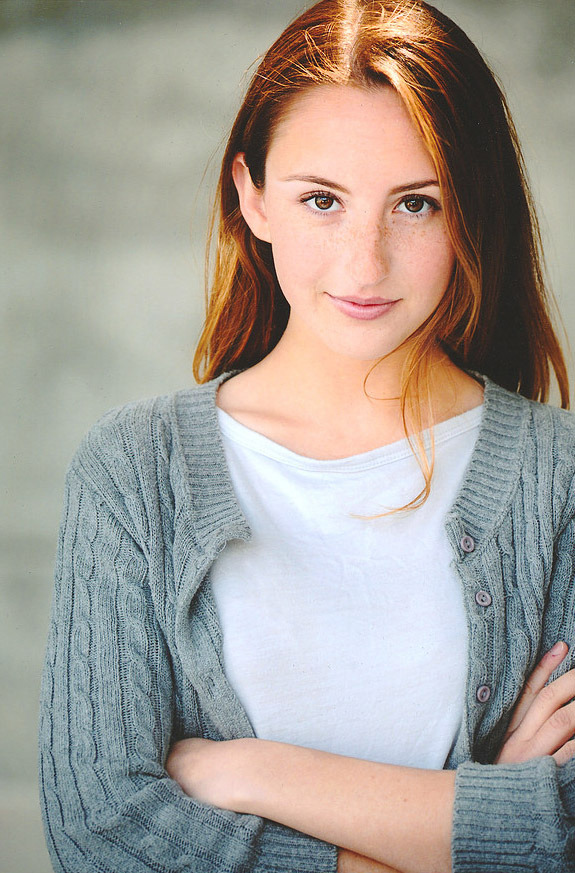 Alumna Chelsea Taylor was cast as Young Girl in "Nocturnal Animals" because the production team wanted redheaded actresses for the film's Western-noir aura. (Courtesy of Matthew Mitchell)
"Nocturnal Animals" Directed by Tom Ford Universal Pictures Dec. 9
Chelsea Taylor and Jake Gyllenhaal spent an hour observing two dead bodies.
Taylor, a 2013 UCLA alumna, plays the friend of Gyllenhaal's fictional deceased daughter in the film "Nocturnal Animals." In the film, his character's fictional wife and daughter are brutally murdered by bandits; Taylor's principal moment comes with observing the actor as he grieves the death of his family members.
Though Taylor's own role in the Dec. 9 thriller amounts to around 10 minutes of screen time, observing and learning from accomplished actors on set like Gyllenhaal and Michael Shannon provided Taylor with an incomparable experience, she said.
"It was really interesting to be almost like a fly on the wall and listen to the (scenes) that were going on and (learn) how these A-list celebrities behave on set," Taylor said.
The film is a novel within a movie that follows the failed marriage of author Edward Sheffield (Gyllenhaal) and curator Susan Morrow (Amy Adams) in contemporary Los Angeles. The book within the movie is a mystery centered around the deaths of a Texan wife (Isla Fisher) and her daughter (Ellie Bamber). Taylor's casting manager secured her an on-set meeting with director Tom Ford, who wanted redheaded actresses to heighten the film's Western-noir aesthetic.
"He was looking at me like I was a piece of art, (deciding) if I fit into his art," Taylor said. "Taking you in as a whole, and seeing if you fit into the world."
[Related: UCLA alumni use creativity to reel in opportunities in film industry]
The film's second assistant director took Taylor to hair and makeup for a test run, during which her whole body was airbrushed to look paler against the Mojave Desert, where the film was shot. She returned to set two days later to film a scene that included Gyllenhaal, Shannon and Fisher.
In the scene, Gyllenhaal's inner-novel character Tony Hastings and Taylor's character mourn the recent deaths of Hastings' daughter and wife, while a detective (Shannon) contemplates the cause of death.
Each actor had a very meticulous process when it came to preparing for a scene, as Taylor saw in her own. In her scene, Shannon leads Gyllenhaal to the abused, murdered bodies of his wife and daughter.
"Jake (Gyllenhaal) wanted to think about what his motivation would be before going into the scene," Taylor said. "He didn't want to shoot his scene until he really understood every intention, every moment, every physical action."
[Related: UCLA alumni film first person pilot in Alaskan wilderness]
Despite having worked with experienced actors in the past, such as James Franco as part of his Studio4 incubation program in Los Angeles, she had never seen a performance as intense as Gyllenhaal's as he crouched down beside the motionless actors in grief, she said.
"I'd never seen someone look so devastated," Taylor said.
Though Taylor didn't see Gyllenhaal and Ford deliberate over acting technique, there was a benefit to studying how prominent actors work to overcome the nuances of their varying techniques for the good of a scene.
"When you graduate, and you're just starting out," Taylor said. "There's such a leap between where you are and where they are."
But that gap didn't prevent Taylor from bonding with A-list actors during her day on set. While in hair and makeup, Taylor witnessed Fisher joke around with the stylists.
Taylor said she was taken aback when Shannon took the initiative to introduce himself to her on set. She had to refrain from chiming in to assure Shannon she knew exactly who he was, she said.
The greeting was humanizing for Taylor because it promoted a close-knit feeling of community between all actors.
Taylor will still have to achieve a certain level of acting knowledge and networking before she can converse with stars like Shannon beyond small talk, said Nicole Knutson, an acting partner of Taylor's on her web series, "MRS."
A movie set like "Nocturnal Animals" is the perfect place to start, Knutson said.
"She's got oceans of information to learn," Knutson said. "But that comes with the territory of working on big projects."
[Related: Alumni film on JFK seeks to inspire youth]
All up-and-coming actresses could use the advice of actors who delve deeply into character roles, like Adams and Fisher, Knutson said.
Even so, the aura and confidence of truly successful actors can't be taught, said Taylor's casting manager Matthew Barry. Some actors, like Taylor, inevitably convey the essence of who they are as soon as they walk into an audition, Barry said.
"Your entire life walks into the room, and you can't hide it," Barry said. "It seeps out of your core. Chelsea has that."
What separates Taylor from actresses like Adams and Fisher is not lack of talent, but of opportunity and access, Knutson said.
Knutson, Barry and Taylor all said they are optimistic that, with exposure and perseverance, Taylor will one day join the ranks of her costars.
"You're all just actors and there to help each other at the end of the day," Taylor said. "You're all just trying to tell a story the best way you can."