UCLA men's water polo renews focus for NCAA Tournament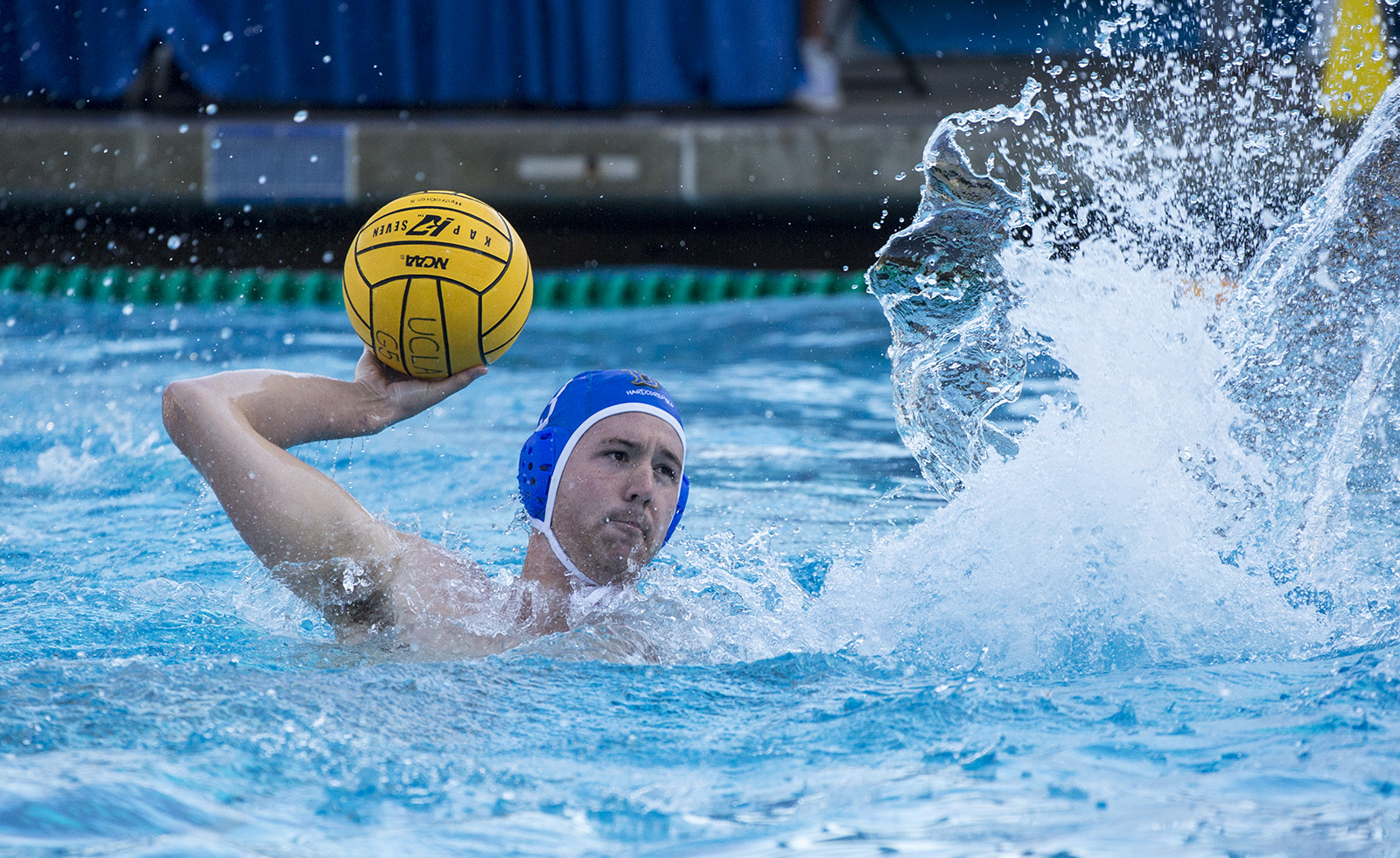 All that's left in the 2016 men's water polo season for redshirt senior center Alec Zwaneveld and No. 2 UCLA are two games in one of the sport's biggest spotlights – the NCAA Tournament, where the Bruins are looking to earn a third straight and UCLA's 114th national championship. (Keila Mayberry/Daily Bruin staff)
Men's water polo
---
NCAA Semifinals
Saturday, 8:12 p.m.
Berkeley, CA

The last two years that the UCLA men's water polo team was in the NCAA Tournament, it had a relatively easy path to the championship game.
UCLA got to play non-Mountain Pacific Sports Federation opponents in the semifinal round, the conference which coach Adam Wright has consistently referred to as the most competitive in the country.
This year, however, the Bruins (25-2, 2-1 MPSF) are the No. 2 seed, and could potentially have to play two MPSF opponents to conquer a third straight national championship.
"We haven't been in this situation in the last couple of years, but the reality is everybody is preparing for everybody – you don't know who you are going to see anyway," said Wright. "Our main focus is ourselves right now."
The last time that the Bruins entered the NCAA Tournament as the No. 2 seed was in 2012. Regardless of the different seed, however, UCLA will still only have to play two games.
"We are right where we want to be," said redshirt senior center Alec Zwaneveld. "If you had told us that at the beginning of the year that we would have to put two games together to get a national championship, I think we would have taken it."
After the MPSF championship game in which the Bruins only scored six goals, it's clear that they are struggling offensively – in their last three games the Bruins have been outscored by their opponents by a total of 24-27.
[Related: Men's water polo falls to USC with automatic NCAA berth on the line]
UCLA's only win in those games came against California in the MPSF semifinals where it barely escaped with an 11-10 overtime victory.
That was almost more than two weeks ago, and Wright said that the energy is much better now, and there is a renewed focus.
"We are going to compete against the best teams in the country and we know how hard it's going to be," Wright said. "But the thing that I like most is the guys are really focused on ourselves, and that's what's going to be most important up there. Really from the intensity and focus, it has been much better – really probably the best it has been all year."
The three highest ranked teams – USC, UCLA and Cal – have 11 different players that have each scored 15 or more goals this season. Additionally, none of the three teams have been ranked outside the top three all year.
"Part of this team's character is wanting to play the harder games," Zwaneveld said. "We want to have the hardest path, that means it's something that we can overcome. The fact that it's working out like this gives us an opportunity to show the water polo community what we can do."
But at this point in the season, it is not about what they can do, it's about what they have to do. According to redshirt senior attacker Joey Fuentes, that means executing their 6-on-5 power play.
"If we execute the way we know how, we are going to put ourselves in a good position to get our ultimate goal done," Fuentes said.
Wright said that there are other areas they can improve on as well.
"Offensively, we have to get going in our transition with our structure better, and that's been really good this week," Wright said. "Defensively, taking better field blocks and also on our five man. … If we can do that, it will change things dramatically for us."
Shapiro joined the Bruin as a freshman in 2015 and contributed until 2018. She spent time on the women's water polo, men's water polo and baseball beats.
Shapiro joined the Bruin as a freshman in 2015 and contributed until 2018. She spent time on the women's water polo, men's water polo and baseball beats.