Alumni Band creates community for graduates passionate about UCLA, music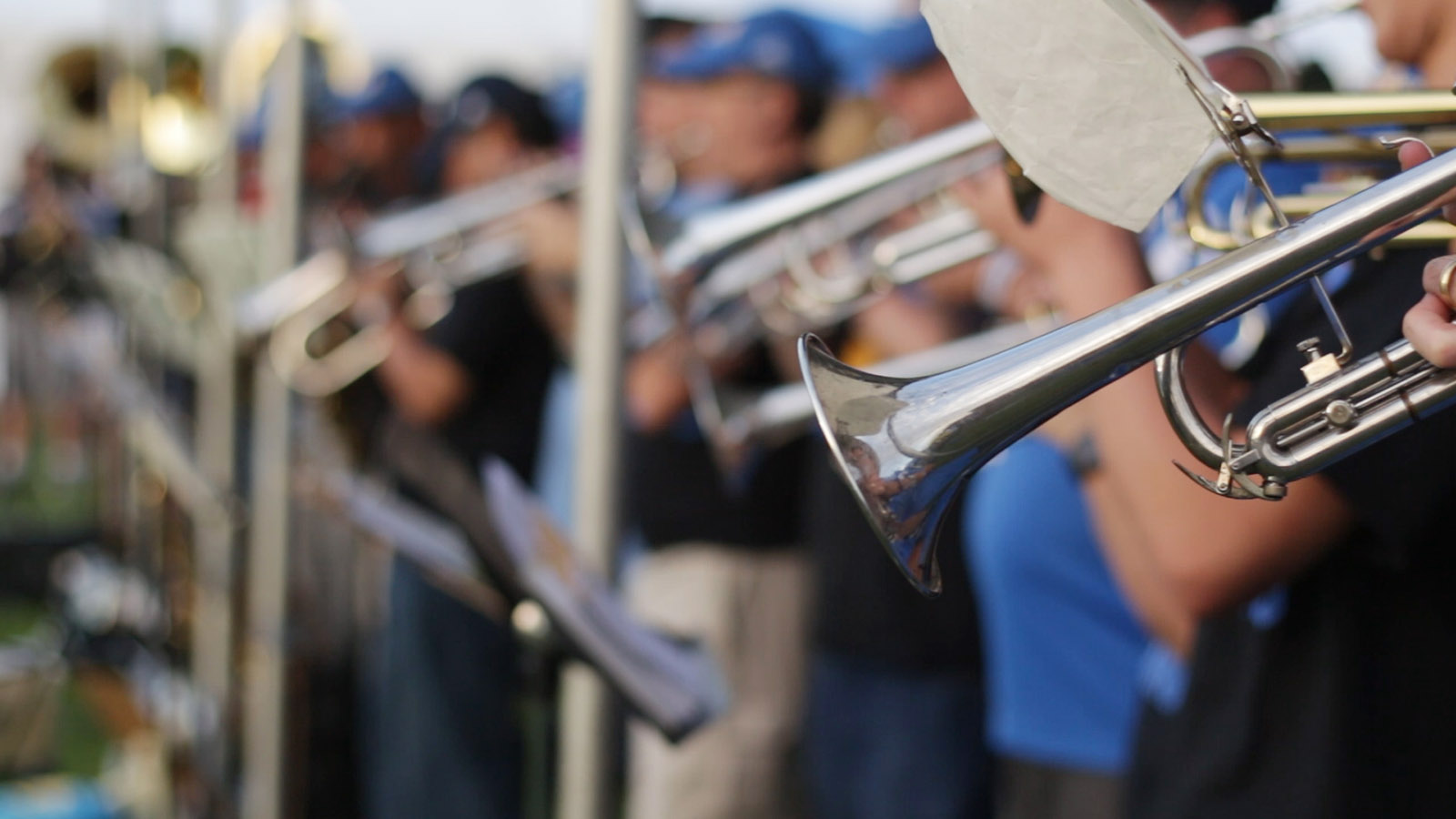 The UCLA Alumni Band was founded in 1976 and performs at athletic events the UCLA marching band does not attend, including rowing and women's gymnastics competitions. (Jason Jodjana/Daily Bruin)
Correction: The original version of this article incorrectly stated the undergraduate marching band practices six times a week. In fact, it practices two to three times a week.
The director raised his arms and began to conduct, and the rich sound of 125 students playing brass, woodwinds and percussion filled the auditorium. David Pardess sat in the front row at the first UCLA marching band practice, playing his piccolo and feeling excitement and anticipation for the rest of the 1967 season.
Nearly 50 years later, Pardess continues to play the piccolo with UCLA as president of the UCLA Alumni Band.
The UCLA Alumni Band, founded in 1976, performs at athletic events that the student marching band can not attend, like rowing competitions and women's gymnastics, Pardess said. The Alumni Band allows about 150 alumni to maintain a connection to the UCLA community and gives them an opportunity to continue playing music, regardless of whether they were members of the marching band as students.
The Alumni Band will play for tailgaters and people entering the Rose Bowl on Saturday at the football game against USC.The ensemble's goal is to make the best music they can while having fun and supporting their school, said Carmen Rexach, a percussionist, 1975 alumna and festivities coordinator for the Alumni Band. She said they help promote spirit in the alumni section by sitting with them during games, playing fight songs and cheering.
The band has no application process and accepts any musicians who are UCLA alumni, regardless of skill level, Rexach said. The band makes an effort to include all who are interested.
"If they can't do something else we'll give them a tambourine," Rexach said. "We want them to be a part of the band … because it's so much fun."
After being admitted to UCLA as a first-year in 1967, Pardess joined the marching band as a piccolo player. While Pardess played oboe as his primary instrument in high school, he began playing piccolo because the marching band did not have enough of that instrument at the time.
Pardess said he felt lucky the marching band allowed him to study music alongside his studies as a linguistics student.
"I was just in my absolute glory," Pardess said. "How (can one) not be a happy person that's in heaven when one is at UCLA and does exactly what one wants and loves it?"
After graduating in 1971, Pardess said he missed the community and playing music. When the Alumni Band was founded five years later, Pardess immediately became involved.
Joel Fierberg, the Alumni Band's director, said one of the key differences between the Alumni Band and the undergraduate marching band is the number of practices. While the marching band practices two to three times a week, the Alumni Band has just one practice each year in August, when they meet at a member's house to practice for three hours before having a barbecue with their families.
Fierberg introduces between three to four new songs during the first hour of each rehearsal, then the band spends the rest of their time practicing older songs, he said. The band does not have staff arrangers, so Fierberg has purchased a mix of different kinds of music, including older songs from the 1960s to more modern songs, like Katy Perry's "Hot N Cold" and the Neon Trees' "Everybody Talks."
Fierberg chooses music that is not too challenging, so members who do not have time to practice can still play, he said. As they play at different events over the year, he said he makes note of sections of the songs the band will need to work on at the following year's practice.
"They have lives and kids and jobs, so what we've learned to do over the years is to modify the musical experience to what we have," Fierberg said.
The structure of the Alumni Band allows its members to come to any events that fit their schedules, said Greg Epstein, a snare drummer and former Alumni Band vice president.
Rexach said the band determines who will be able to play at a particular event via online scheduling. The website has information about where and when the gig will be, and anyone who is available to play signs up.
"People sign up just so we know what the instrumentation is, because that sometimes can have a bearing on what we play," Rexach said.
The members hold a range of jobs – some members are physicians, dentists, business persons, ministers, rabbis or lawyers. Epstein is an architectural photographer and said first he heard about the Alumni Band from a client who was a member.
The diversity of the Alumni Band has allowed Fierberg to connect with people he otherwise never would have met through their shared love of music and UCLA, he said. In addition to professions, they also come from different cultural and economic backgrounds.
"(It's) not just diverse socioeconomically, racially or religiously – it's everything," Fierberg said. "It's a bunch of people who ordinarily never would have imagined spending time together, and yet (it's) such a positive experience for everybody."
Rexach has watched the band grow into a family since joining in 1977. She has watched the children of her bandmates grow up, and now plays in the band with her own daughter, Jessica Rexach, who finished her medical residency at UCLA in 2016.
Glockenspiel player Joan Lewin met her husband, clarinet player Ron Weiner, through the Alumni Band, Rexach said. The couple has two children, one of whom also plays in the Alumni Band.
Rexach stopped playing in the band in 1983 after moving to Northern California for work. Upon returning to Southern California, Rexach rejoined the band and felt overjoyed to be back with the people who had played such a large role in her life.
"When I came back I almost wanted to cry because I felt like I was home," she said.
Pardess said members are busy with work and their children but look forward to playing with the band as a time to put aside daily routines and create music together.
"It's kind of like a little wrinkle in time, or going into a bubble, away from our working worlds and back into what it was like to play in the park on Saturday for people," Pardess said.
The band's main challenge is recruiting recent graduates, Fierberg said. While the Alumni Band is not meant to compete with the undergraduate marching band, Fierberg said tension between the two has made it difficult to advertise their presence to undergraduate students in the marching band.
Jacqueline Hollada, a 2013 alumna and flutist, is one of the newest members of the band. After graduating she was used to having practices and events to play at during her four years in the marching band. She first began playing in band at her middle school and wanted to keep up her skills after graduating.
"The Alumni Band provides that option, that camaraderie and that musical engagement that many people are looking for who had that for so much of their life," Hollada said.
Pardess said he looks forward to playing with the Alumni Band at events throughout this year and in years to come.
"Getting to be a part of UCLA in this way, this artistic, athletic way for as long as possible in my life just extends the incredibly joyous undergrad and grad school period of my life," Pardess said.