Local activists hold teach-in to promote nonviolent protests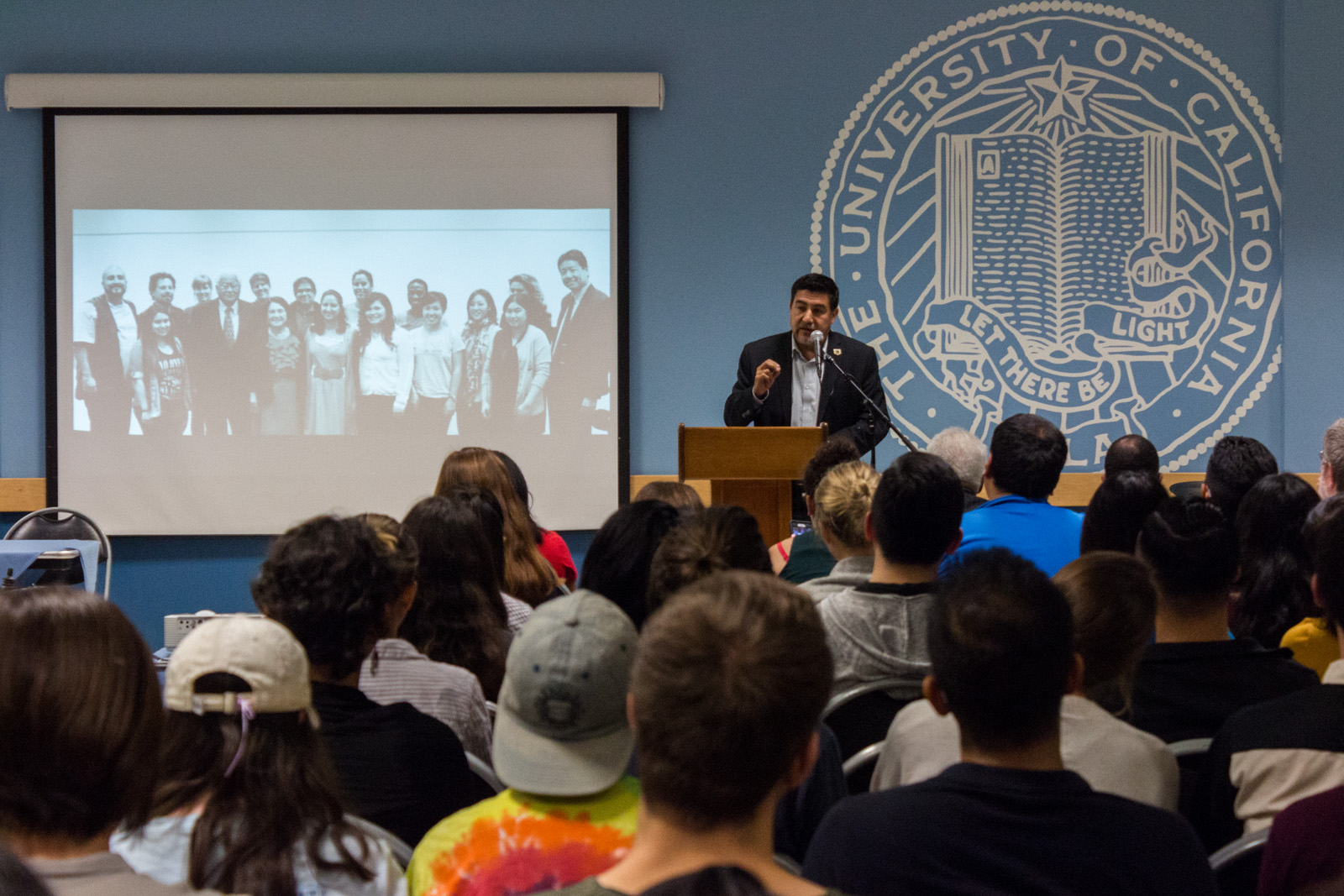 David Huerta, president of the California branch of a worker union, spoke to UCLA community members about the importance of nonviolent protest at a panel Tuesday. (Sihui Song/Daily Bruin)
A reverend who worked with Martin Luther King Jr. told UCLA community members that violence cannot be used to improve the United States.
The Rev. James Lawson Jr., who teaches at UCLA, and other civil rights activists spoke at a teach-in event Tuesday that aimed to engage students in dialogue about nonviolent protests. Undergraduate students in professor Kent Wong and Lawson's nonviolence and social movements class hosted the event in Ackerman Union as a part of their final class project.
Panelists included Lawson Jr., Los Angeles County Supervisor Mark Ridley-Thomas, UCLA alumna Ilse Escobar and David Huerta, president of the California branch of the union which organizes the Justice for Janitors campaign.
Panelists offered perspectives on the efficacy of nonviolent protest as a tool to effect social change. They also addressed the postelection protests. Wong said he thinks the event was especially relevant because of the recent presidential election.
[Related: UCLA community participates in anti-Trump protest at MacArthur Park]
"This is the time … to take on the critical fights that lie ahead … especially in light of what happened last Tuesday," Wong added.
Lawson Jr. opened the panel by speaking about his personal experiences fighting racial segregation in the South during the 1960s. He then dissuaded the audience from turning to violence to effect change.
"We cannot advance the cause of justice and equality and liberty … through violence of the fist or of ideology," Lawson Jr. said.
Huerta discussed his own experiences fighting for fair wages in California and highlighted that organized community involvement can be useful in creating social change.
Inan Chowdhury, undergraduate student government general representative, said he thinks the event was important because it emphasized the significance of nonviolence in social change. Chowdhury's office helped sponsor and fund the event.

"With all the offensive rhetoric in the media and politics today, many marginalized communities have chronically been silenced, victimized and criminalized," Chowdhury said. "Peaceful protests and rallies are sometimes the only way for their voice to be heard."

[Related: UCLA, USC students collaborate on walkouts to protest marginalization]
Several students who attended the event said they were interested in social justice through nonviolent demonstration. Some participated in last week's nonviolent protests in downtown Los Angeles following the election.
Maria Wong, a fifth-year art student who participated in the protests, said she came to the event to hear Lawson speak because of his connection to Martin Luther King Jr.
Maria Wong added she found ideological similarities between the students she marched with last week and the speakers at the event.
Hanan Abels-Sullivan, a fourth-year ecology, behavior and evolution student, said the local marches he participated in with other students Nov. 9 made him proud of the Los Angeles community.
Maria Wong and Abels-Sullivan said the event reinforced their experiences in local protests. Maria Wong recalled protesters wiping inappropriate graffiti from cars. Abels-Sullivan said that at one protest, masked individuals tried and failed to provoke violent reactions from the demonstrators.
Toward the end of the event, Huerta urged the audience to take inspiration from the panel's stories of successful advocacy and demonstration, and apply this knowledge to their current situation.
Huerta said he recognized that many in the audience still felt marginalized and dissatisfied with the election results, but encouraged students to seek unity and change through nonviolent protests.
"The day we stop marginalizing each other is the day we realize true power," Huerta said. "Although we are down right now, we will not be defeated."
Furtek is a staff columnist for the Opinion section.
Furtek is a staff columnist for the Opinion section.