UCLA, USC students collaborate on walkouts to protest marginalization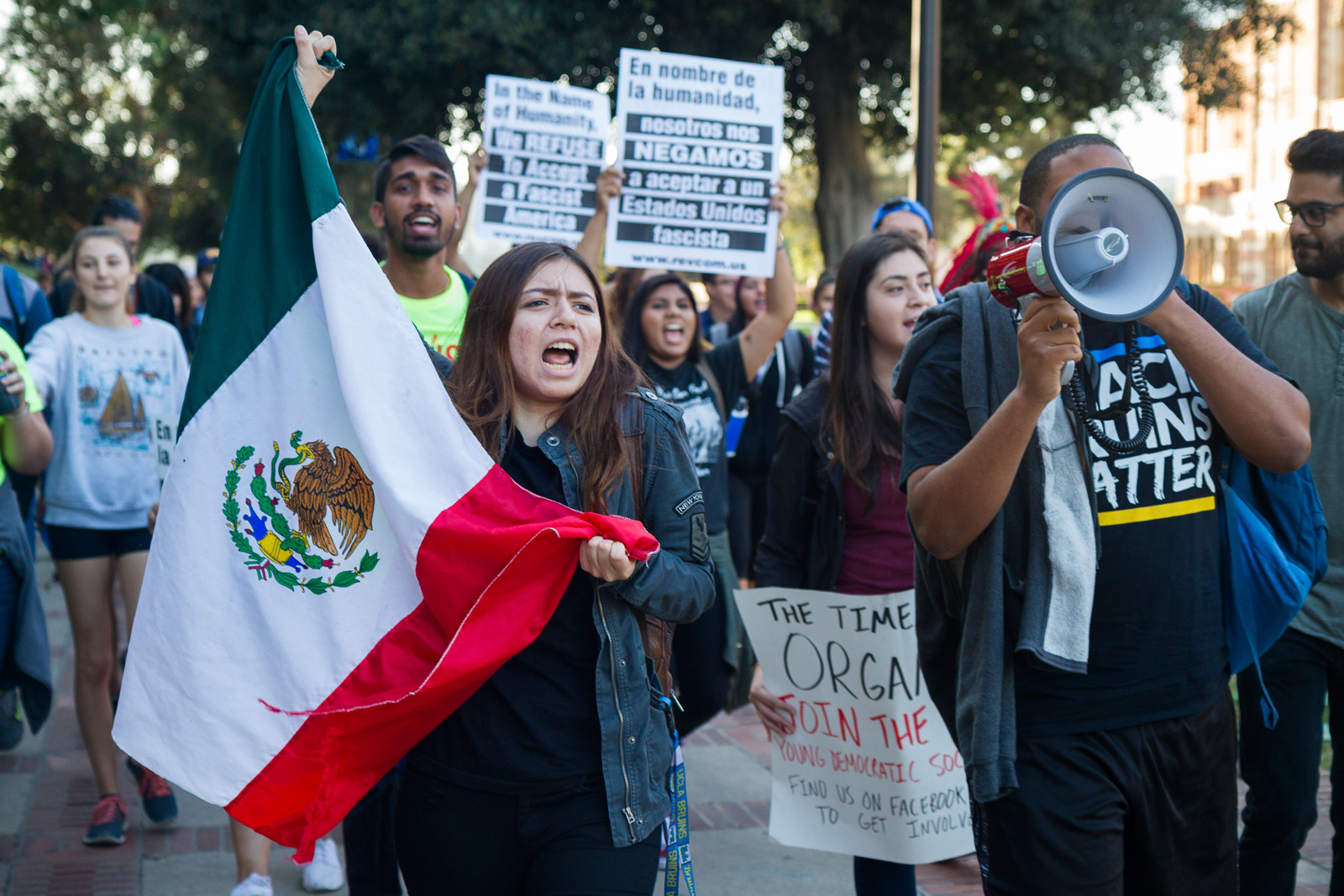 Students filled Royce Quad on Wednesday to walk out in protest of the negative comments shadowing president-elect Donald Trump's campaign. (Erin Rice/Daily Bruin)
Students from both UCLA and USC put rivalry week aside to protest President-elect Donald Trump's speech toward marginalized groups.
About 300 students began protesting in front of Royce Hall at 3 p.m. for UCLA's walkout. Students chanted "The people united will never be divided" and "Say it loud, say it clear, immigrants are welcome here." Students on the USC campus met at the same time in front of the Traveler statue.
Thousands of students have been protesting the 2016 presidential election results since last week. The night of election results, thousands marched to Westwood to express their frustration and disappointment with Trump's victory. On Thursday, hundreds held a "Love Trumps Hate" protest on Bruin Walk.
Amy Shao, the undergraduate student government cultural affairs commissioner who helped organize the event, said the cooperation between the two schools showcases how much the election impacted students across the country.
"There was no idea of 'USC, do your walkout' and 'UCLA, do your walkout' and then we go our separate ways," Shao said. "The whole process was very collaborative. It really does show the solidarity between the two campuses."
Minority groups, such as Muslim student groups and the American Association of University Women from both schools, helped organize the event.
Shao said the purpose of the protest was to provide a space for marginalized groups targeted by Trump to feel supported.
"I am hoping students find empowerment at a time where students may be feeling a deep set of fear," Shao said. "This walkout is another opportunity for students to feel a sense of identity that they worked so hard to build."
Constance Cheeks, a fourth-year African American studies student, joined the protest in her wheelchair immediately after her class.
Cheeks said she participated in the walkout because she wanted to support the same activism she was involved in during the 1980s civil rights movements in the first few years of her undergraduate career. Cheeks began her undergraduate studies 40 years ago, but left school to work and returned this year.
"As long as I have breath, any sign of support these kids need, whether its wisdom, whether it's riding in this wheelchair if their feet get tired, I will give it to them," Cheeks said.
Chelsea Dormevil, a second-year sociology transfer student, said she went to the walkout because she was upset about the election results.
"Protesting for me, is therapeutic and to see all types of people coming out against one thing is beautiful," Dormevil said. "It gives me hope because right now (the recent election) is really knocking me down."
Brian Cao, a first-year sociology student and member of the Vietnamese Student Union, attended the event because he said he wanted to show how underrepresented students could use their voice to speak out for themselves.
He said he wants white people to use their privilege to help minorities and marginalized groups speak, but not to speak for them.
Shao said she hopes this walkout encourages students to not let their desire for activism to fade.
"I am hoping this is another instance for students to feel like that was not just last week's news," Shao said. "There are still a lot of students who don't feel safe and still need that sense of solidarity."
Contributing reports from Erica Drake, Daily Bruin contributor.