UCLA student finds catharsis, closure in first album 'Red EP'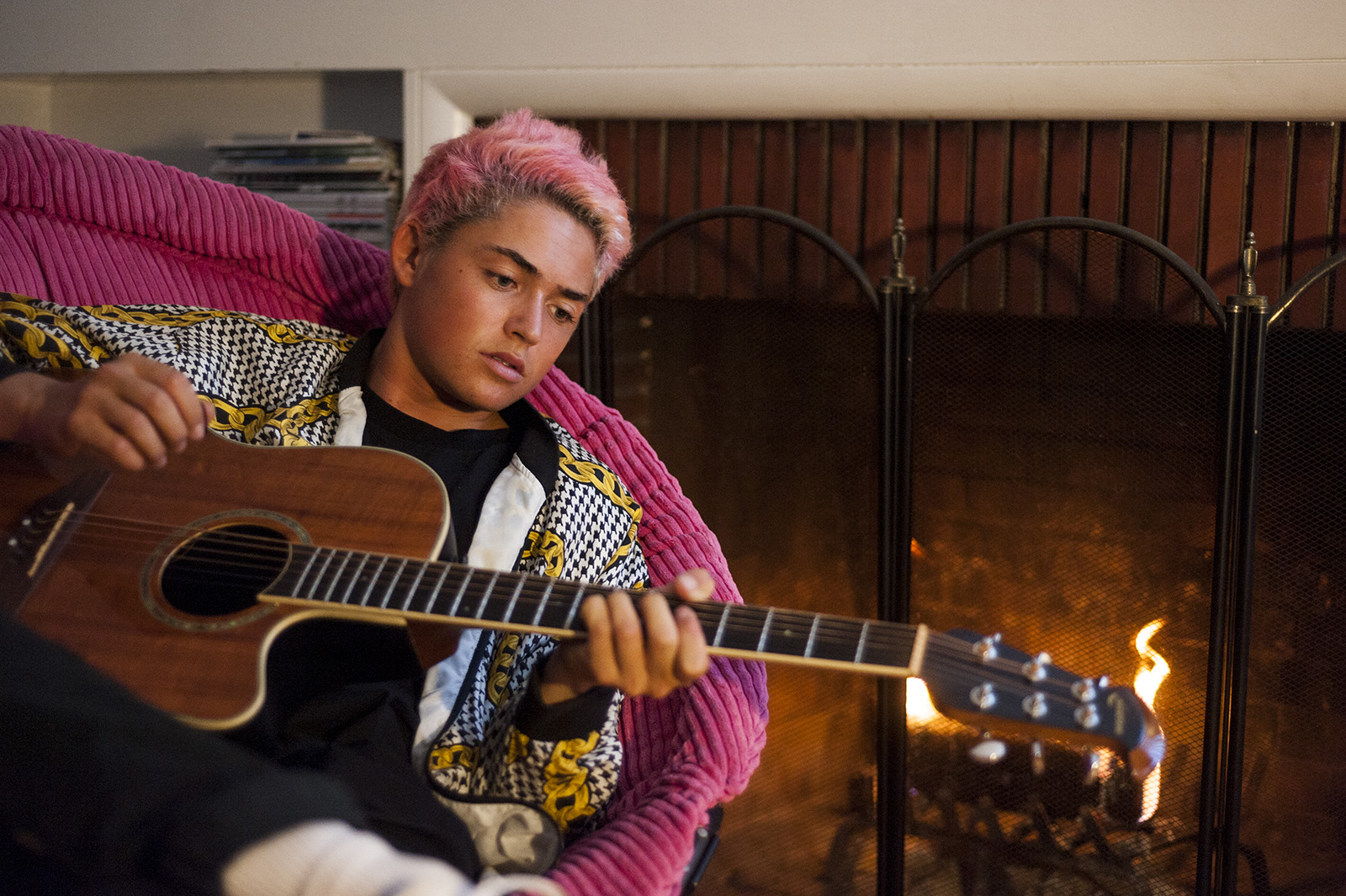 Second-year biology student Cole Heramb created both the artwork and the music for his album "Red EP." The seven tracks on the album were inspired by classic rock artists such as Led Zeppelin and Pink Floyd as well as personal narratives from Heramb's student and romantic life. The album title "Red," is a play on words, referencing Heramb's colorblindness. (Wesley Hardin/Daily Bruin)
Cole Heramb dyed his hair a vibrant crimson to complement his latest album, "Red EP."
Second-year biology student Heramb released his first album "Red EP" on Nov. 1. The track list consists of seven songs he wrote, mixed, produced and recorded by himself and is available on SoundCloud and iTunes. He also created the album art, which features the image of his own textured, red hair. Although he is red-green colorblind, Heramb said the color red has ultimately become an emblem of self-empowerment in his life and in his music.
"Red is a fiery color … a symbol for taking back my life, taking hold and being more in control," Heramb said. "I wanted to produce music to show that."
[Related: UCLA student, one time ringtone maker finds new calling in rap music]
Heramb has been playing guitar for 12 years and began writing music in his senior year of high school.
Writing music that captures the difficulties of comprehending life's curve balls – like breakups – parallels his struggles in trying to understand color, he said.
He intentionally used irony in calling his album "Red EP" as a play on his colorblindness. Heramb perceives the color red differently than others, but struggles to articulate and explain the difference, he said.
"The stop sign is red to you and is red to me," Heramb said. "It just appears differently in our eyes, but I think the emotion that is conveyed by the color is universal."
The music of "Red EP," which is inspired by classic rock artists like Led Zeppelin and Pink Floyd, involves themes of moving on from a breakup and dealing with life and love as a college student, Heramb said. The titular track of "Red EP," which is about letting go of a girl on Heramb's mind, sets the tone for the rest of the album, which centers on empowerment and moving on in the face of relationship hardships, Heramb said.
"The inspiration behind the song is me ready to be me again … ready to be happy again," Heramb said.
Heramb said he uses lyrics about colors in his songs to convey specific, tumultuous periods in his life, like first coming to college or experiencing a breakup with his girlfriend in October. The pair started dating in high school, turned to a long-distance relationship and later broke up to focus on being independent, Heramb said.
For instance, Heramb's ending track on the album, "Red Daze Red Knights" – featuring the lyrics "Red is my sight / Leaving tomorrow / Dig out life's marrow" – nods to the moment he finally felt he could move on from his past relationship. The songs of the album act as a catharsis, providing closure to the period of his life when he was still preoccupied with his past lover, Heramb said.
"It was a way for me to create a new time in my life with music," Heramb said.
[Related: Student bands discuss how to stay in tune while in college]
As he was finishing the album, Heramb dyed his hair red as a physical manifestation of his music, he said. His album art features a swath of his dyed red hair.
"The hair and my songs all worked in unison, because I was looking for a change," Heramb said. "Dying my hair red was a way for me to externalize the ways that I was feeling, which are also shown through my music."
Heramb's roommate, Jimmy Barry, took the photo of Heramb's hair for the cover, and Heramb created the lettering over it.
In addition to snapping the photo for the album art, Barry, a second-year physiology student, guided Heramb in formulating his ideas for the song lyrics of "Red EP," Barry said.
"He's like my little brother," Barry said. "(Heramb) is the most talented person that I know, so I encouraged him to push himself and I think he realized his potential with this album."
Heramb used Barry's microphone and music editing software Logic to create his album. Barry said he was in the room as Heramb worked on every song late at night after class, observing him record the separate sounds of guitar, keyboard, tambourine and vocals before painstakingly layering them one by one into a completed track. Heramb taught himself music production exclusively through the internet and self-practice, Barry said.
"Cole has a really strong work ethic with his music … When he's working on a song he gets so focused that he usually won't talk until he's done with it," Barry said. "He definitely understands the time it takes to craft a song."
Heramb's friend Riley Garrison, a fourth-year Spanish and Portuguese student, said Heramb's efforts in making the album are reflected in the emotion of the lyrics and instrumentals. While hanging out with Heramb, Garrison watched in awe as he fiddled with the strings of his guitar trying to find chords for his music. After hearing a finished version of "Red EP," Garrison was inspired to pick up his own instrument again, he said.
"I'd stopped playing guitar for several years," Garrison said. "After playing again with Cole, I felt inspired to get back into music with his positive energy and passion for the art."
Heramb said he hopes "Red EP" inspires others through his passion for writing what he calls authentic music, produced by artists pouring all their focus into their work.
"I want to connect people to a feeling or a time with my music," Heramb said. "But at the end of the day, I want to make it for myself."