UCLA community participates in anti-Trump protest at MacArthur Park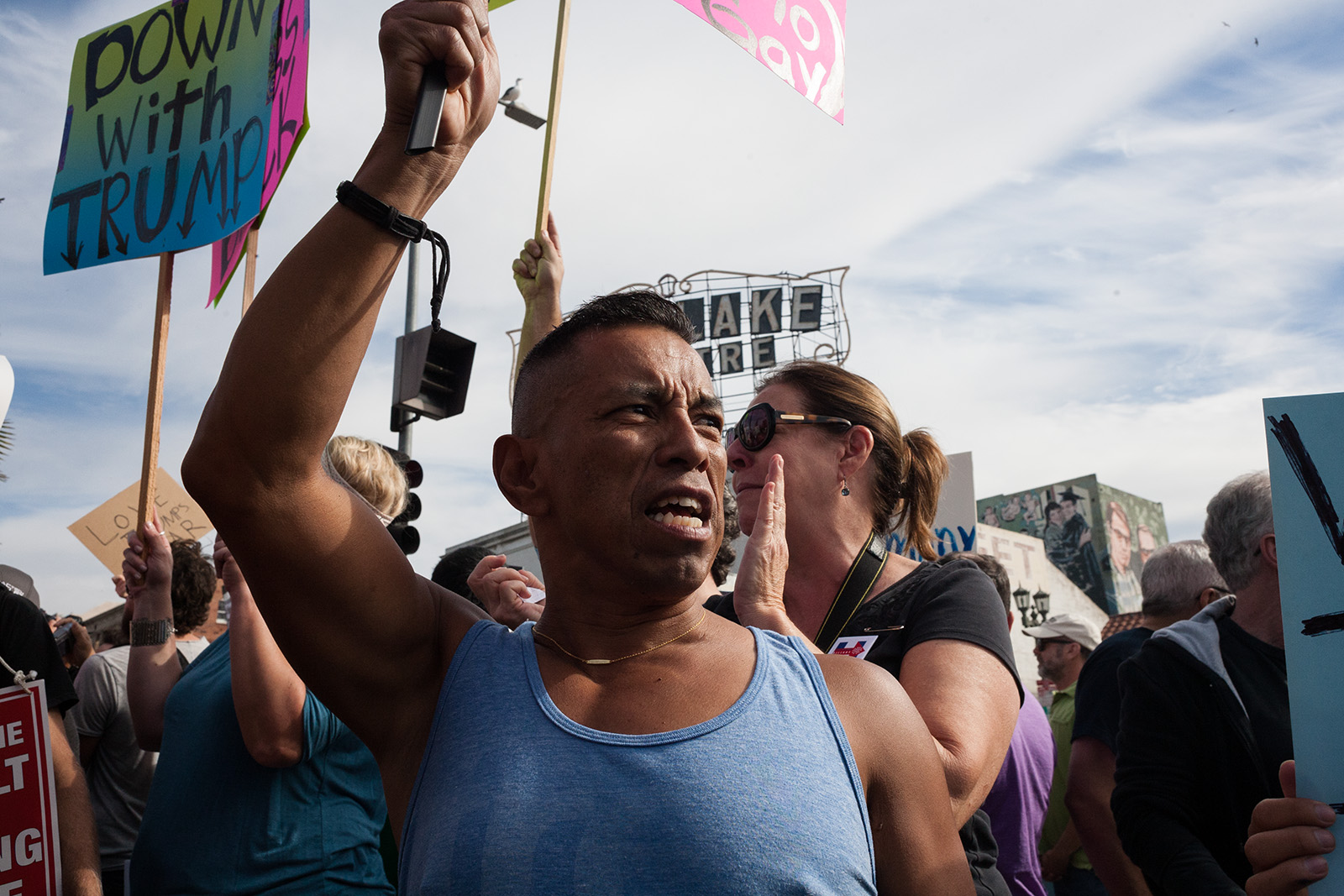 About 8,000 protesters marched from MacArthur Park to downtown Los Angeles on Saturday to protest president-elect Donald Trump and express support for immigrants. (Ken Shin/Daily Bruin)
November 13, 2016 3:58 pm
An elderly man waved his hand in a peace sign at the crowd below his apartment window. Others draped flags from their apartments and were thanked with roaring cheers.
Many UCLA community members participated in a rally Saturday at MacArthur Park, which was, according to ABC 7 News, the largest protest against president-elect Donald Trump in the city this week. Saturday marked Los Angeles' fifth straight day of anti-Trump protests.
About 8,000 people gathered in MacArthur Park at 10 a.m. before marching to Downtown Los Angeles.
When protesters reached the Los Angeles Mall, they split into different groups and headed separate ways. Some continued to march down West Temple Street and others went toward Union Station.
[Related: Students protest Trump victory early Wednesday morning]
William Robinson, a UC Santa Barbara sociology professor, addressed protesters outside the Spring Street Federal Courthouse. He and members of organizations like the Freedom Socialist Party and Movimiento Estudiantil Chicano de Aztlán spoke about immigration rights, abolition of the Electoral College and combating racism.
Zeke Trautenberg, head steward for United Auto Workers 2865 and graduate student at UCLA, said he helped coordinate a group from UCLA to attend to protest. UAW 2865 is the union representing UC graduate student academic workers.
"We're here to show that Trump doesn't represent the values of UCLA Bruins," Trautenberg said. "We're standing up in solidarity against xenophobia, racism, sexism, all the hatred he's elicited."
Trautenberg added he thinks Los Angeles has not experienced such resistance or defiance since the 1992 Los Angeles riots or the civil rights movement.
"The University of California has a long history of activism, so it's really inspiring to see students, graduate students, workers … a huge coalition of community members and people out here in force," Trautenberg said.
Graduate student Miranda Saylor said she felt encouraged when she saw so many people protesting Trump, but she is still upset with the election results.
"It definitely makes me feel hopeful, but it's still an incredibly crushing feeling to know that we're going to have President Trump for at least four years," she said.
Saylor added she thinks the protest gave distraught citizens a chance to come together.
The protest held a mostly peaceful tone as it moved through Los Angeles streets.
Protesters played drums and cheered. Toddlers held colorful protest signs, some adolescents covered their faces with bandannas.
"Say it loud, say it clear. Immigrants are welcome here … No hate, no fear. Immigrants are welcome here," the crowd chanted. "No Trump, no (Ku Klux Klan), no racist USA."
Other chants, like "my body, my choice" or "her body, her choice," addressed women's reproductive rights and fears that the right to abortion could be limited or eliminated.
Spencer Frei, a graduate student, said he participated in the rally to show solidarity with immigrants.
"We're here to show (them) they're not alone and we are here for them," Frei said. "(This protest) is great, it's very comforting to see people that have the same feelings as me."
Jonathan Koch, graduate student and unit chair for UAW 2865, said he thinks people have to defend themselves against racist and sexist reprisals.
"We are ready to defend (our) rights to organize, no matter what," Koch said.
Graduate student Madina Thiam said even though she is fearful of a Trump presidency, protesting allows her to send a message to the people who supported him.
"(I wanted) to disrupt the city a little bit," Thiam said. "I know that not that many people in Los Angeles voted for Trump, but I also know many people around the country did. It's important that we let them know we're not OK with that."
[Related: Students protest election with 'Love Trumps Hate Rally' on campus]
About 1,000 UCLA students protested late Tuesday night after major news organizations predicted Trump would win the election. Another couple hundred students participated in a "Love Trumps Hate" rally on campus Thursday afternoon.
Zhen is an assistant news editor for the national and higher education beat. She was previously a contributor for the campus politics beat and an online contributor.
Zhen is an assistant news editor for the national and higher education beat. She was previously a contributor for the campus politics beat and an online contributor.