UCLA alum founds Sharpe Suiting to sell gender non-conforming suits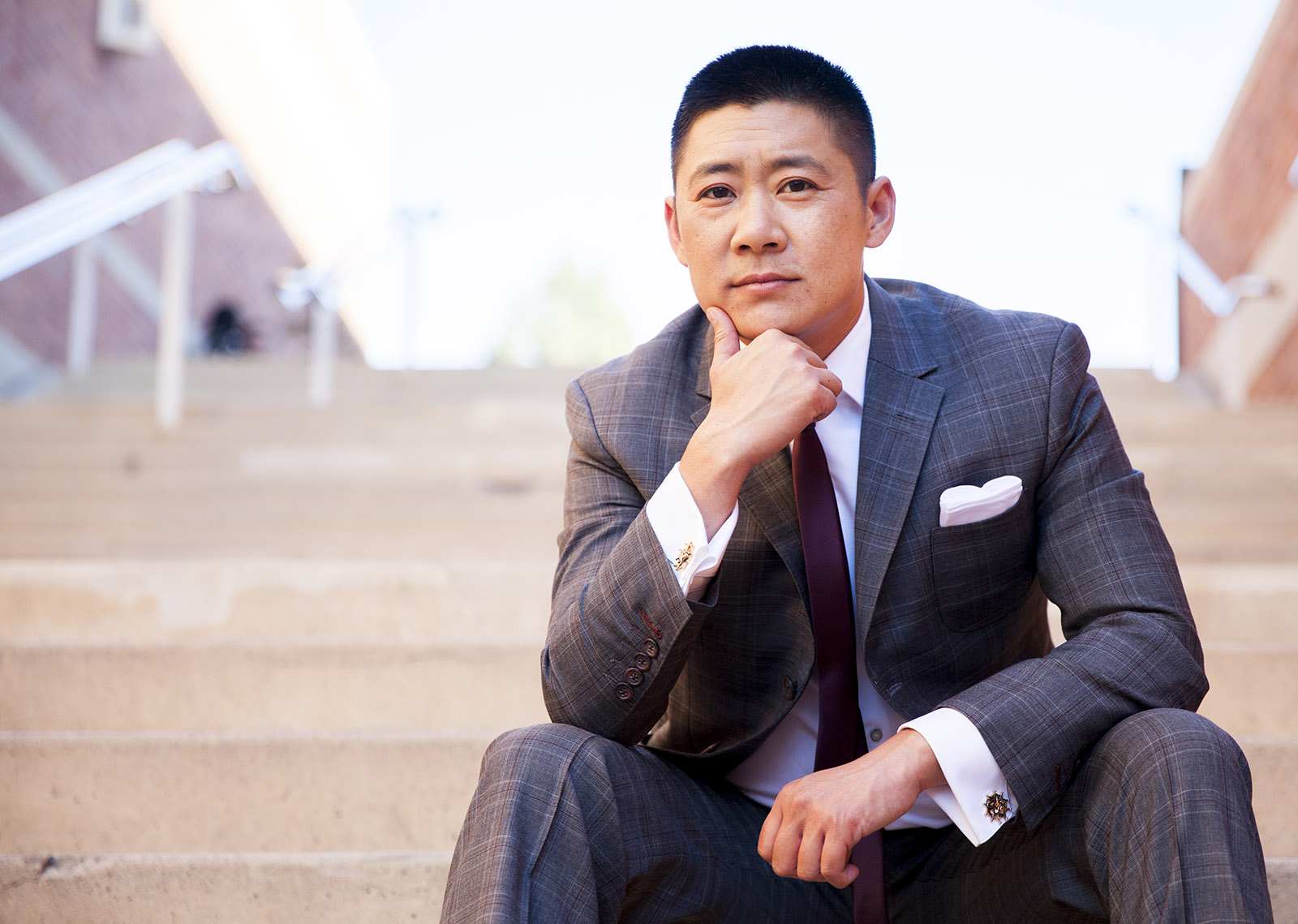 Alumnus Leon Wu created the custom suit company Sharpe Suiting because of his own interest in buying suits that fit bodies of all genders and types. (Hannah Ye/Daily Bruin senior staff)
Embracing Diversity conference
Anderson School of Management
Thursday through Saturday
Five-year-old Leon Wu would sneak into his father's closet and try on his business clothes.
"When I was a little girl, because I identify as transgender … I was always trying to find ways to make myself more masculine," said the UCLA alumnus, who graduated in 2000.
Wu later studied economics at UCLA, and went on to business school at NYU. Now Wu is the founder and chief product officer of Sharpe Suiting, a custom suit company that makes suits, blazers, shirts and other professional wear for all body types, including transgender, agender and gender-fluid suit-wearers.
In October, USA Today named the company one of the top ten Best Clothing & Accessories Makers in the USA in the custom ready-to wear category. Wu will speak at UCLA's Anderson School of Management for Diversity Week on Thursday and will host a pop-up shop at UCLA on Friday, with a discounted price for UCLA students.
While searching for jobs and internships during and after business school, Wu wore an Ann Taylor suit to job interviews. He said he didn't love the fit, but it was the best thing he could find to fit his body type, since he was female-presenting at the time.
Wu was ecstatic after he first put on a custom-tailored suit, he said. The suit fit his specific measurements, whereas suits in the past were meant for masculine body types. His friends complimented him, which helped him with his own self-acceptance, he said.
He began to see gender-normative clothing as a larger problem when he went to a suit store in West Hollywood with his female friend, in search of a suit for her to wear to their friends' wedding. After trying on about twelve different sizes, the sales representative told them that she didn't fit into any sizes.
"I looked at (the sales associate) and said, 'It might be the other way around, that you don't have anything that fits her,'" Wu said.
After the incident with his friend, Wu began turning the idea of Sharpe Suiting into a reality.
Wu said he wanted his friends who didn't fit into gender-normative clothing – clothing that adheres to traditional masculine and feminine styles – to feel a similar comfort and confidence in their apparel.
[Related: 'Project Runway: Junior' alum creates unisex fashion line]
The company began in April of 2013. In a year, the company sold over 100 suits online and raised $69,000 in 30 days on KickStarter. Wu quit his job as the senior project manager at Warner Brothers.
All of the clothing is designed by Wu, designer Antonio Soto and a tailor Hai Huynh. Sharpe Suiting products are manufactured in three locations: Van Nuys, California, Vietnam and China.
When customers come in for a fitting, they choose the fabric, the buttons and the trim, along with stylistic qualities. From there, the specifications are given to the manufacturer, who takes about 10 days to make the suit. Sharpe Suiting meets with the client again to do final alternations.
Wu said Sharpe Suiting's online software, Custom Ready to Wear, can allow customers to get custom suits without going for a fitting.
"After measuring over 300 people in the last three to four years, we really started to see some patterns," Wu said. "I knew we could build a software that could make this art form a lot easier."
By answering questions like gender, height, weight, age and jean size, customers can get a custom-fitted suit.
UCLA alumna Jennifer Tsai, who went to high school and college with Wu, said she is proud of the company's goal.
"Everybody should have the right to feel confident, so it's a very positive message," she said.
Wu's UCLA classmate Armi Blasy said the suits look good on clients and celebrities. One example is when Jennifer Hudson wore a Sharpe Suit in her "I Still Love You" music video. Though it seems like a niche market, as a consumer, she said she has noticed a growing market for inclusive clothing in our current society.
"People still want clothing to make them look better and feel better. They're not just going to buy something just because it's progressive," Blasy said. "It has to be something that makes them look good and feel good, and I think that Leon has achieved that."
[Related: Lady Like Mag blog aims to redefine 'lady-like,' gender stereotypes]
Fashion designer and Sharpe Suiting client Auston Björkman said the fashion industry doesn't fully address the message of making everyone look and feel great, no matter body type and gender identity. He is glad Wu is trying to change that.
Björkman, who identifies as transgender, only owned two other suits previously, since he didn't have much need for them – a vintage one made in Hong Kong and a Tom Brown suit. Though he did not face the issue of ill-fitting suits in the past, he decided to contact Wu for a custom suit for dapperQ, an LGBTQ fashion show at the Brooklyn Museum.
He said he was impressed with the fit and style of the suits. Björkman ordered his Sharpe Suit using the company's online fitting software and was surprised that by answering a few questions online, he could get a custom made suit that fit his body.
Björkman said the message of Sharpe Suiting is important to society and the fashion industry itself.
"It shouldn't be divided by gender – people should wear what they want to wear," Björkman said. "(Sharpe Suiting's) message is just that this is really for everyone, no matter what your preferred gender is or your preferred identity, that you should be able to have access to a garment that you feel good about."