Saxophonist Kamasi Washington credits musical success to UCLA roots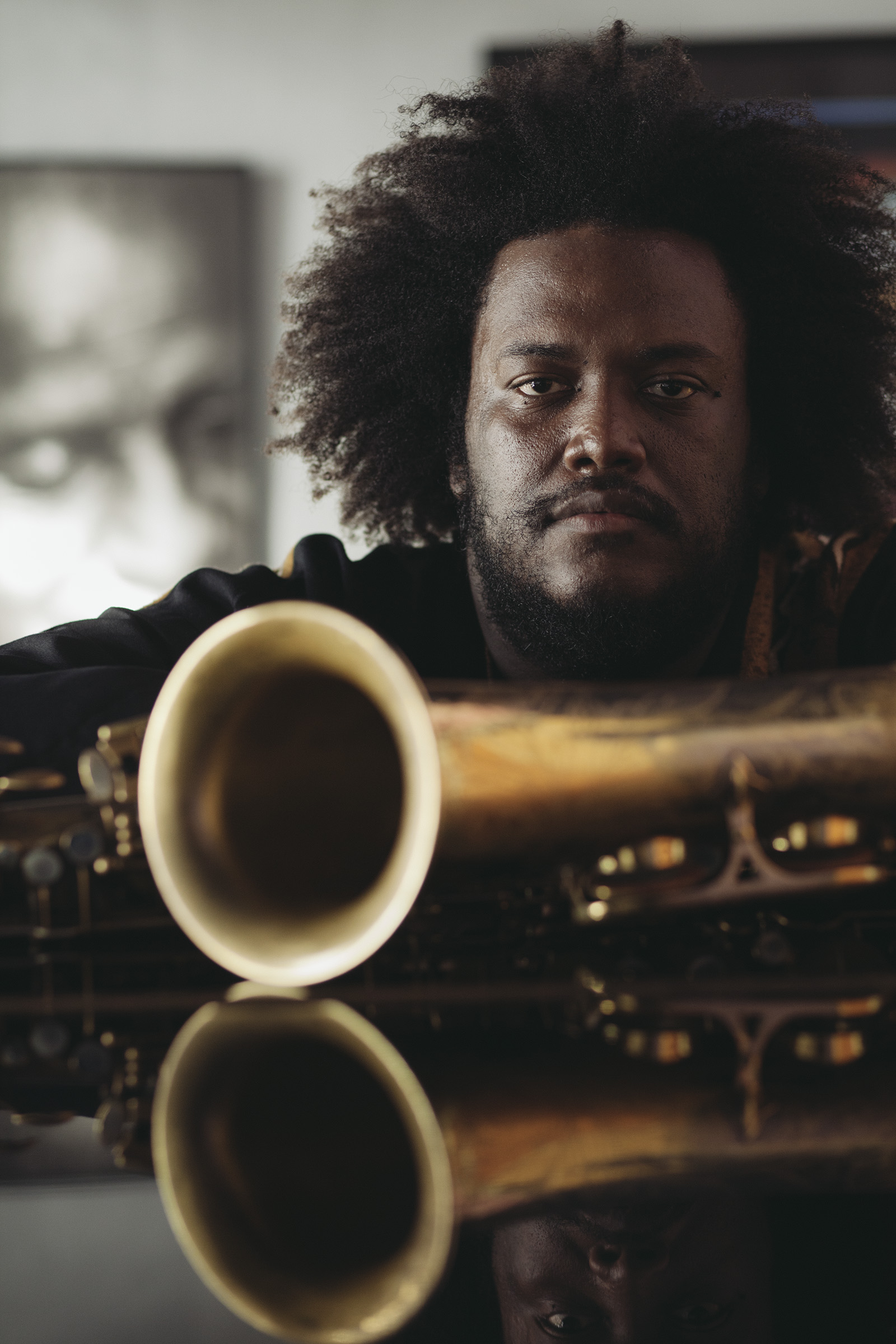 2004 ethnomusicology alumnus and jazz saxophonist Kamasi Washington released his three-volume album "The Epic" in May. He has performed alongside Snoop Dogg and Kendrick Lamar, and he most recently took the stage of the Walt Disney Concert Hall on Sunday night. (Courtesy of Jason Sneed)
Saxophonist Kamasi Washington has played alongside rappers like Snoop Dogg and Kendrick Lamar, but his early education lies in jazz.
As a second-year student at UCLA, Washington played saxophone on Snoop Dogg's tour. After the 2004 ethnomusicology alumnus released his debut album "The Epic" in 2015, he went on to help arrange the string instruments on Lamar's album "To Pimp a Butterfly."
On Sunday at the Walt Disney Concert Hall, Washington and his band The Next Step stuck with his jazz roots. He took the stage alongside the Ron McCurdy Quartet, which performed a rendition of Langston Hughes' jazz poem "Ask Your Mama."
[Throwback: Kamasi Washington performs at Coachella 2016]
By studying a range of music at UCLA like the gamelan players of Indonesia and the choir singers of Ireland, Washington said he gained a better understanding of world music he could later incorporate into his own playing.
"I always wanted my education to be something where I went to learn and not just party," he said.
Washington played drums and clarinet in his early childhood and did not really become interested in jazz until he was 11, when a friend gave him a mixtape of Art Blakey and the Jazz Messengers, he said. Soon Washington wanted to be a jazz musician, and at age 13, his father bought him his first saxophone.
Musicians he played with in high school, like trombonist Isaac Smith and upright bassist Miles Mosley, had decided on staying in Los Angeles, so Washington knew he could keep gigging with them while attending UCLA.
"We were all really focused individuals, and we put in a little more time than the other kids did and playing music was all we cared about doing," said Mosley, an ethnomusicology alumnus.
Studying at UCLA also gave Washington access to instructors like Gerald Wilson and Kenny Burrell, the UCLA Director of Jazz Studies, Washington said.
[Related: Kenny Burrell receives LA Jazz Treasure Award]
When Washington auditioned for the jazz studies program, Burrell said he was so impressed by his rendition of saxophonist John Coltrane's song "Giant Steps" that he immediately accepted Washington into his program.
"Kamasi is a unique person and musician, so the thing that we can offer a person like that is support in that uniqueness, because we recognize it," he said.
In 2004, Washington played tenor sax on Burrell's album "The Ralph J. Bunche Suite." The album, which features a mixture of jazz music and spoken word, paid tribute to Nobel Peace Prize-winning UCLA alumnus Ralph Bunche.
Burrell rarely asks undergraduate students to record with him, but he said Washington's saxophone skills convinced him that he was capable of taking on the job. Burrell said that unlike many young musicians, Washington was able to articulate his ideas into unique musical rhythms, notes and phrases.
"Here's the thing about great artists: They usually embody important parts of the past and the present," Burrell said. "(Washington) was trying to forge new ground, and we could hear that in his music."
Washington also began performing with non-jazz artists.
While a student at UCLA, he toured with Snoop Dogg as part of the rapper's horn section. After concerts, Washington and the other horn players usually chose to forgo Dogg's post-show parties, and instead go out looking for local jazz clubs where they could play impromptu sets. One of Washington's signature songs to perform out at clubs was Coltrane's jazz tune "Countdown."
Washington returned to UCLA after the tour and was invited to play in Gerald Wilson's personal orchestra, providing tenor saxophone accompaniment and solos in the band's gigs around Los Angeles. Wilson – who died in 2014 – was one of Washington's role models who had arranged and composed music for Duke Ellington and Ella Fitzgerald, Washington said.
"(Performing with Wilson) wasn't really intimidating, it was more that I just wanted to do well," Washington said, "He was so open about it, that it didn't really feel like he was testing me."
Much of what he learned from Wilson – like shaping melodies or using altered chords for embellishment – was technical skill, Washington said. But Wilson would also talk about the value of being respectful to bandmates, Washington said.
"He taught me a lot about being a fair person," Washington said. "(Wilson said) that the responsibility of a band leader includes taking care of your band."
In 2015, Washington released his debut studio album "The Epic," which reached No. 3 on the 2015 U.S. Billboard Jazz Albums chart. "The Epic," a three-volume album of over 173 minutes of music blends hip-hop, soul, gospel and jazz. It was influenced in part by traditional jazz artists like Coltrane.
He lent his jazz skills to a rap album the same year, contributing to Lamar's "To Pimp a Butterfly."
Washington was approached by his childhood friend and professional music producer Terrace Martin to help with the album. After hearing some of Washington's preliminary tracks for "The Epic," Martin asked Washington to assist in arranging the string instruments for the album "To Pimp a Butterfly." Washington also contributed his saxophone playing to the Grammy award-winning album, including on the track "U."
On Sunday night Washington – dressed in an ornate bronze medallion and a black and blue robe – performed with his jazz band The Next Step and a 33-piece orchestra at the Walt Disney Concert Hall.
The opening tune of the evening, Washington's song "Show us the Way," is an ode to the 19th-century slave rebel Nat Turner. About midway through the song, an extended bass solo by Washington's longtime bandmate Mosley drew the first of several standing ovations of the night. Throughout the rest of the evening, Washington debuted several songs, along with personal twists on familiar tunes, including a jazz rendition of the theme music from the Bruce Lee film "Fist of Fury" that brought the audience members to their feet.
After formally introducing the band and orchestra, a grinning Washington took a bow and said, "Los Angeles, we're home."
His set, about an hour and a half, stayed true to the saxophonist's jazz roots.
"Nothing will turn you into a great musician other than you going through your own personal journey and figuring out the musician that you want to be," Washington said. "Going to school, traveling, leading, interacting with people – all these things contribute to what you do and who you'll be."