Propositions 62, 66 take opposing approaches to California's death penalty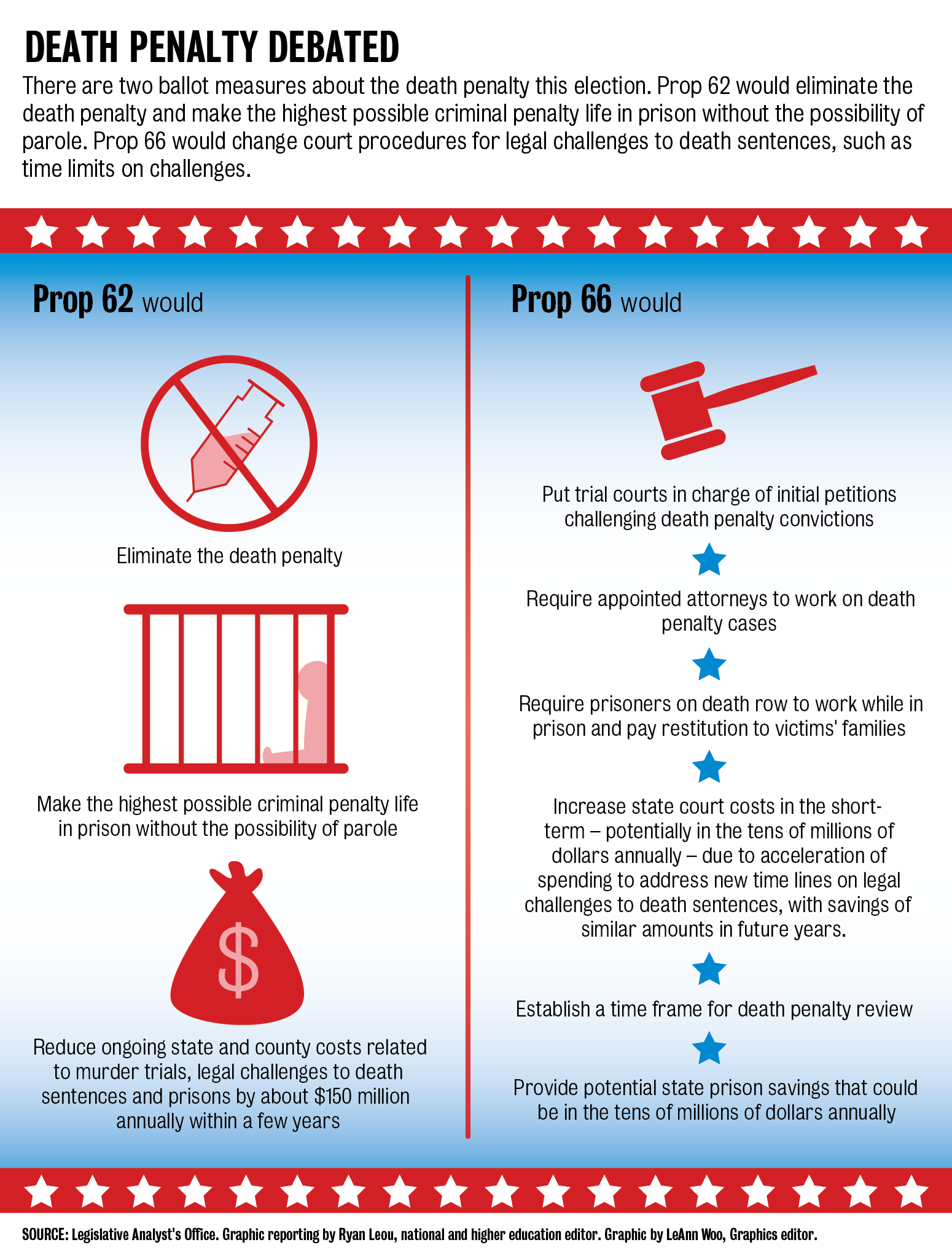 November 2, 2016 10:00 pm
Two propositions regarding the death penalty will appear on Tuesday's statewide ballot – one which aims to repeal the death penalty and another that seeks to speed up the execution process.
Voting yes on Proposition 62 would repeal the death penalty in California, making life imprisonment without parole the most serious punishment for criminals. Current death row inmates would be resentenced to life in prison.
According to the California penal code, offenses eligible for death penalty sentencing include treason against the state of California, perjury that results in the death of an innocent person and certain types of first-degree murder.
Currently, death row inmates are compensated for work they do while in prison, with a certain percentage of these funds given to their victims. If Proposition 62 passes, these inmates would continue to work after being resentenced to life imprisonment, and the maximum amount of money given to their victims would increase from 50 to 60 percent.
Advocates for Proposition 62 often highlight the fallibility of death sentences by pointing to their high reversal rate. According a study released by James Liebman, a Columbia University professor who specializes in death penalty law, 68 percent of capital sentences were reversed in the U.S. between 1973 and 1995.
According to statements in the California election voter guide, opponents of Propositions 62 argue that the measure unfairly benefits criminals while denying closure to victim's family members, many of whom have suffered severe psychological and emotional damage.
The death penalty, which is legal in 31 states, has been allowed in California since 1972, and since then, 13 prisoners have been executed. More than 700 inmates currently sit on death row. In the U.S., the average inmate spends 186 months on death row before being executed, according to a 2013 report by the U.S. Department of Justice.
Lengthy execution delays often stem from a prolonged appeals process that can take several years to settle, said Sharon Dolovich, a UCLA law professor and faculty director of the UCLA Prison Law and Policy Program.
She added Proposition 66 attempts to address this issue by proposing changes that would expedite the appeals process.
"If Proposition 66 passes, it will accelerate the time between a conviction and an execution," Dolovich said.
According to an analysis of Proposition 66 by the California Legislative Analyst's Office, prisoners can challenge a capital conviction in two ways.
All death penalty verdicts are first automatically appealed to the California Supreme Court in a direct appeal, where aspects of the original trial are reviewed.
If the courts uphold a death penalty verdict, prisoners may also file a habeas corpus petition. With the petition, prisoners challenge their sentencing based on grounds that cannot be presented in the direct appeal, such as claims of ineffective legal representation.
Habeas corpus court petitions are currently heard by the California Supreme Court. Proposition 66 aims to transfer appeal cases to the trial courts that originally presided over a death row inmate's murder trial, making it less likely for petitions to be granted, Dolovich said.
Additionally, Proposition 66 would place time limits on how long the appeals process can take and would allow a victim's family to engage in the process directly.
"One of the most striking innovations of Proposition 66 is that it places a five-year time limit on the entire state appeals process from the direct appeal to the state habeas petition," Dolovich said. "It also gives 'any victim of the offense' the power to petition whichever court is creating the delay, to request that the appeal be decided."
California has not executed anyone since 2006, largely due to legal controversy over lethal injection cocktails used for executions, which some claim cause unacceptable levels of suffering. Proposition 66 would work around these legal objections through new regulations for lethal injection cocktail procurement.
"Proposition 66 would allow prison officials to design the lethal injection protocols and to source the drugs outside of the current regulatory process," Dolovich said.
Death row delays also occur due to lack of legal representation for inmates during the appeals process, according to the LAO's analysis of Proposition 66. The LAO said the measure aims to address these issues by requiring the California Supreme Court to reconsider qualifications for death penalty attorneys, which may expand the appeals attorney pool and allow death penalty appeals to be resolved in a more timely manner.
The proposition would also increase the number of attorneys available to represent capital defendants by allowing courts to appoint lawyers who do not typically handle death penalty cases and requiring those lawyers to accept these cases.
Dolovich said she thinks that due to the complexity of the law governing capital punishment, assigning these cases to lawyers inexperienced with death penalty proceedings may result in capital defendants receiving suboptimal legal representation.
She added that Proposition 66 contains a number of other notable provisions, but she thinks many of them have not received adequate media coverage, largely due the ballot fatigue of having seventeen statewide ballot propositions.
A California State University, Sacramento poll conducted in early October showed a slight plurality opposes Proposition 62 while a slim majority supports Proposition 66.
If Proposition 62 and 66 both pass, the one that receives the most "yes" votes will supersede the other.
Click the banner to read more election endorsements and analysis.