Student delivers frightful performance at Hollywood Horror Nights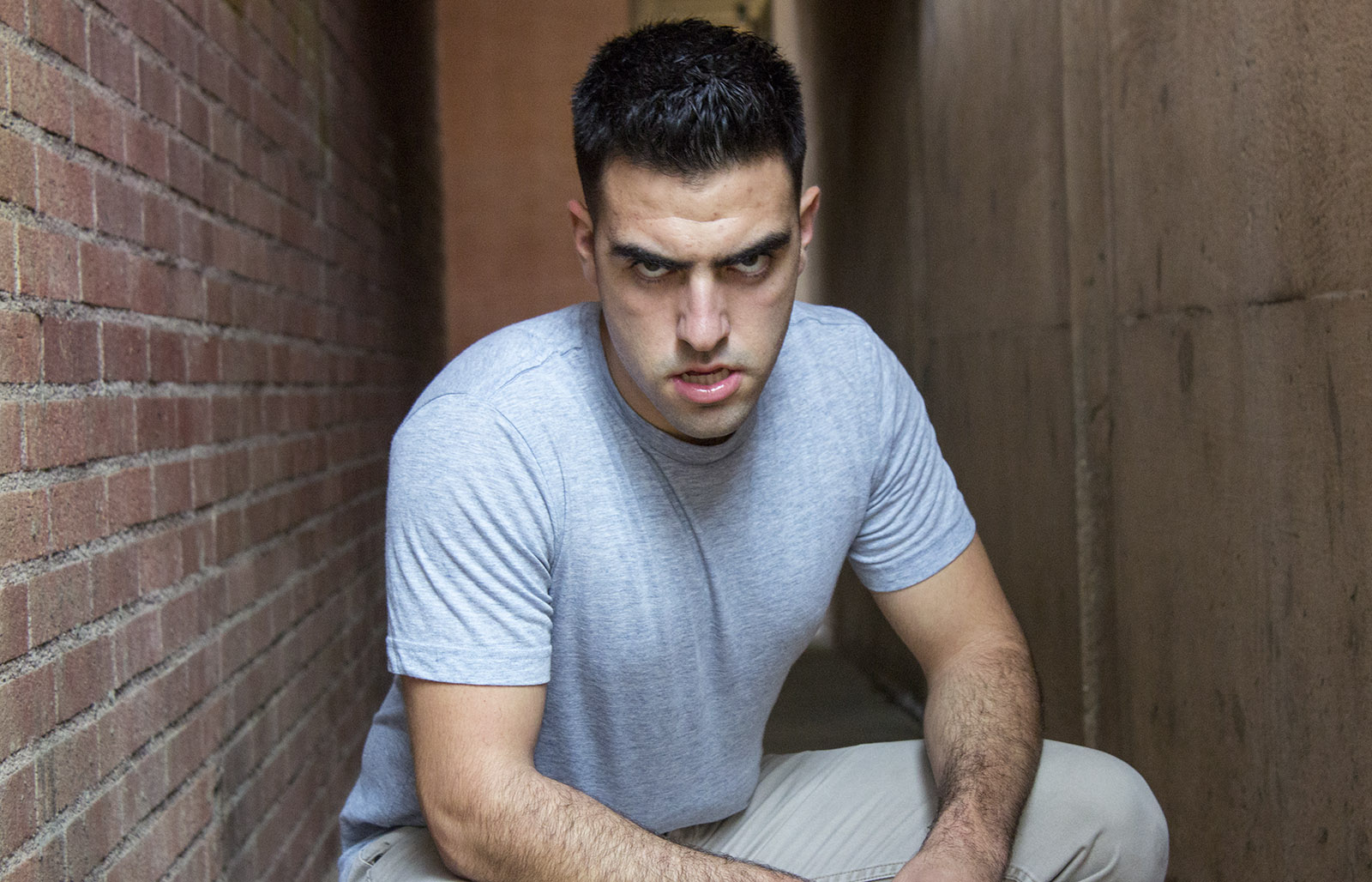 Third-year sociology student and Hooligan Theater Company member Josh Shtein landed a job as a "scare actor" at Universal Studios' Halloween Horror Nights after a month-long audition process. (Alyssa Dorn/Daily Bruin)
Josh Shtein transforms into a butcher knife-wielding cannibal when he creeps on set for his job at Universal Studios Hollywood.
The third-year sociology student works as a "scare actor" for Universal Studios' Halloween Horror Nights, an event featuring special Halloween-themed mazes, shows and scare zones based on television and movie franchises such as American Horror Story and The Texas Chainsaw Massacre.
The event runs from Sep. 16 to Nov. 5. Shtein, who also acts for the HOOLIGAN Theatre Company, learned about the job in the spring when one of his professors mentioned that Universal Studios would be having open casting calls for the annual event. After a month-long audition process, Shtein
was hired to work in "Tunnel," one of the park's four scare zones based on the horror film franchise "The Purge." The attraction features a passageway lit with rapid-flashing strobe lights and loud electronic dance music. As guests enter the tunnel, actors including
Shtein portray cannibalistic vigilantes looking to kill anyone who does not yield to their anarchistic beliefs.
Shtein said his goal is to scare each guest in one of two ways: making eye contact with a guest and following them through an area or surprising a guest by popping out from a hidden location with his prop butcher knife hoisted above his head.
"You have to be super scary and embody this killer who, if (he) could, would actually kill them," Shtein said.
To ensure that people do not feel too threatened by the tunnel, Universal Studios does not allow Shtein to talk to guests.
Scare actor Michael S. Garcia, who often works alongside Shtein, said that maintaining the right balance between fun and scary can often be tricky.
During one instance, Shtein approached a teenage girl with his eyes rolled toward the back of his head and his tongue hanging to the side of his mouth.
After chasing the girl for a few seconds, she started to cry and run for the exit. Garcia said he has also seen grown men cry, and determining which guests will feel threatened can be difficult. He said that while the actors do want to scare guests, they do not want people to feel like they are in mortal danger.
"I've met some people who just aren't scared. They know it's 100 percent fake and they don't get lost in it," he said. "But then I've met people who (Shtein) or I haven't touched – we've just screamed and raised our prop over our head – and they collapse onto the floor in fear."
Working as a scare actor takes a physical toll, Shtein said.
Although he once screamed at guests in order to scare them, he recently had to come up with subtler sounds, like shushing or humming along to the EDM music, so that he could preserve his voice. Visitors have also slapped, grabbed and attacked the actors, Shtein said. In one instance, a visitor sent the actor to the medical center after hitting him in the eye.
Shtein said his costume can make the public see him as the bloodthirsty character he portrays and not as an actual person.  
"People don't see you as human, they see you as an actual monster," he said. "I've been punched a couple times just because (it's the guest's) reaction."
Fourth-year political science student Ana Palacio said she goes to Halloween Horror Nights because it has a higher production value than other Halloween-themed events like Magic Mountain's Fright Fest.
"I think their effects are better (at Universal Studios)" she said. "Because Universal doesn't have a lot of rides it seems like people just go for the haunted houses and the mazes — they put a lot of effort into it, and I think you can see it."
To ensure guests stay entertained, Shtein tries to bring a unique style to his scare tactics. To distinguish himself from other actors, he gets especially close to guests, often walking side-by-side with them as they bow their heads down and try to move toward the exit.
"It's opened my eyes to how to act creepy," he said. "If (guests) look at me and aren't scared, then I've got to figure out how I can scare them and make my character heard."