Hear This Not That: Tyler, The Creator's album masks insecurities, Eminem's reveals torment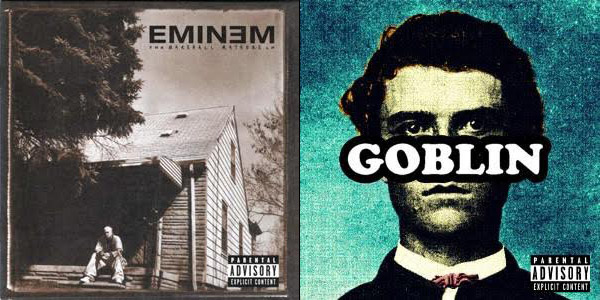 Both Eminem and Tyler, The Creator use jarring lyricism and weave dialogue into their respective shock-rap albums "The Marshall Mathers LP" and "Goblin." (Left: Aftermath Entertainment, Right: XL Recordings)
Music fans can find it hard to decide which albums to stream and which to skip, considering the surplus of new music released. Each week, A&E columnist Sean Lee will compare two albums and recommend which one students should listen to. For Daily Bruin A&E's Halloween issue, Lee compares the shock rap of Eminem's album "The Marshall Mathers LP" and Tyler, The Creator's "Goblin."
Detroit rap legend Marshall Mathers and West Coast Odd Future member Tyler, The Creator revolutionized hip-hop by elevating the level of sophistication in shock rap with their critically acclaimed sophomore albums.
Both rappers sought to provoke listeners with their jarring lyricism, dissonant beats and unnerving dialogue with a new level of technical storytelling that managed to cross over into the mainstream. Eminem's 2000 album, "The Marshall Mathers LP," presents a disillusioned rapper who directly addresses his disturbing autobiography and newfound fame through intricate wordplay. On the other hand, Tyler's 2011 album, "Goblin," masks his insecurities with crass jokes and laconic stream of consciousness.
[Related: Hear This Not That: The Wytches verses The Growlers]
The title track from "Goblin" begins with a conversation between Tyler and his therapist discussing the rapper's suicidal tendencies and need for emotional catharsis. The skit is reminiscent of the uncanny moment when Clarice Starling meets Hannibal Lector in the 1991 film "Silence of the Lambs," as Tyler begins to vent with his expletive-laced line "I'm not a … role model / I'm a 19-year-old … emotional roller coaster with pipe dreams" over dissonant white noise and reverb-soaked beats. Much like the character Lector, Tyler possesses a level of self-awareness he does not wish to directly reveal to the listener.
Clashing beats and personal introspection are underlying themes beneath the rest of the album's shocking imagery and crude humor. On "Nightmare" Tyler raps, "They begged me to stop but I listen like death drones / Love? I don't get none, that's why I'm so hostile to the kids that get some," offering insight into the rapper's self-consciousness hidden behind the troubled imagery of murdering his haters.
The two-faced lyricism on "Yonkers" – "Oh, not again! Another critic writing report / I'm stabbing any blogging … hipster with a Pitchfork" – seems to take down critics but actually offers a look into Tyler's obsession with what others have to say about him.
[Last week: Hear This Not That: Taylor Swift's 'Fearless' versus 'Red']
The standout track from "Goblin" is "She," which juxtaposes Tyler's provocative lyrics about necrophilia with his frustration to actually express how he really feels: "See when I'm with my friends I just put on a front / But in the back of my top I'm writing songs about we." This moment of clarity reveals Tyler's duality on "Goblin," one that crassly spits misogyny and disturbing scenarios versus one that is actually scared of what people might think of his sense of humor.
While Tyler's shock rap seems to be a diffident facade, Eminem's insecurities are voiced loud and unapologetically on "The Marshall Mathers LP." Tyler uses abstract subjects for the characters on "Goblin," whereas Eminem names real-life figures, offering a full view of his reality.
"Kill You" presents a tirade of harrowing imagery in which Eminem raps for over four minutes about a fictitious narrative of raping his own mother, shooting his wife and strangling a radio DJ. Throughout the rest of the album, the rapper exposes these individuals for having done him wrong.
The creepiest moment of "Kill You" is in its conclusion, where the beat fades and Eminem chuckles and says, "I'm just playing ladies, you know I love you," in a tone of voice that is uncomfortably casual compared to the rest of the song. Much like a horror movie soundtracked with children's nursery rhymes, Eminem's apology, uttered in a babyish voice, adds a level of eeriness to the track that continues on the rest of the album.
On the song "Who Knew" Eminem uses blistering rhymes to address his more conservative critics directly and raps, "Get aware, wake up, get a sense of humor / Quit tryin' to censor the music, this is for your kid's amusement." Unlike Tyler who offers empty threats to his critics, Eminem destroys his own critics' credibility by revealing their hypocrisy.
The standout track from "The Marshall Mather LP" is the song "Stan," in which a sinister-sounding sample of the electronic musician Dido becomes the musical backdrop for Eminem's story about a deranged fan who kills himself and his girlfriend for the rapper's approval. By seamlessly rapping from the point of view of various characters, Eminem showcases a level of technical storytelling unattained by Tyler on "Goblin."
While Tyler's actual self is hidden under his shock rap persona on "Goblin," Eminem offers the listener a true glimpse into his disturbed state of mind.
Listen to "Goblin" for an aural experience filled with vivid gore and self-deprecating humor. Listen to "The Marshall Mathers LP" for a look into one of hip-hop's most tormented minds.