UCLA alumnus bitten by the edible insect trend bug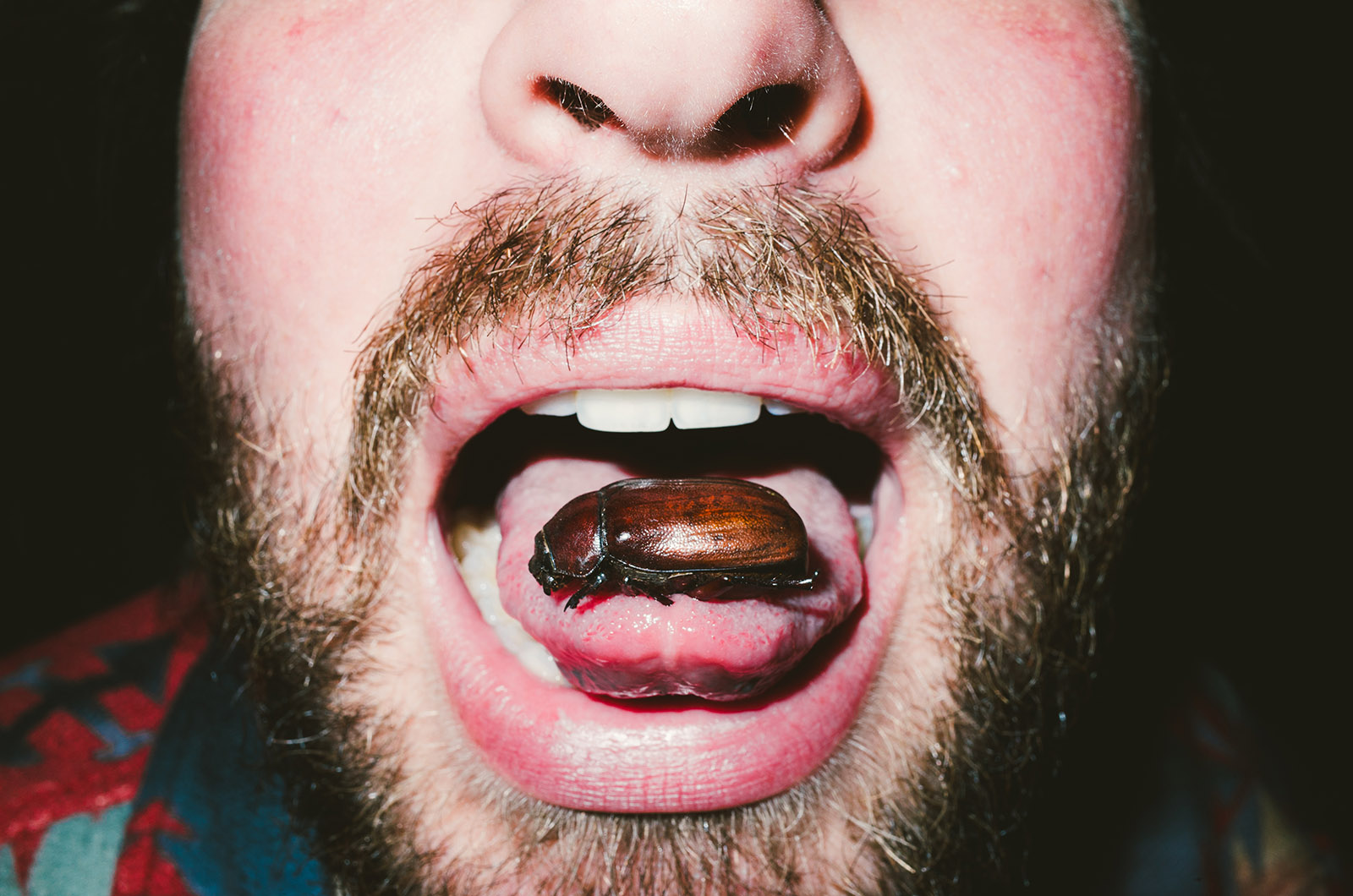 UCLA alumnus Michael Consbruck owns V Wine Room. The restaurant hosted an event Sunday called "Scary Delicious: Wine + Bug Pairing" that served wine and edible bugs to its customers, including chocolate-covered crickets. (Ken Shin/Daily Bruin)
"Scary Delicious: Wine + Bug Pairing"
Wednesday, 8 p.m.
V Wine Room, West Hollywood
$60
Sunlight gleamed over bottles of boutique wine, sharply contrasting the dark wood of the shelves. Throughout the wine room, customers sat on high stools around small tables chatting.
The space looked like any other wine bar, except the tables were covered with white trays of silkworm pupas, dried crickets and mealworms.
Michael Consbruck, UCLA alumnus and owner of V Wine Room, and Aly Moore, creator of Bugible, presented their first event with edible insects, called "Scary Delicious: Wine + Bug Pairing," on Sunday. Attendees consumed six rounds of edible bugs and wine combinations in West Hollywood. Moore hopes the event will present edible bugs in a different light, she said. The V Wine Room will hold another bug and wine pairing Wednesday.
"We thought that it would be fun and interesting for the Halloween season, because everyone gets dressed up and they go to … haunted houses or they go to scary mazes," Consbruck said.
The event paired everything from grasshoppers with sauvignon blanc to dark chocolate cricket cubes and silkworm pupas with pinot noir. V Wine Room provided the wine and eight companies provided the bugs, including chocolate-covered crickets and dry-roasted crickets from Coalo Valley Farms, located in Van Nuys.
[Related: Brazilian restaurant owner pours passion for cuisine into Westwood]
Peter Markoe, co-founder of Coalo Valley Farms, said that westernizing edible bugs in an event such as a bug and wine tasting will help make eating bugs more acceptable and commonplace.
Consbruck never ate edible bugs before leaving Nebraska for UCLA, where he studied landscape architecture in 2008. He created V Wine Room in 2012, following his interests in viniculture and his background in agronomy.
Consbruck first tried eating insects after Moore introduced him to edible bugs three months ago. Consbruck said he was hesitant at first to try bugs because he wasn't sure what they might taste like. However, after persuasion from Moore, he ate his first insect – a scorpion – and together they began the edible bug and wine pairing project.
Moore, however, is no stranger to edible bugs. Four years ago, she tried grasshopper tacos during a summer program in Mexico. In 2014, she started Bugible.com, a branding, marketing and PR resource for people interested in edible insects.
"I love seeing the reaction on people's faces when they're exposed to something that they'd never thought they'd do, that lightbulb moment of 'Aha! This was not as bad as I thought,'" Moore said.
She said she is interested in the health benefits that edible bugs can give to people individually.
[Related: Students' LA food favorites offer diverse tastes outside of Westwood]
According to Moore, 100 grams of protein from crickets is lower in fat and calories, uses around 2,000 less gallons of water and has similar levels of protein to 100 grams of protein from beef.
"It makes complete sense to start getting more of our proteins from bugs," Moore said. "And that's the whole movement here."
Moore hopes edible insects gain popularity so farmers can shift their production to insects away from beef, in an effort to become more sustainable.
"(Bug tasting) is an experience," Moore said. "Why just do the same thing over and over, why not spice it up a bit?"