Concert review: Brad Paisley turns LA Tennis Center into 'Country Nation'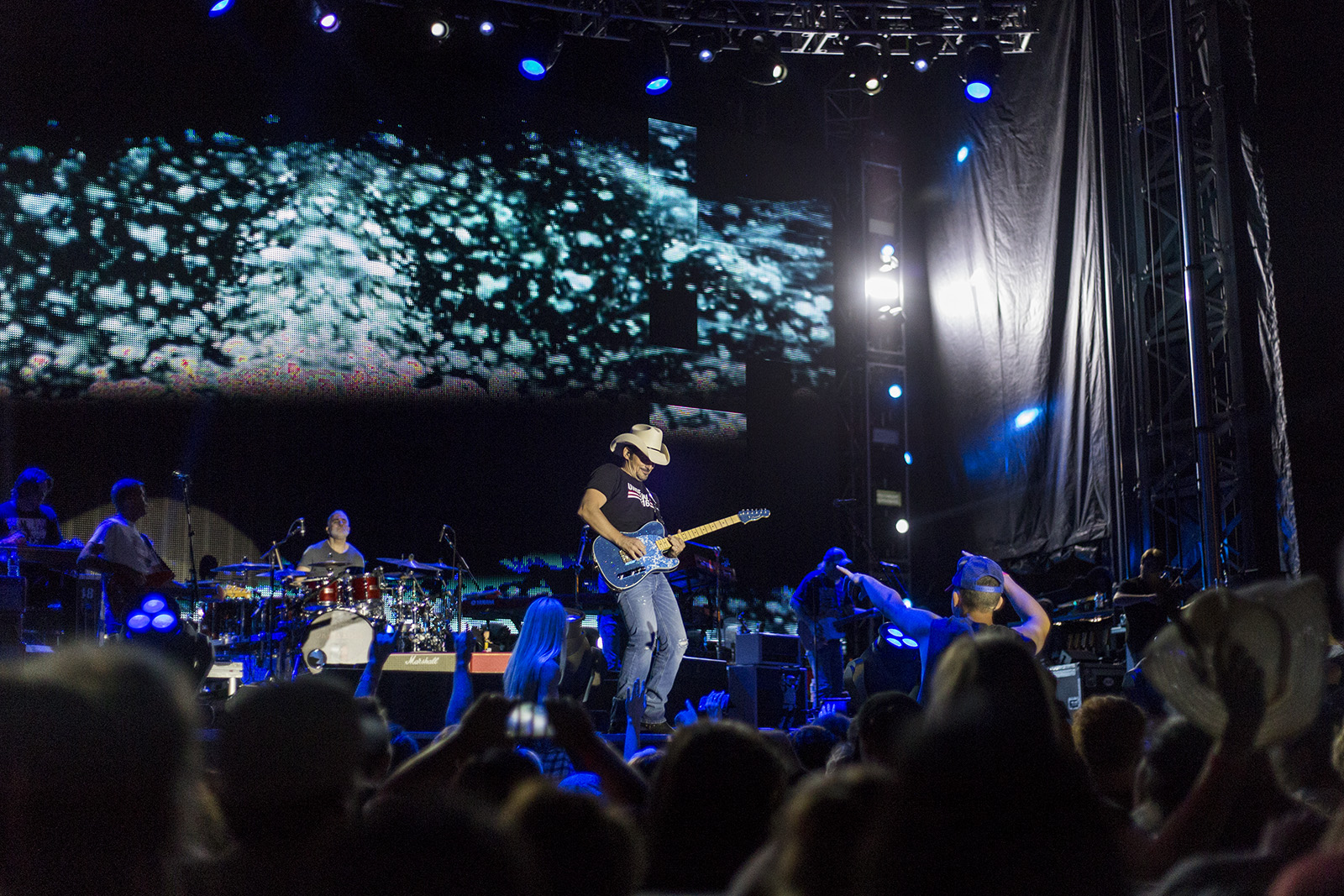 Country artist Brad Paisley balanced his UCLA concert set with upbeat songs about letting loose with commentary about taking academics seriously. (Jennifer Hu/Daily Bruin staff)
Country Nation College Tour Brad Paisley Los Angeles Tennis Center Friday Oct. 21
Brad Paisley's Friday night concert made Southern California just a little more southern — and for that, country fans rejoiced.
The three-time Grammy Award-winning musician drew country music fans and newbies to the Los Angeles Tennis Center, bringing the UCLA community together with his personable songs and honest, humorous commentary. Although Southern California is not known for its adoption of all things country and western, Paisley succeeded in connecting with the audience the best way he knows how – with relatable, humble music.
Paisley's visit to the UCLA campus is part of his second annual "Country Nation College Tour." Friday night marked his first appearance at UCLA, and his first performance in Los Angeles since June 2015. The 2016 tour began in Orlando, Florida, and ended Friday at UCLA.
Paisley's opening act, Orange County native Brett Young, set the tone for the concert when he talked informally to the audience about relationships like he was talking to a friend. He spoke of being on what he calls the bad side of a breakup, and how that vulnerable topic is reflected in his six-song EP called "Brett Young," released in February 2016.
The main act opened with Paisley's hit song "Crushin' It," which is also the title of his previous tour that took place from May 2015 to March 2016, "Crushin' It World Tour." The upbeat song, beginning with the audio of a freshly opened beer, speaks of unwinding on a Friday night after a long week. The song choice was probably not selected with the UCLA quarter schedule in mind, but considering that fourth week starts UCLA's midterm season, "Crushin' It" was rather appropriate.
Paisley's classical country voice was as clear as any recordings found on the radio. Distinctly country inflections not found in his recordings were added to the end of phrases to give his songs even more of a "southern flair." His awe-inspiring combination of voice and frequent guitar solos showed off his musical capabilities.
Throughout the remainder of the concert, Paisley's most popular songs, such as "Water" from his 2009 "American Saturday Night" and "Old Alabama" from 2011's "This is Country Music," echoed under the warm, fall night as couples swing danced on the floor level and students, perched on their friends' shoulders, waved American flags.
Paisley's music and periodic anecdotes about college life worked together to keep the audience engaged. Early on in the concert, he described UCLA as the prettiest school in the world, with some of the most attractive people. He also complimented the university's location, Los Angeles, and said he would not be able to get into UCLA.
"You are the luckiest kids alive," Paisley said. "It's unbelievable."
As he became more comfortable with the audience, his tone became more informal. Paisley revealed to the audience that he graduated from Belmont University with a 2.5 GPA, and then proceeded to sing "Letter to Me," a song written to his 17-year-old self that preaches the importance of seeing the bigger picture in life. The pairing of both the song and the comment made his immense success in the country music industry more impressive, and served as a reminder that academics are not always at the forefront of importance.
Most of the time, however, Paisley's comments endorsed having a good time, reminding the audience that college years are the best in one's life.
"We are going to sing a bunch of country music to forget your grade point average," Paisley said.
The UCLA Cheer Squad ran onto the stage during his performance of "Country Nation," which was slightly repetitive because it danced before Young and Paisley each took the stage. However, the gesture of inviting a core UCLA group to make an appearance during the actual concert enhanced the message of the song: Country music can be a source of unity.
Rey Umali, a fourth-year sociology and geography student, said he was excited to hear that UCLA was giving out free tickets to the concert because he thinks of Paisley as a premier country artists, noting his popularity over the past decade.
"I thought that it was a joke, that (UCLA) was giving out free tickets," Umali said.
After taking selfies on multiple students' phones and singing into their cameras for their Snapchats, Paisley ended the concert with words of academic encouragement and "Alcohol," a humorous song about the effects of drinking, from alcohol's perspective, on his 2005 album "Time Well Wasted."
"Don't fail out," Paisley said.