Professor influences character of Marshall on 'How I Met Your Mother'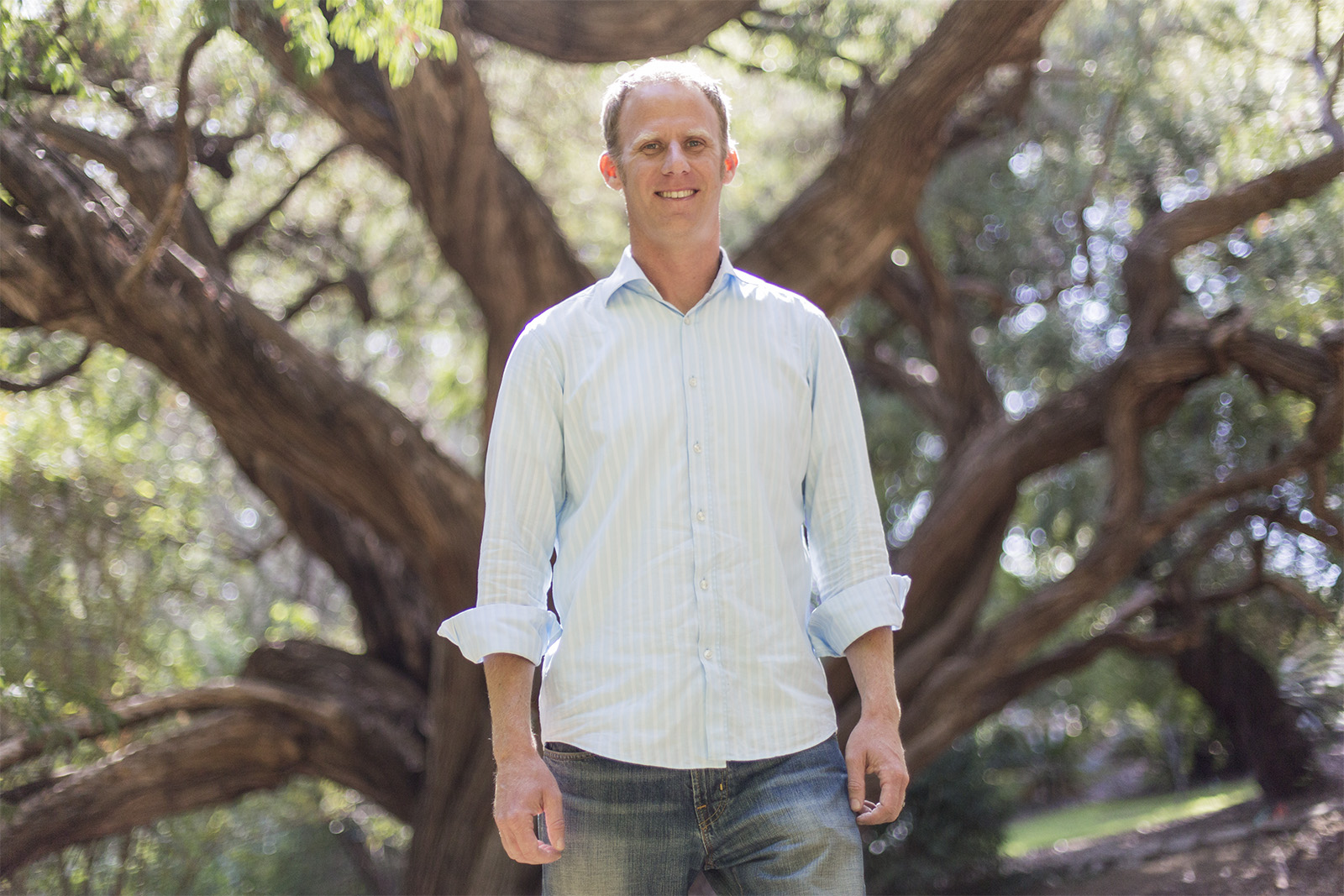 Environmental science professor Noah Garrison became friends with Carter Bays and Craig Thomas when they were all in college. Bays and Thomas later created the show "How I Met Your Mother" and used pieces of Garrison's life to inspire the character of Marshall. (Owen Emerson/Daily Bruin senior staff)
Professor Noah Garrison invited his friend Carter Bays to an Alanis Morissette concert in spring 2006. Six months later, he watched their concert experience reenacted on TV.
The creators of the sitcom "How I Met Your Mother," Bays and Craig Thomas, borrowed from their own lives when writing the show. They created the character of Marshall Eriksen (Jason Segel) based on the personality and career interests of Garrison, their college friend who is now an environmental science professor at UCLA. The creators drew inspiration from their interactions with Garrison and tailored them to suit the needs of the sitcom.
Garrison said he asked Bays to the concert after separating from his girlfriend at the time, and Bays found humor in that Garrison asked him to the show instead of a girl.
After Marshall breaks up with his girlfriend Lily Aldrin (Alyson Hannigan), he and his friend Brad Morris end up at brunch awkwardly like a couple. The writers were brainstorming a beginning to the episode, and Bays remembered how Garrison asked him to a Morissette concert when he found himself without a date. He worked this comically uncomfortable experience into the screenplay for the episode "World's Greatest Couple" in the second season of the series.
When Garrison watched Marshall go to the Morissette concert with Brad on TV, he said he almost spit out his drink. "You jerk," Garrison joked to his long-time friend Bays after he immediately called him.
"Things that seem totally bizarre and outlandish, there's a chance that it did actually happen to someone," Garrison said.
In a way, Garrison also influenced the romance between Marshall and Lily. The characters were based on Thomas and his college girlfriend and wife, Rebecca Alson-Milkman. Alson-Milkman went to high school with Garrison, so she crashed on his floor when she visited Wesleyan University as a prospective student. Thomas lived across the hall from Garrison and fell in love with Alson-Milkman, Thomas said in an email statement.
"So, when I tell my kids, 'How I Met Your Mother,' the succinct version would be – Noah," Thomas said.
[Throwback: "How I Met Your Mother" comes to bittersweet end]
The everyday mannerisms common in their friend group – the cadence of speaking, odd pauses, stutters and comedic timing – find purpose in the writing of the show. Garrison's wife once commented that listening to him and his friends talk is like watching an episode of the show.
"What my friends and I loved most about the show was you would see little bits and pieces of everyone's life popping up in the show," Garrison said.

Garrison said he appeared as an extra in a few episodes of the show, and Marshall's boss Garrison Cootes (Martin Short) was named after him.
Similarities between the show and reality do not stop at gags among friends. Thomas said the creators wanted Marshall to maintain an idealistic and indefatigably positive outlook despite struggling with real-life obstacles, like Garrison. They conceived of "How I Met Your Mother" as a show about growing up, and they wanted to start the character off from law school and watch him enter the real world.
When they began writing the show, Garrison was attending UCLA School of Law. Thomas said they wanted to develop Marshall's character by live-streaming Garrison's life and career.
Bays and Thomas based Marshall's dream to work at the Natural Resources Defense Council off of Garrison's dream.
With any fictional character, however, writers take creative leaps and invent stories, Thomas said. Marshall slogged in a soul-crushing private law firm for years, but Garrison started at the council right after he graduated from law school.
At the NRDC, Garrison worked on clean water and water supply issues and advocated against the construction of a proposed dam in Alaska as a staff attorney. He also focused on beach and river pollution in California and regulation and enforcement under the federal Clean Water Act.
His passion for the environment matches Marshall's. As an environmental lawyer in the eighth season, Marshall finds himself in a trial facing a pharmaceutical company that contaminates the fictional Frog Lake.
Garrison, a practicing environmental law attorney, said the writers consulted with him extensively on the technical details of environmental issues in that episode. Garrison's ability to talk about the environment and science in an engaging manner suited the needs of the sitcom, Thomas said.
Though the trial was inspired by Garrison's work on water pollution issues, the writers took a funny approach to the problem to hold the attention of the viewers. Instead of genuine courtroom deliberations, the trial in the show features comical evidence like a phony doctor, a sick duckling and a promotion video for the dangerously polluted lake.
Marshall and Garrison are both eager to talk about environmental concerns like water programs and ecosystems, said Inan Chowdhury, a fourth-year environmental science student in the capstone program that Garrison directs. Garrison encourages students to grab the extracurricular opportunities and choose the career that makes them happy, akin to Marshall's idealism that urges him to quit his distressing job at the private law firm, Chowdhury said.
Even though situations in the show were invented to be ridiculous and over-the-top, the writers blended reality in to elevate the comedy from a lightweight banter to a relatable narrative, Garrison said.
"Sometimes, you knew exactly where or who the story (the writers) are telling came from," Garrison said. "And it was all from a place of love."