UCLA student strives to shatter beauty standards in modeling industry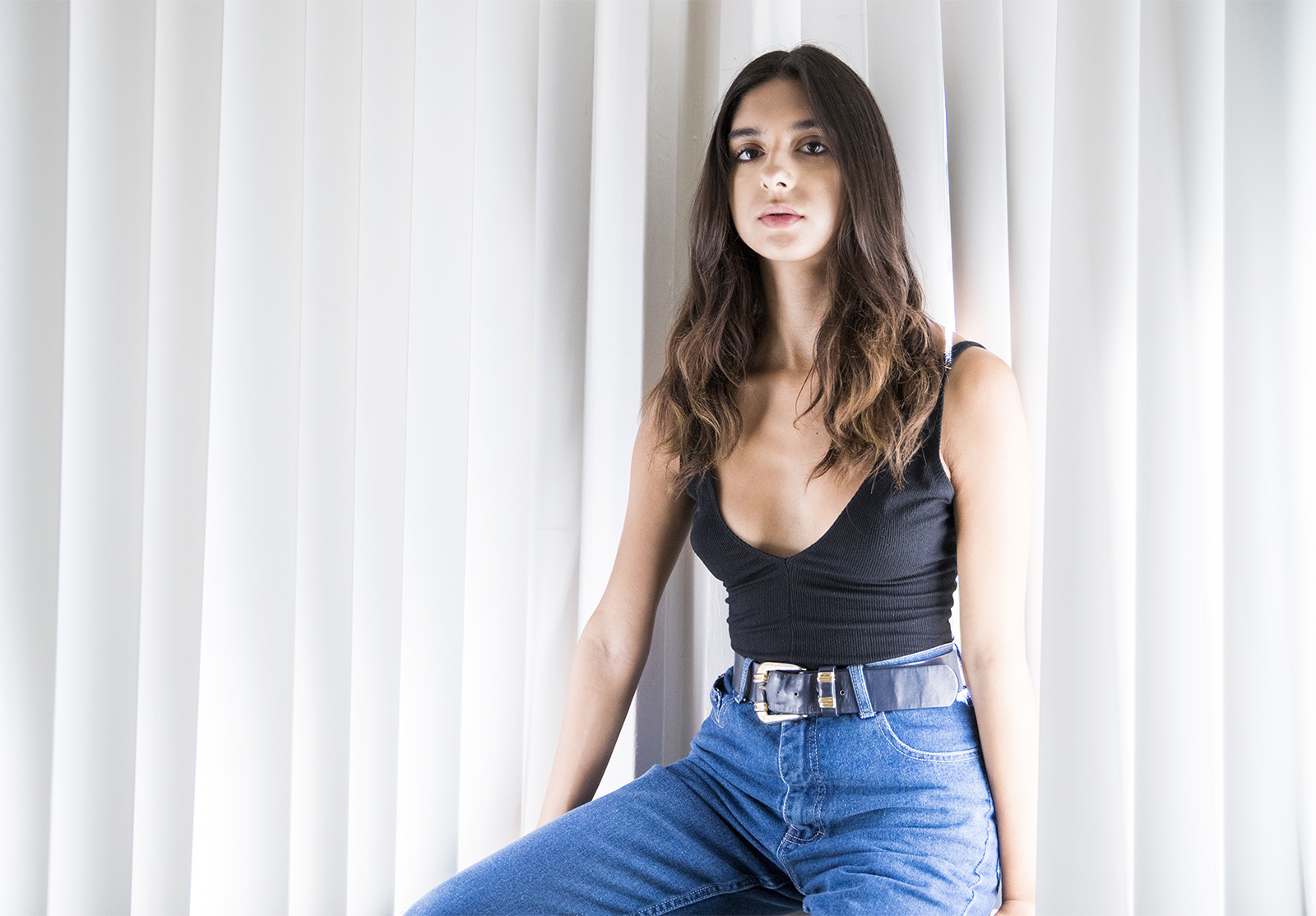 Viviana Lira breaks from traditional model behavior by adopting stoic, unsmiling poses. When photographing models, Lira also strays from typical photoshoots by collaborating with models on the outfits that they wear and the shoot location. (Hannah Ye/Daily Bruin senior staff)
"Too short," "too skinny" and "too Latina" were words Viviana Lira heard from photographers that sought the stock characteristics of beautiful women for their shoots.
Lira, a second-year art history student, found that few photographers wanted a look that wasn't mainstream when she began her modeling career in high school. As a woman who had struggled with self-image in high school, Lira was surprised when a photographer approached her.
After one shoot, she wanted to dive deeper into an industry that was otherwise pushing her away. Instead of quitting the fashion industry after being deemed unconventional, Lira decided to change the industry, not herself, she said.
Now as a model and freelance photographer who posts primarily on Instagram, Lira seeks out other models who challenge traditional beauty with their race, weight and face shape.
[Related: 'Project Runway: Junior' alum creates unisex fashion line]
In addition to highlighting models who challenge mainstream beauty ideals, Lira said she wants to give women a way to express their sexuality and be empowered by it.
Lira said she knows building a name for herself is going to take years of dedication, but breaking away from norms gave Lira modeling opportunities for multiple brands, including New York-based fashion company Zana Bayne.
In order to follow her passions, Lira had to break away from her family's Catholic conservatism, especially in nude shoots that she both takes and poses for. Lira said she recently sat down with her conservative aunts and described to them how photographing nude, even in your own apartment, can be liberating and beautiful.
"I wasn't brought up in an environment where art and culture was very pursued or talked about, so it's a foreign area to (my family) in particular," Lira said.
Mahmoud Mfinanga, a 19-year-old freelance photographer who approached Lira in November 2015, said he was impressed with her stoicism and determination to break into the fashion industry. He was struck by her unsmiling poses – she chose to stray from typical model behavior.
During their first session, Lira was open to collaboration, Mfinanga said. He has since sought her input on his current projects.
For the two of them, diversity is a major component lacking in the fashion industry, Mfinanga said.
"We both see that diversity is needed because diversity gives room to different perspectives," Mfinanga said. "If we only see the same things, then we will only create the same things – seeing something different will inspire us to do something different."
Lira said in order to capture the unique characteristics of her models, she creates an environment that they feel natural and comfortable in.
Before going to a shoot, she brings the model to a thrift store to buy clothes the model will feel comfortable in. Lira said the two of them then decide on a location for the shoot. To her, models are not just a prop but a part of the project – they must feel like the photos speak to who they are.
[Related: Inspired by mother, student models career around independence]
Sara Silva, a second-year theater student, modeled for Lira in the past. She said she has watched Lira grow as a photographer and embrace her potential role as a change-maker in the fashion industry. She added that Lira has become even more vocal in her desire to challenge the standards set around female sexuality.
"She's open and expressive with her body. Not as many girls are that comfortable with showing skin, but I think that it's pretty inspirational," Silva said.
Lira said she will continue challenging fashion norms throughout her career by seeking out an even wider array of models – women of all sizes and races.
"My parents want me to be a 'normal girl' who doesn't insinuate trouble, but I'm nothing like that," Lira said. "I'm not a quiet girl who conforms to my family's expectations."