Student takes a cut of the dorm barbering business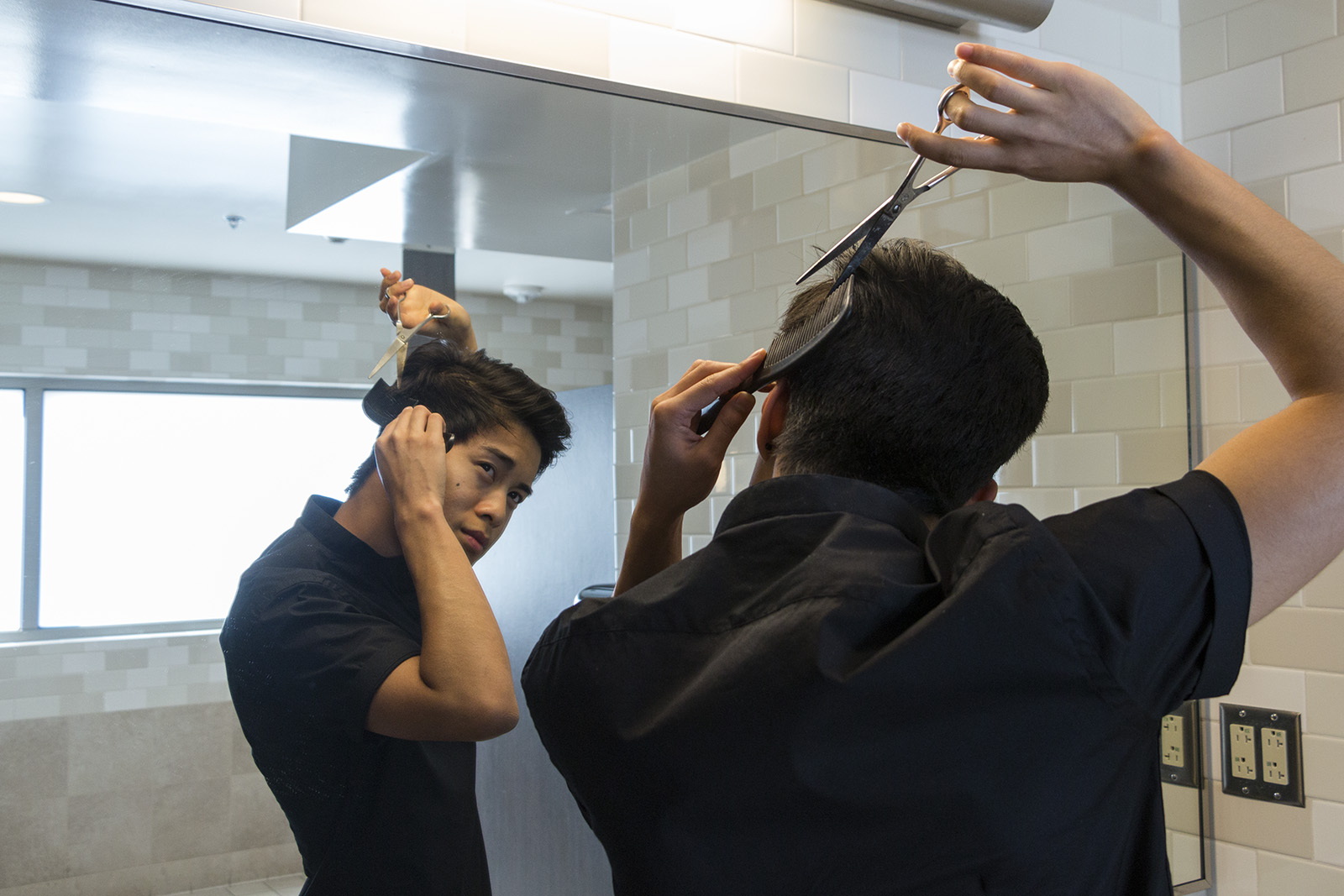 First-year pre-business economics student Jason Kuang sells haircuts for $10 to UCLA students and bases his business out of his dorm hall bathroom. (Laura Uzes/Daily Bruin)
Correction: The original version of this article misspelled Rohan Kumar's name.
Slow hip-hop music flowed out of the speakers and through the dorm bathroom. Holding a razor, Jason Kuang gave a haircut to his client as the two chatted about upcoming concerts and hip-hop artists they like.
Kuang was not satisfied with his haircut after visiting a local barbershop back home in the Bay Area, so he has been cutting his own hair since high school. Kuang invited his friends over to his house and cut their hair to get better at barbering, through trial and error, and practice. Now the first-year business economics student gives haircuts to students out of Sproul Landing's public bathroom for $10.
[Related: Student nails it with affordable, on-campus manicure business]
Kuang began to give haircuts to students during week zero because he wanted to continue his hair-cutting hobby on a larger scale. Kuang's clients usually go to him for haircuts after hearing about his service through word-of-mouth and Facebook, he said.
Compared to Campus Cuts and other barbershops in Westwood, Kuang said his haircuts offer a more convenient experience for students since they are on the Hill, where many students reside, and the price is more student-friendly. Kuang added that since he and his clients are often peers, the haircutting experience is comfortable and conversations are relatable.
[Throwback: Campus Cuts opens in Ackerman]
"There are not a lot of opportunities to have one-on-one conversations with someone for about 30 to 40 minutes, especially when things with school are going so quickly," Kuang said.
Conversations often revolve around music because of Kuang's experiences as a freelance DJ and music producer for his YouTube covers of Justin Bieber's "Sorry" and Jeremih's "Woosah," Kuang said.
"I'm just an average, normal guy, just like my clients," Kuang said. "Through hair cutting, through the music playing and through those topics, the haircuts give us a way to bond."
One of Kuang's clients, first-year undeclared engineering student Rohan Kumar said he would go to Kuang for more haircuts in the future.
"Usually I don't like going to barbers or salons because it's impersonal, so it was cool that someone my age was able to do it," said Kumar, a photographer in the Daily Bruin.
[Related: Ivan Q's Barbershop offers traditional men's haircuts]
Many of Kuang's clients became his new friends, Kuang said. He also learns from each client about what styles his clients like, what troubles they have for their hair and how to accommodate for different hair types and textures.
The learning is mutual, client Silas Lai said. During one of her haircut sessions with Kuang, she asked him about how he chooses the music to play.
"He said it really depends on where the venue is … the music has to have an appeal on the audience," said Lai, a first-year pre-business economics student. "From there, I learned from him about DJ-ing and music production."
Lai liked the trimmed sideburns and undercut that Kuang styled for her. She also said she felt comfortable sitting in a chair with "Come and See Me" by Drake playing in the background.
"He gave me one of the best haircuts I've ever had from a first time experience," Lai said.
Although he mainly focuses on fade hairstyles, a style in which hair on the sides and back is cut and tapers up into any length on top, Kuang said he is open to diverse styles of haircuts.
"I'm not restricted to any style because of the creative itch that I always have," Kuang said.
Kuang's haircutting hobby provides an escape from school for both him and his clients, Kuang said.
"I feel like anyone can cut hair," Kuang said. "But what makes it something to look forward to is the fun aspect – the intimate conversations give a therapeutical experience."