UCLA musician to pitch extended play at Fowler Out Loud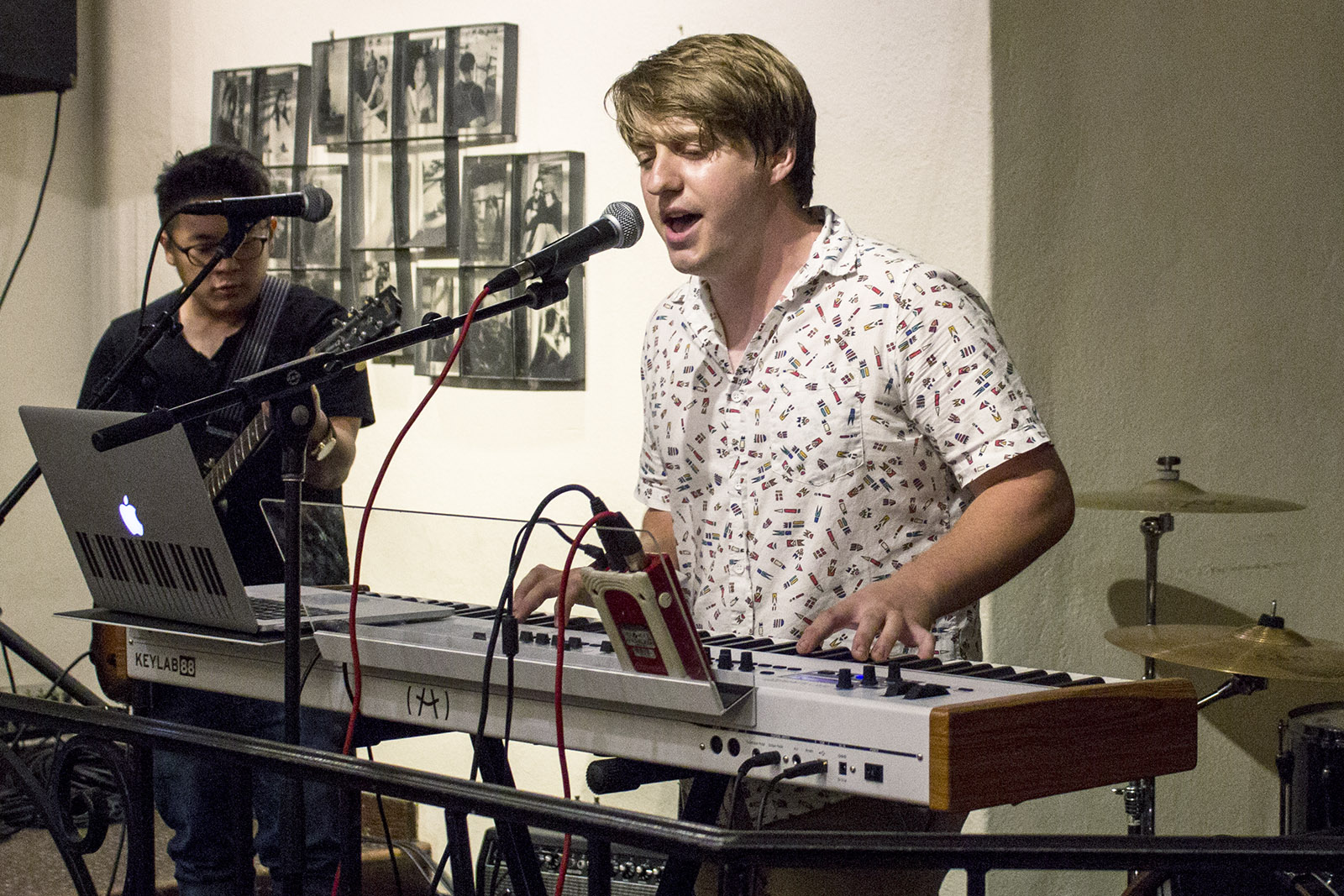 After recording his first solo EP, fourth-year music student Charlie Bond now plays with four bandmates who provide musical additions to his songs. (Alyssa Dorn/Daily Bruin)
Charlie Bond used to sit for hours alone at his desk, recording instruments and mixing tracks for his solo albums.
Now Bond is part of a band whose members are collaborating to bring the alternative rock songs he created in solitude to the live stage.
The fourth-year music student released his first solo extended play "Cut Loose" in July 2016. Bond wrote the lyrics and music for the recordings and played the instrumental parts by himself. He and his currently unnamed band will perform at the Fowler Museum on Wednesday at 6 p.m. as part of the Fowler Out Loud music series.
Bond knew if the album was going to be successfully performed live, his bandmates would need the freedom to play the songs differently than he did on the recordings.
He assembled his bandmates – including drummer Daniel Coles, guitarist Matt Ahn, bassist Kevin Hakimi and backup vocalist Carla Bennahmias – over the summer. With the exception of Hakimi, who he met through Ahn, Bond had played with all his bandmates before. He selected them because they could make musical additions he might not have thought of on his own, Bond said.
"The music gets enhanced when it is brought just from the viewpoint of one person writing a song to five different people who can add their own thing to it," Bond said. "Since everyone in the band is really good at their instruments, they're able to offer something that is so different that I would have never thought of."
[Throwback: Musical trio to bring color to Fowler Out Loud]
Transitioning from a solo artist to a band leader, Bond wanted to find musicians who would be willing to take direction and work well in a group. Some musicians in other bands take criticism too personally, Bond said. An instrumentalist might be asked to play louder or to stick out in a certain song, and instead of taking the advice, he or she would get offended.
Since Bond already had a repertoire of songs ready to be performed, the new band members smoothly transitioned into rehearsals without worrying about coming up with new material, said Coles, a third-year economics student. In other bands, Coles had to create drum parts within a given song structure, whereas with this group, his job mostly consists of fulfilling Bond's personal vision, Coles said.
Having pre-made songs created fewer conflicts during the rehearsal process, said Ahn, a fourth-year political science student. Before rehearsals began, Bond transcribed and printed out sheet music and pre-recordings for his band members, and found time to meet with each of them one-on-one to go over music and notes. Bond's organization and vision allowed the band members to quickly gel as a group, Ahn said.
Making sure band members both know their parts and have an opportunity to make their own creative additions can provide a better live show, Bond said. Instead of having the band play songs exactly as he did on the recordings, he allowed Ahn to expand on a guitar lick or had Coles rearrange a drum part, he said.
"I want them to do whatever feels comfortable in a live setting, whatever they feel like they can comfortably rock out to, so that emotionally they're there," Bond said.
[Related: "Fowler Out Loud" hosts traditional Middle Eastern musical performances]
Fourth-year communications studies student Bennahmias has worked with Bond in the past as members of Deviant Voices A Cappella and now sings back-up in Bond's band, she said. The band leader's work ethic – whether in an a cappella group, as a solo artist or as a bandmate – consistently sets him apart from other UCLA musicians, she said.
"A lot of people who say they want to do music are not 100 percent dedicated to doing that with all their time," she said. "He's just always creating."